iHeart aka I♥ is a Canadian street artist who uses graffiti as a vehicle to voice his opinion on social issues. His art is focused on stenciling city walls with his heart-shaped symbol in many works. iHeart describes himself as a "just a boy with ideas, opinions and a whole lot of aerosol". He created a series of graffiti stencils through which he tries to highlight the negative influence of social media on the growing youth, alienating people instead of bringing them closer. The artist is just as elusive as famous British artist Banksy, who has transformed his artwork from acts of vandalism to sought-after high art pieces.
iHeart Vancouver
iHeart doesn't reveal a lot about himself. Most surely he comes from Vancouver and when asked about it, he says "I feel like a guidance counselor when I talk about Vancouver. It has so much potential but applies itself inappropriately. Vancouver is a young, dynamic and creative city, but is way too distracted."
His simple but smart stencils one can find mainly in Vancouver and Calgary. Much like disdain for distraction, the street artist of only few years, isn't interested in fame either: "Anonymity is a must. I think a lot of people fantasize about the idea of celebrity, but the little taste I got was really overwhelming and awkward."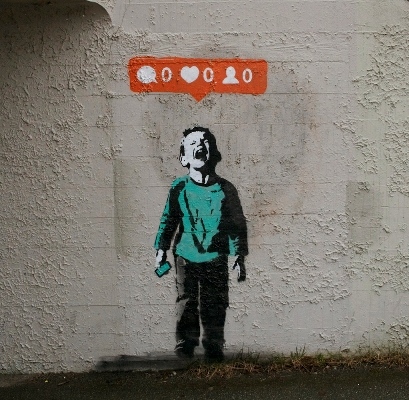 Nobody Likes Me by iHeart
Either way, he became instantly recognizable artist with his piece "Nobody Likes Me" located in Stanley Park, Vancouver. The work depicts a boy who's sad and dissatisfied with the fact that he has zero likes, mentions and followers on his Instagram account. This artwork has gained worldwide attention online, including from Banksy, one of the street art world's biggest names. iHeart received an endorsement from Banksy through his Facebook page. It went viral almost instantly - within only a day, the photo on Banksy's Facebook page has clocked 117,000 likes and 13,500 shares!
However, that wasn't part of the plan for the artwork's creator. He describes a situation as ironic: "There's almost too much irony that happened with this piece. Posting it on Instagram, Facebook, my website, and Twitter, then it going viral. Basically the idea behind the piece completely backfired".
iHeart never wanted fame, considering the celebrity he enjoys now "overwhelming and awkward". Grand finale came when the piece has been named the second most popular mural in the world for 2014 by London-based StreetArtNews. Of course, the most popular piece in the world at the time was by, you're guessing, the famous graffiti artist Banksy.
iHeart and Banksy
iHeart uses a Banksy-like style passing clear and smart messages. His 'straight to the point' kind of style is very popular and lovable in streets across the world. "I think being compared to Banksy is cool just as much as its annoying. As far as stencils go, most people can probably only name one, maybe two street artists, let alone stencil artists. Banksy's career has been nothing shy of amazing. He's a heavy hitter and it's nice to be put in the same league," said iHeart.
With this Banksy-esque quality — a simple use of color and graphics marked by the interplay between positive and negative space — iHeart tells the story of a social-media-obsessed culture, and the evident effect it will have on the growing youth.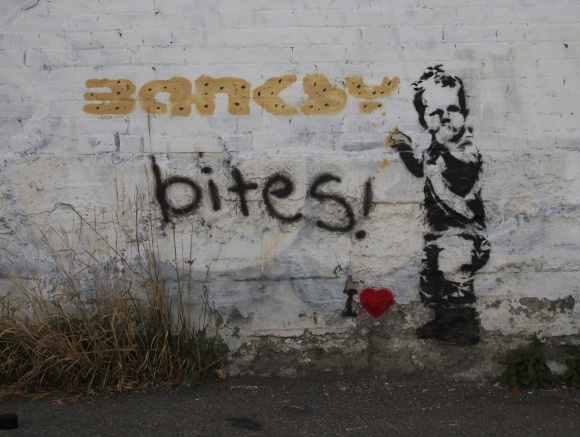 iHeart Criticizing Through Stencils
Armed with ink and imagination, this Vancouver street artist has stenciled a series of street art compositions in his urban surroundings. Each image shares a relationship to a particular aspect of contemporary culture, specifically social media and its connection to a generation of children. Throughout his works iHeart imagines kids interacting with Facebook and Twitter, toying with their Smartphone, writing in hash tags, whining about Instagram notifications and complaining about auto-correct. Each his image represents an aspect of the social-media-obsessed culture and document how it affect everyone, even in their early childhood.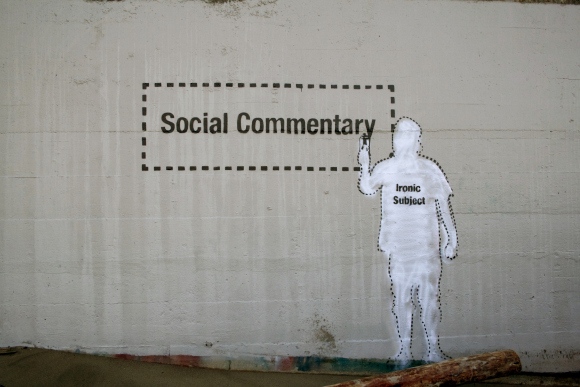 iHeart's Solo Exhibition
He expects to have his first solo art show in Vancouver by the summer of 2015. "I have been working on getting my first solo show together in Vancouver," he said. "It will likely be in June, but the location and date are still top secret. It's going to be a lot different than what people might expect from a street art show."
iHeart lives and works in Vancouver, Canada.