Ilia Mayer is a graphic artist and a music producer known for his large-scale watercolors and murals. His works oscillate between street art and the most avant-garde illustration as he moves effortlessly between various medias, styles, and scales. Discussing the work of Ilia Mayer means entering the magical universe populated by cyberpunk subjects, acid house warriors, and lost souls in search of a safe haven. The latest series of work by the Spaniard are inspired by the night sky, and particularly by the moon and the stars.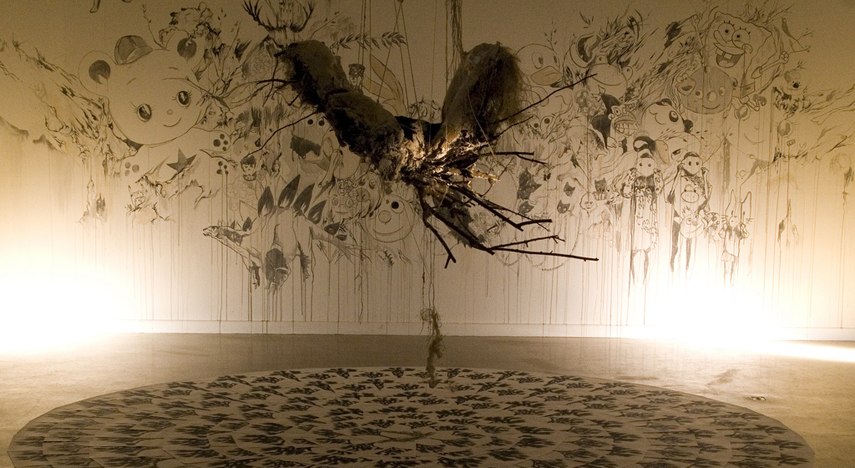 Ilia Mayer's Eclectic Influences
Ilia Mayer was born and raised in Barcelona where he studied at Spain Llotja School. His body of work is influenced by an array of eclectic sources including famous art figures such as Andy Warhol and Dada movement but also by sci-fi imagery of the 50's, and by the skill of Japanese manga masters. Since the year of 2002, he has worked with fellow creatives Andrea Michaelsson aka Btoy. The street art duo has embellished walls and vehicles of their hometown with bold and beautiful female portraits but quickly parted ways to work on their individual careers.
Ilia Mayer influences shift between Andy Warhol and the Dadaists and si-fi video art from 1950s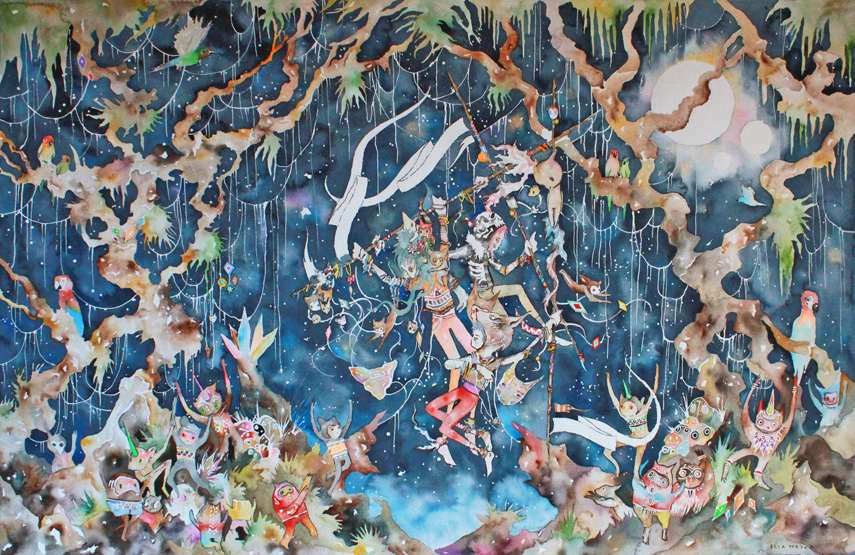 Deep Sea and Starred-filled Skies
Ilia Mayer's subjects have overcome the forces of gravity with their acrobatic skills that allow them to swing between celestial spheres and remain far away from the weight of the earthly existence. His starred-filled celestial world is usually inhabited by an array of unusual characters that roam, and play in the night sky. Cosmic nymphs play under the moonlight, teenagers jump from cliff to cliff and guerrillas carry flags as a tribal banners. On their road explorations, the characters are accompanied by an array of faithful pets ranging from cats and tigers to adorable mammoths. Set against landscapes with heavily retro design, the Spanish artist's characters are further highlighted with a series of the delicate line that vividly portrays their fragile physic.
Characters are accompanied by an array of faithful pets ranging from cats and tigers to adorable mammoths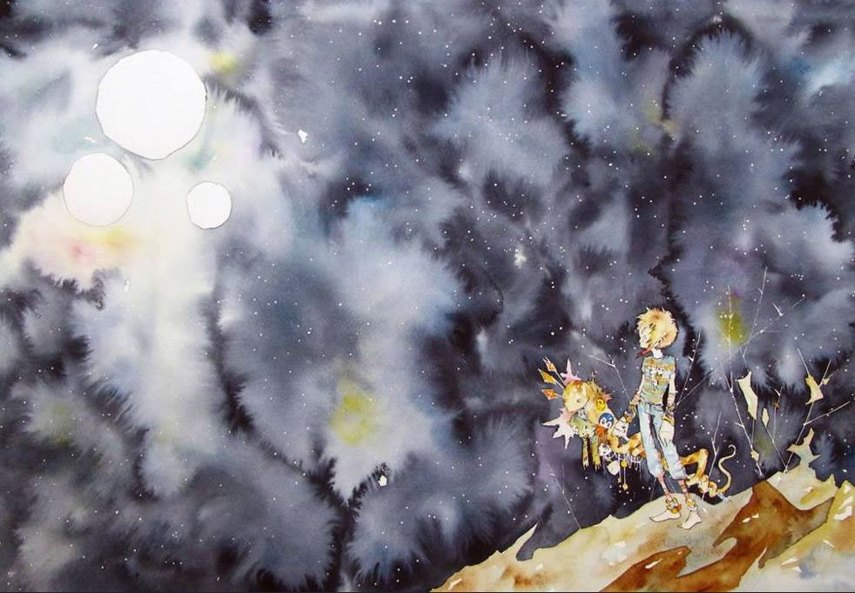 Illia Mayer's Ephemeral Music
Ilia Mayer is also a music producer whose live performances also represents the creation of the celestial universe by other means. By using multiple layers and manipulated field recordings he seamlessly travels from noise to minimal and dub to create the ambient of traveling to the depth of the universe. He has worked with an array of theater companies and has participated in the creation of compilations for the publishing label Disboot and Discontinurecords. Ilia Mayer art pieces have been exhibited in art venues all over the globe including solo and group shows in London, Brussels, Mexico, Paris and Los Angeles.
The artist is represented by Fousion Gallery.
Ilia Mayer lives and works in Barcelona.
Featured image : Illia Mayer - Portrait ; All images courtesy of Fousion Gallery.