Ingrid Dee Magidson is an American artist who combines the poetic paintings of the Renaissance and Baroque eras with industrial materials and antique objects to create pieces of stunning beauty.
In her practice, Magidson employs innovative methods to add depth and intrigue to the paintings with a technique she calls "layerism." Her transparent canvases are layered so that the one sees into and through the paintings to the objects and layers below. The effect is piece that is dimensional, contemporary and classical all at the same time.
Featuring enigmatic portraits of royals, nobility, and courtiers from centuries past, her artworks are not only visually pleasing but are imbued with a sense of spirit, like time has stopped and we are looking at people who lived many centuries ago, but who are re-imagined and immortalized in the artist's remarkable painting.
Art by Ingrid Dee Magidson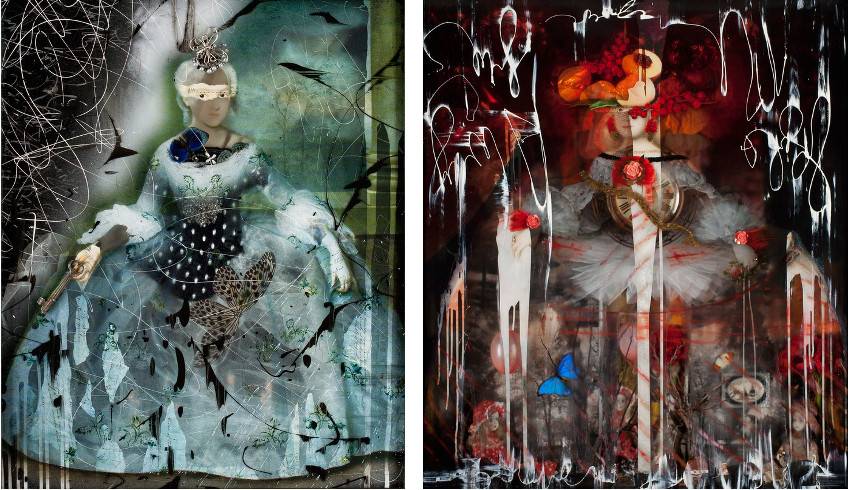 Born in 1965 in Dallas, Texas, Ingrid Dee Magidson grew up surrounded by art – her father is a painter and sculptor and her mother is a fiber artist. She left her native town as a young adult to pursue life in Europe, New York and later Aspen and it would be many years before she would begin her artistic career in the mid-2000s.
In that brief time her work has been included in many individual and collective exhibitions in the United States including at Unix Gallery, New York, NY; Forre Fine Art, Aspen, CO; Pathman Residence, Miami Beach, FL; David Floria Gallery, Aspen, CO; and Singleton-Biss Museum of Fine Art, Santa Fe, NM, to name a few.
Magidson's notable book, Madness of the Muses - the Art of Ingrid Dee Magidson was released at the Forré Gallery reception in August 2013. The book is an in-depth overview of Magidson's career from 2006 to 2013.
The artist is represented by Unix Gallery in New York.
Lights Awakening

Ingrid Dee Magidson is based in Carbondale, Colorado.
Images Courtesy of Unix Gallery and Ingrid Dee Magidson