Jakob Tory Bardou, Holger Weißflog and Veit Tempich are three German street artists who cooperate under the banner of Innerfields, a widely recognized collaboration known for its members' ability to create visually stunning murals. The three artists work together in synergy and have learned to rely on a decade's worth of experiences they all had with painting upon various urban surfaces. By working together, Jakob Tory Bardou, Holger Weißflog and Veit Tempich are able to make the most out of a mutual visual language that emerged from their enthusiastic expression.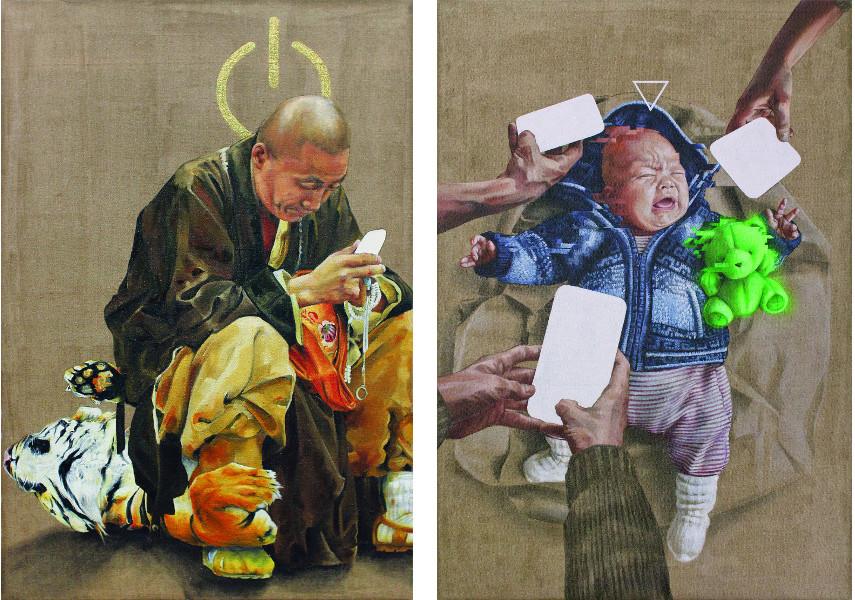 The Men Behind Innerfields
All three of the artists that form Innerfields were born and raised in Berlin, the metropolis that nowadays plays the role of their endless canvas. They grew up with graffiti and were exposed to numerous urban influences, developing individual styles that started to mesh together in 1998 when the trio was formed. Since then, Jakob Tory Bardou, Holger Weißflog and Veit Tempich liked to reflect their environment in specific ways, usually by creating somewhat figurative motifs in a realistic style that is mixed with various graphic elements and symbols. Innerfields is a very international group as far as the locations where they work go - they made murals all over Germany, in Rome, Tel Aviv, Kiew, etc.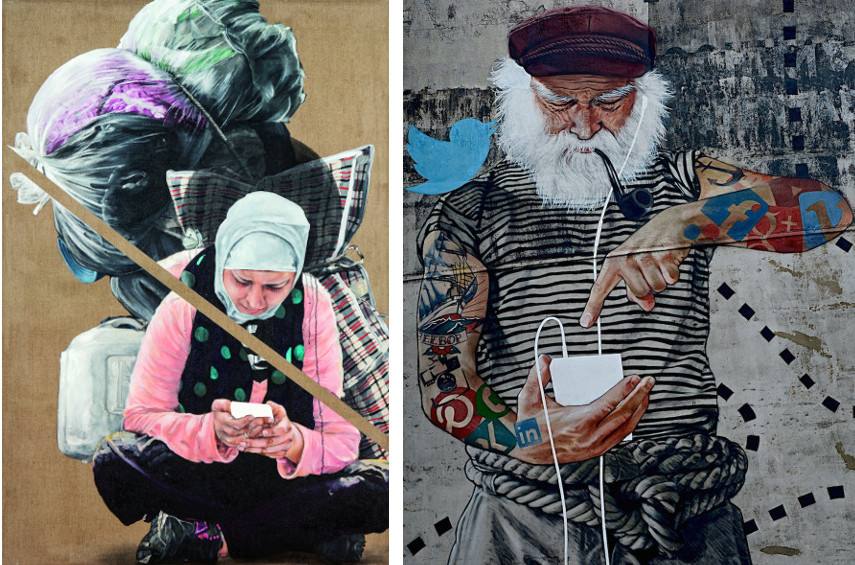 Taking A Closer Look
The main creative focus of Innerfields lies on the confrontations between humans and technology, as well as the fragile bond human kind shares with the nature surrounding it. Human beings are a big part of nature, both in positive and negative contexts, so Innerfields treats human figures as a major topic in their body of work due to their overall interest in nature. A good example of this is Fischernetz, a large Hamburg piece that features a huge fisherman tattooed with logos of social media in the back yard of a marketing agency - the mural is a reference to the surroundings and flavor of the old-school Hamburg harbor that is nowadays confronted by the aggressive modern industries. It should be noted that these three artists are quite comfortable with working in a studio setting as well, as evidenced by the exhibition titled as Blind Spot held in the 30Works Gallery.
Innerfields is a collaboration of three Berlin-based artists that enjoy reflecting the environments in which they create murals, exploring the relationship between humans and modern settings
Made For Big Things
Whenever a new phenomenal mural appears in Germany, the highly developed German art scene quickly makes sure it gets the deserved attention. More often than not, these fantastic murals are attributed to Innerfields as Jakob Tory Bardou, Holger Weißflog and Veit Tempich show no signs of slowing down their output. And, quite honestly, why on earth should then consider slowing down? Innerfields has three vastly talented artists at its disposal that have displayed a keen sense for new topics and trends whilst also being able to use a variety of street techniques with ease. The group is made for big things and that is precisely what we expect from them in the future.
This artist is represented by 30Works Gallery.
Jakob Tory Bardou, Holger Weißflog and Veit Tempich live and work in Berlin, Germany.
Featured image: Innerfields - Photo of the artists during an interview - Image courtesy of Innerfields
All images courtesy of 30Works Gallery and Innerfields.