Best known for his outstanding figurative murals created on a large scale, INO is one of the most internationally recognized Greek street artist. Although he began his career as a graffiti artist in the early 2000s by producing letters and bombing, over the years he has developed his distinctive style characterized by fragmented forms, photorealistic elements and grayscale color palette with touches of light blue. His eye-catching, stylized and clever pieces often deal with social and political themes that affect the average man and woman, creating a dialogue between the viewer and the art.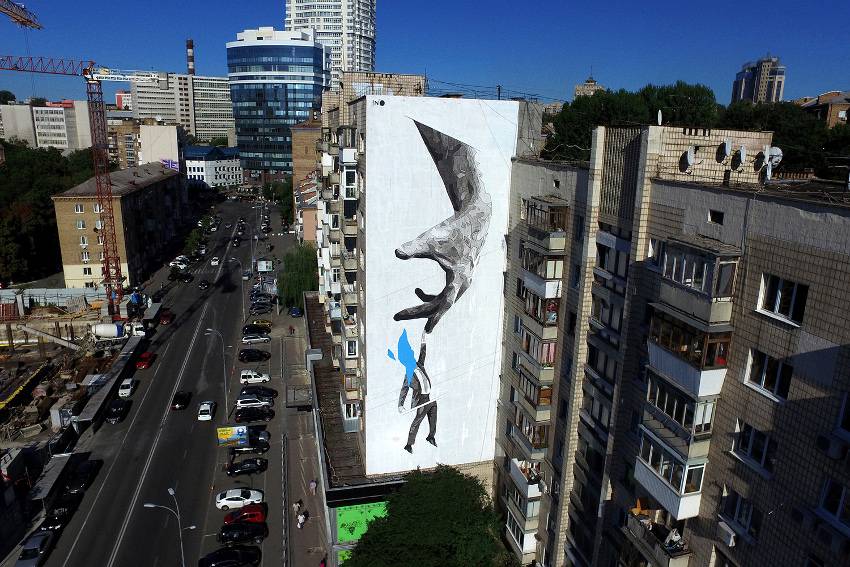 Visual Language
Hailing from Piraeus, a port city within the Athens urban area, the anonymous artist prefers to keep his identity private. The only thing known about him is that he graduated in Fine Arts and now works as a freelancer. Although his main degree was in painting, INO also attended workshops in photography, typography, multimedia, hypermedia and graphic design. The artist made his first experimental works during his early teen while he was still in high school. INO's ability to combine and continually improve his artistic skills is best seen in some of his most recent pieces composed of realistically depicted subjects, usually black and white in color.
His murals often include two-faced characters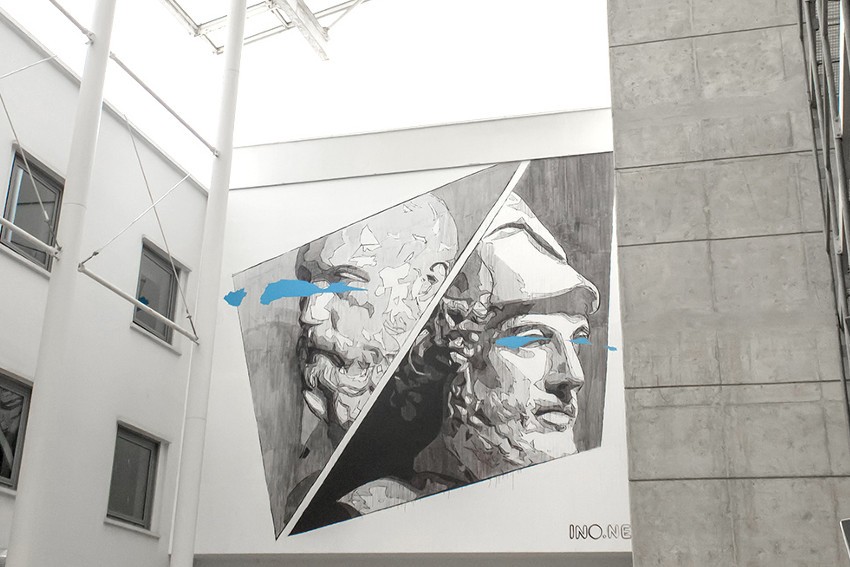 World Through the Eyes of INO
Whether INO's murals are located on the walls of vast and densely populated megalopolis or old factories in industrial areas, they inevitably capture the attention of passers-by not only because of the artist's dynamic and unique style but also because of the messages he tries to convey. His amazing body of work addresses social and political issues that range from economic crisis, recession and poverty to restrictions on freedom of expressions, racial discrimination, and the consequences of war in Ukraine, Syria and other countries in the Middle East. INO's piece In Search of Sunrise made for BLOOP festival 2016 in Ibiza depicts a white dove that is searching for sunrise and it is both inspired by and dedicated to refugees constantly arriving at the shores of Greece.
The Greek artist creates artworks that highlight social injustice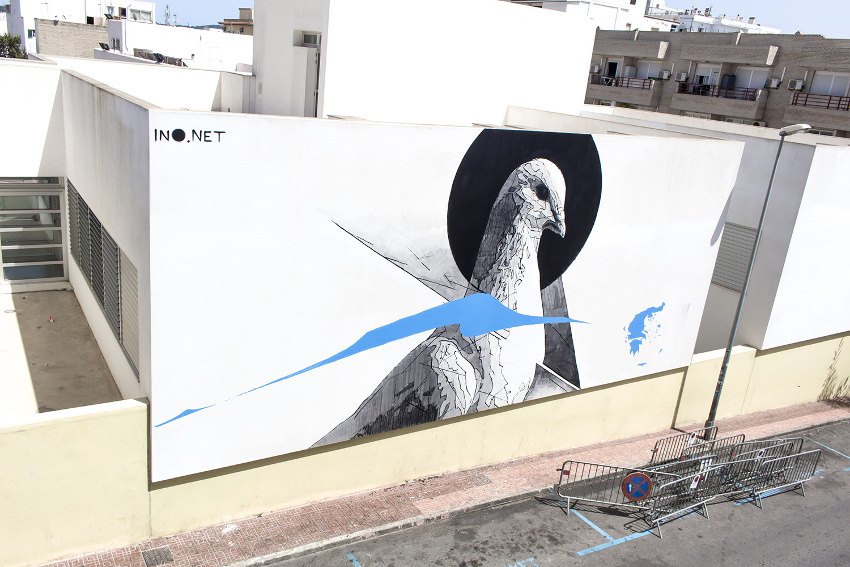 The Street Artist You Need to Know
In the past several years, INO has traveled extensively throughout Europe, the United States and the Middle East, becoming an international success as one of the most acclaimed Greek street artist. Apart from Athens, his work adorns the walls in such cities as London, Amsterdam, Berlin, Stockholm, Rome, Saragossa, Minsk, Miami, New York, Frankfurt and many others. He has participated in many exhibitions and street art festivals across the globe. In August 2016, he participated in ArtUnitedUs Project in Kiev where he created - Instability - his tallest mural to date. INO's striking street art has received attention from international media including Reuters, The Guardian and The New York Times. His client list includes National Geographic, The Coca-Cola Company, Onassis Cultural Centre, Story Nightclub Miami and Dj Avicii.
INO lives and works in Athens, Greece.
Featured image: INO – work in progress
All images courtesy of the artist