Isa Genzken is a German sculptor and installation master with an extraordinary oeuvre which brought her the reputation of a tremendously important and influential female artist. For the past three decades, her work has been inspired by the severe modernist architecture and chaotic, whimsical urban energy. At the same time, Genzken's sources include the aesthetics of the sixties and pop culture. Genzken is continuously transforming her impressions of the modern world into her unique and eclectic three-dimensional pieces, which combine architecture, design, and even fashion. Even though her pieces might seem nonsensical at first, they contain a hidden yet cohesive inner harmony.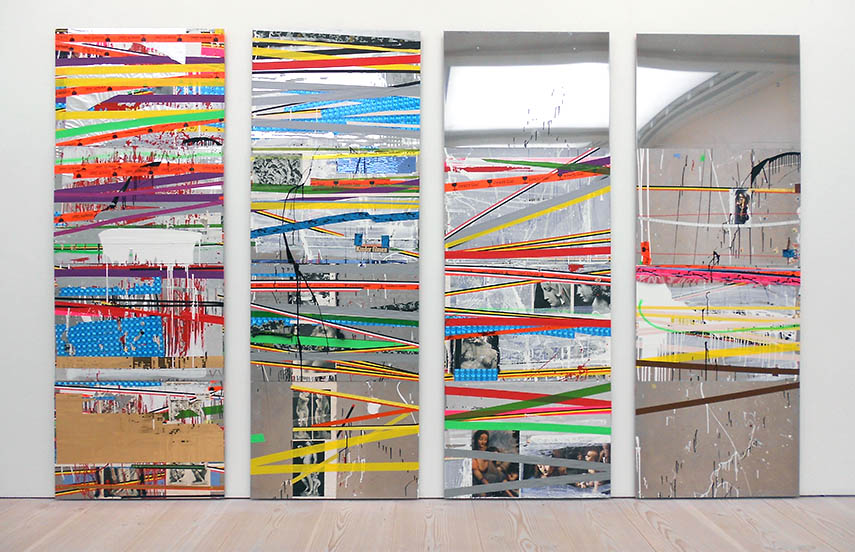 Genzken's Early Life: Philosophy Study and Modeling
Isa Genzken was born and raised mostly in a small city in the northern Germany, called Bad Oldesloe. She studied fine arts and art history at the Hamburg University of Fine Arts and at the Berlin University of the Arts. Since the tuitions at these prestigious schools were quite expensive, Genzken was working as a part-time model in order to support her education. In 1973, she transferred to Arts Academy Dusseldorf and she decided to enroll at the University of Cologne as well, to study art history and philosophy. After she graduated in 1977, Genzken taught sculpture at the academy and around the same time she married an eminent German painter Gerhard Richter. Genzken was moving a couple of times because of her career - she has stayed in studios in Dusseldorf, Cologne, Berlin, Lowe Manhattan and Hoboken in Jew Jersey. It is known that Genzken suffered from bipolar disorder and she was undergoing treatments for substance abuse.
Genzken was working as a part-time model in order to support her education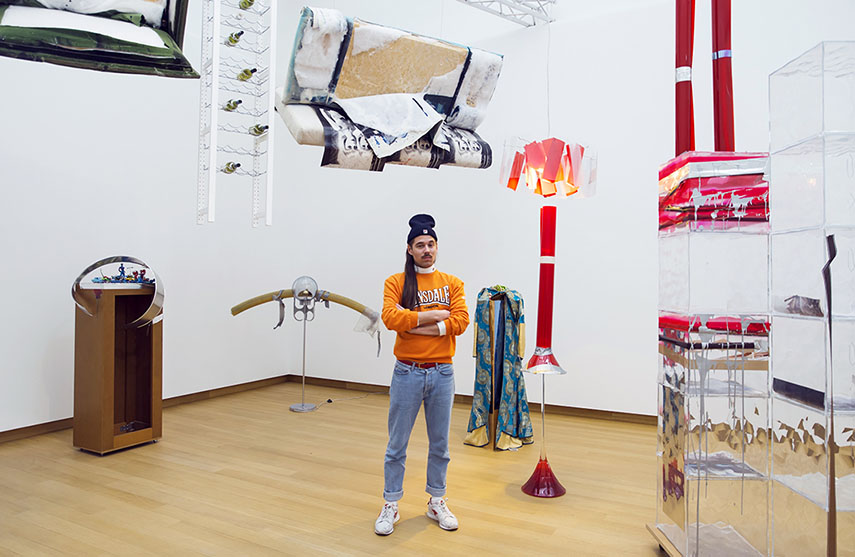 Innovative Installation and Sculpture
Genzken started to participate in various exhibitions back in the mid-1970s but she became really prolific after the mid-90s. In her pieces from this era, Genzken explored a new language in sculpture through her use of found objects and collage. Her use of assemblage techniques is notably innovative - in a way, Genzken was one of the pioneers of new-era assemblage. Her sculptures are so versatile in their shape and size that they range from very small pieces to huge installations that fill an entire room. One of her most famous pieces is the reproduction of the bust of Nefertiti, which was an ancient Egyptian icon of ideal beauty. In her series of sculptures inspired by Nefertiti, Genzken has appropriated plaster models of the female bust and decorated them with fashionable sunglasses. Another detail she added to this sculpture is the reproduction of the Renaissance beauty Mona Lisa, which Genzken used as a background for overlaying her own self-portrait. This interesting hybrid piece represents a playful exploration of the historical lineage of female beauty. When it comes to other Genzken's works, they are quite complex assemblages of potted plants, furniture, and photographs. Unlike her her minimalist predecessors, Genzken refuses to create works that speak about order and power. Instead, she portrays much more delicate human qualities, such as vulnerability. The surfaces of her sculptures and collages are made from simple paper materials, such as many magazines, newspapers, flyers, or snapshots of her artworks.The shape of a column is one of the recurring motifs in her art - she adorns the purity of this simple shape with flower garlands and similar materials until the column reaches its maximum overload. In this way, Genzken explores the unusual relationships between art, designs, psychology and social experience. For example, her famous public sculpture Rose also represents kind of a fragile column. This piece is made from enamelled stainless steel and placed in Leipzig's museum district.
One of Genzken's most popular pieces is the reproduction of the bust of Nefertiti, which was an ancient Egyptian icon of ideal beauty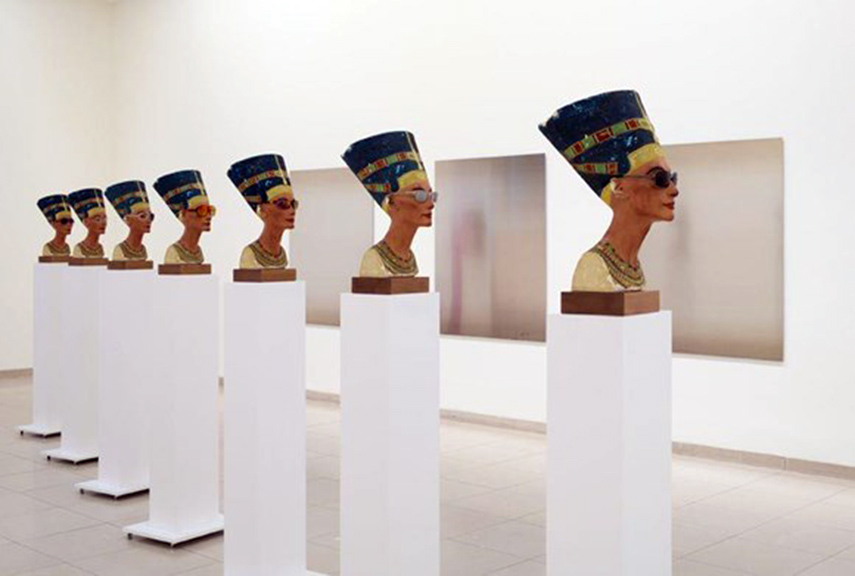 Impact, Exhibitions and Awards
In addition to her main work, Genzken also works in photography, video, and film. She has produced numerous movies such as Zwei Frauen im Gefecht in 1974, Chicago Drive in 1992, Meine Großeltern im Bayerischen Wald in 1992, and more recently the video Empire/Vampire, Who Kills Death, in 2003. When it comes to her exhibitions, it is interesting that she arranges her artworks so that they fill all the available surfaces in galleries and museums, including floors, ceilings, and pavements on the outside of the building. Her first solo exhibition in Europe was held in 1976 at the Konrad Fischer Gallery in Dusseldorf, while her first solo show in the U.S. took place at Jack Shainman Gallery in New York, in 1989. After these two debut solo shows, Genzken had numerous exhibitions in Italy, Germany, England, the Netherlands and the United States. Genzken continues to be a very active exhibitor - in 2016, she organised the exhibition Mach Dich Hübsch at the famous Stedelijk Museum in Amsterdam. Her work is a part of many eminent international collections such as including MOMA in New York, Carnegie Museum in Pittsburgh and Stedelijk Museum in Amsterdam.Isa Genzken has won the International Art Prize in 2004 and the Wolfgang-Hahn-Priz in 2002. In 2014, the Museum of Modern Art in New York City had introduced to the United States the entire oeuvre of Isa Genzken, which includes her versatile pieces made over a few decades. This marvelous retrospective was the first comprehensive view at Genzken's work in all the media she used. The exhibit featured more than 150 artworks, such as three-dimensional pieces, paintings, photographs, collages, drawings, books, sculpture and even film. This exhibition felt like walking through an exciting story, beginning with Genzken's early days and reaching the culmination with her mature, complex works.
Genzken's video, photography and painting took part in international exhibitions and they can be found in major collections such as MOMA and Carnegie Museum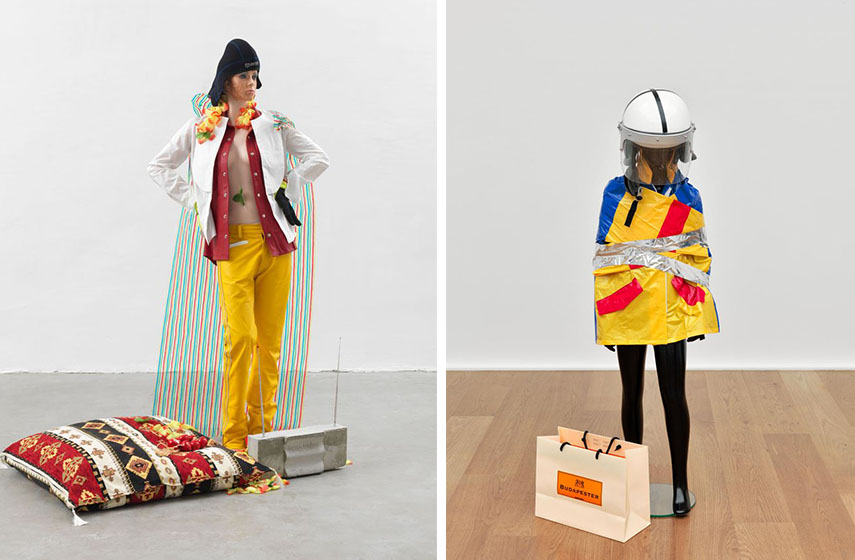 Redefining Modern Sculpture
Genzken's innovative work has strongly impacted the contemporary sculpture scene, because of her ability to use and combine unusual materials as plaster, concrete, steel, epoxy resin with household kitchen equipment. Because of this, her artistic style has broadened the definition of sculpture. The artist has always stayed true to her revolutionary ideas and whatever she creates remains contradictory, deliciously unpredictable, and even in opposition to our common sense.
The artist is represented by David Zwirner 19th Street New York, David Zwirner 20th Street New York, and David Zwirner London.
Isa Genzken lives and works in Berlin, Germany.
Featured image: Isa Genzken's Portrait - image via nytimes.com