Walking down the streets of such cities as Brussels, London, Berlin, Barcelona, Malmo, Paris, and Bogotá you will probably pass by the sculptures of the Spanish artist Isaac Cordal but you might not even catch sight of them. Although they are placed to be seen by everybody, these artworks are so minuscule that it can be very hard to be found. Cordal's tiny, cement figures are located in public, but tucked-away spaces like drainpipes, cracks, and other unusual places. But, if you look carefully you will discover the pieces that will take you to the magical world of Lilliputians who emphasize all the loneliness and isolation of the modern age.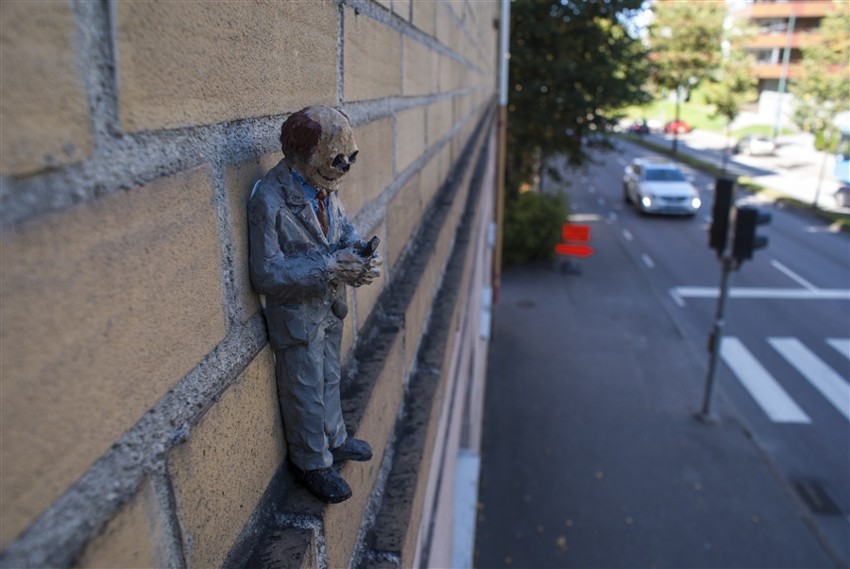 Cordal's Tiny Cement Sculptures
Isaac Cordal is best known for his Cement Eclipses, a group of projects in which he has been engaged since 2006, consisting of miniature cement sculptures photographed in urban space. Standing only about 25cm tall, his human figurines are modeled in clay or plasticine and then reproduced in cement using silicone moulds. After pieces are ready, the artist puts them in his backpack and goes in search of interesting spaces for his artworks. With the simple act of reducing a size and thoughtful placement, Isaac Cordal incredibly expands the imagination of passers-by who find his artworks on the street. The pieces serve for Cordal as a metaphor to reflect on themes such as politics, bureaucracy, human misery, climate change, and power. Placed in gutters, on the tops of buildings, bus stops and other similar places, his small people are often caught in mundane situations such as waiting for a bus or texting, but can also be found in tragic moments such as accidental death, suicide or family funerals.
Cordal is best known for his Cement Eclipses, a series of miniature sculptures photographed in urban space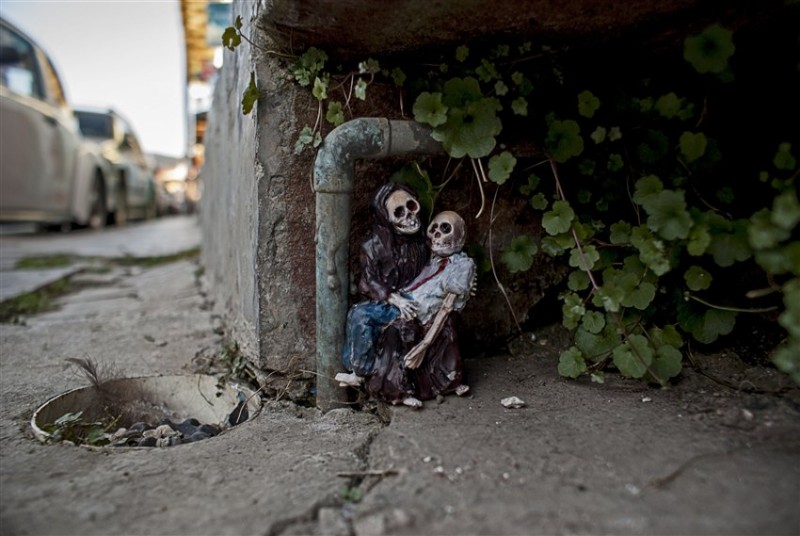 Critique of Capitalism
Follow the Leaders is one of Cordal's most ambitious artworks to date. The massive installation of about 2000 individual pieces was presented in the summer of 2013 for Le voyage to Nantes edition, located in Place du Bouffay, Nantes, France. Amongst miniature sculptures, the installation consisted several concrete buildings representing a kind of city in ruins which occupied 20 m x 18 m space. During the night, it lighted up like a sort of ghost town. The artwork is a direct critique of capitalism, Cordal warns viewers on the dangers of blindly following the wills and orders of the rich and powerful. Like small clones, the identical human-like pieces were created in the likeness of middle-aged, white collar, white men, each desperately clutching a briefcase as they huddle together or drown to death in a mindless mass. In one of Isaac Cordal's latest project dealing with the negative effects of capitalism The School, the artist presents education as an industry where schools have become a business and students customers. The installation features hundreds of hand-made sculptures in a bizarre, sci-fi scenario presenting individuals at the tables all wearing lab coats and gloves while persons who command are presented as skeletons.
"The artwork intends to catch the attention on our devalued relation with the nature through
a critical look to the collateral effects of our evolution". – Isaac Cordal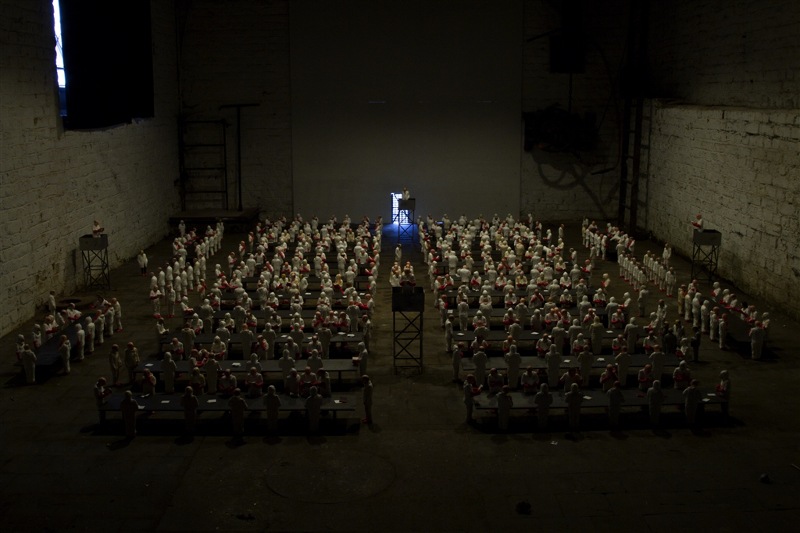 Discussion on Climate Change
Part of Cordal's series Follow the Leaders is a street art installation entitled Politicians Discussing Global Warming which represents the gathering of the politicians in power discussing the problems of global warming. Famous for tackling big political issues through a tiny medium, Isaac shows that the problem is getting more serious and the catastrophe more inevitable while the politicians are just debating about it. In the other project, Waiting for Climate Change, the artist also put emphasis on problems of climate changes. He created a set of ephemeral and partially submerged installations to draw attention to rising sea level change. Laced with black humor, the apocalyptic scenes show the results of indifference to environmental issues. The theme of rising floodwaters and drowning are repeated throughout his work referencing climate change as well as the state of our sinking society.
In some of his works, Cordal puts emphasis on problems of climate changes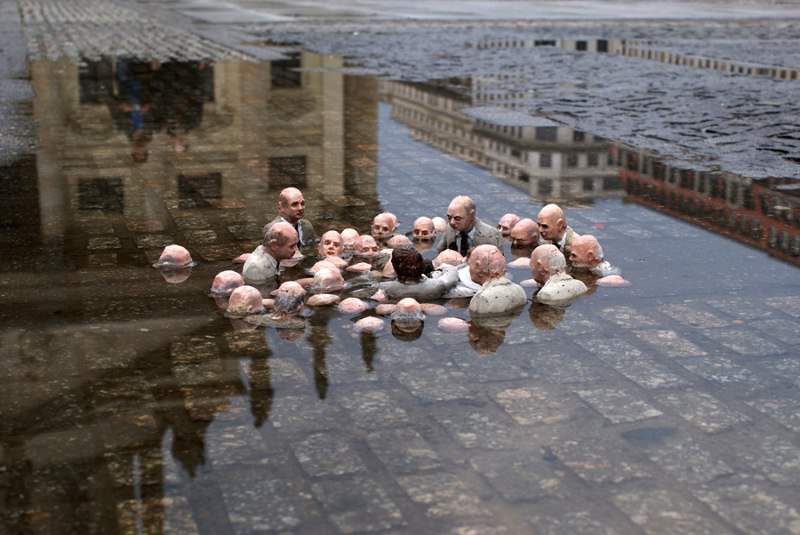 Background
Born in 1974 in Pontevedra, Spain, Cordal graduated from the University of Fine Arts Pontevedra. He also trained at Camberwell College of Arts in London and studied for five years at the School of Canteiros Pontevedra, a school dedicated to the conservation of stone crafts. He was the founding member of Alg-a.org, digital art community from Galicia, and the part of the artistic collective Ludd34560 and Sr. Pause. From 1992 to 1998 Isaac Cordal was an active member of the death metal scene in Spain, publishing the fanzine Exorcism and playing guitar in the band Dismal. For the past 10 years, Cordal has been devoted to his practice as his cement sculptures have been seen in many cities worldwide. Most recently, in March 2016, the talented creative spent a week in the city of Ostend in Belgium where he created some stunning works for The Crystal Ship, a festival specialized in public space and curated by Nuart festival.
His cement pieces can be seen in many cities worldwide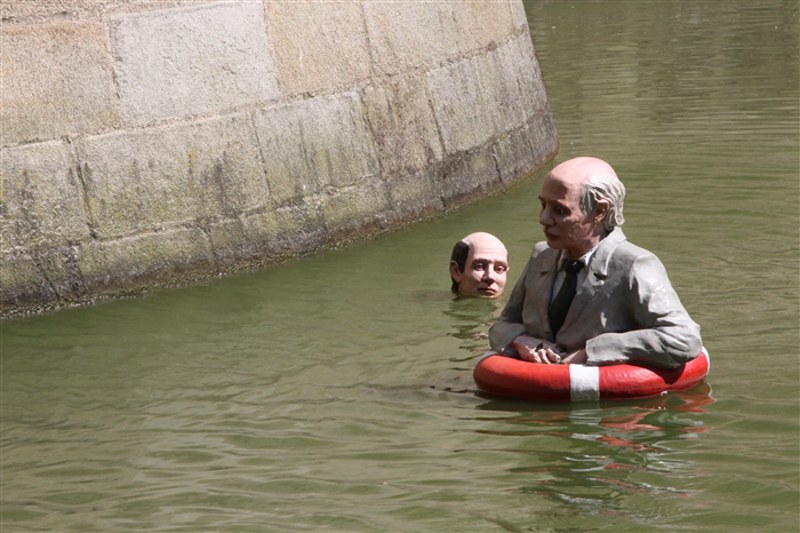 Magical Miniatures
There's something sort of magical about Cordal's figurines. Placed in the abandoned corners of our urban environment they remind us of the numb passage of time, the crushing effects of materialism and consumerism, and destroying of nature. Within the contemporary context of globalisation, Cordal's installations bring new meaning to the so important things such as family, friends, body, health, job, education, food, wisdom, smiles, children, and even the painful lessons that life teaches us.
The artist is represented by C.O.A. Gallery in Montreal and Molin Corvo Gallery in Paris.
Isaac Cordal lives and works between Brussels (Belgium) and Pontevedra (Spain).
Featured image: Isaac Cordal in Nantes, France, 2013, photo by Luis Garcia, photo via brooklynstreetart.com
All images courtesy of Isaac Cordal