Isaac Pierro is an American contemporary painter and tattoo artist known for his vibrant and imagination taunting images. Traces of pop art and culture, cartoons, and video games, as well as tattoo art, can be found in his work. Pierro captures the fears, loves, hopes and games of his generation – and that may be the reason why his artwork is loved and praised among them. He is a Bay Area artist who grew up in Stockton, CA, moved to Hollywood for a while, where he exhibited and returned back home to settle and work.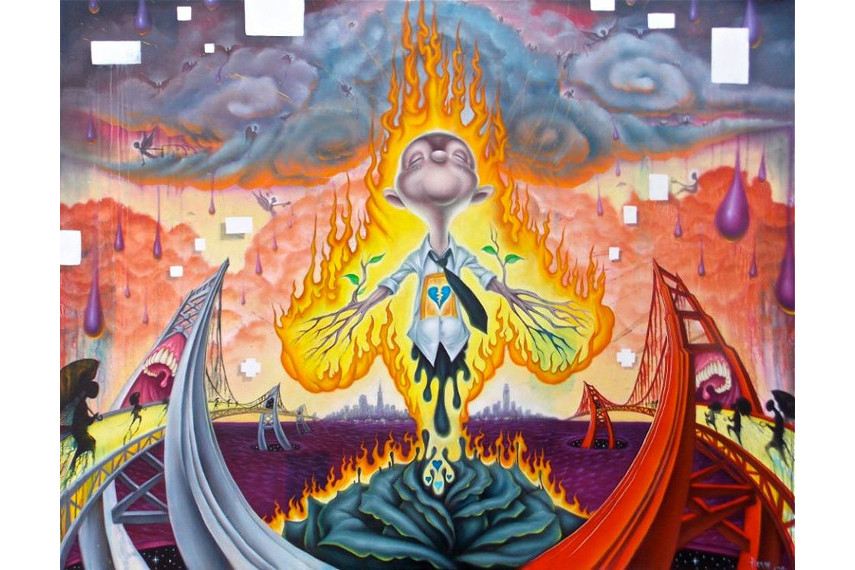 Autobiographical Work
It seems that most of his work is autobiographical and that every picture has a story behind it and a statement that comes from his past experience or future hopes. As well, Pierro's honest approach can be traced to his Social Network accounts. It is the easiest way to contact this artist, view his work, and follow him. Namely, he uses his Facebook, Tumblr and Instagram account to promote and share his artwork, as well as to intertwine it with his most intimate personal experiences, thoughts, and emotions. In that way, he manages to validate and deepen the emotions and imagery of his pictures.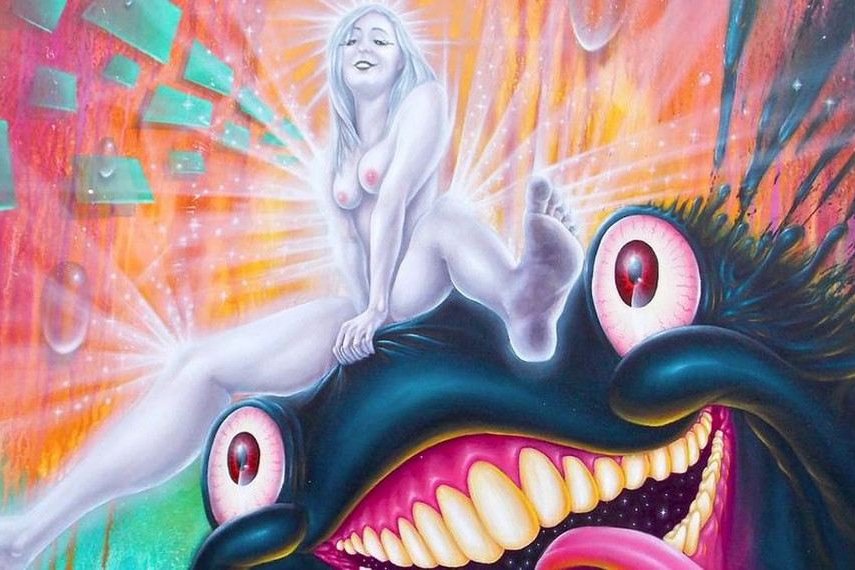 The Main Topics of Pierro's Art
Lonely robots, psychedelic imagery, cartoonish figures in twisted situations, haunting, seductive and dominant female characters all are constant motives in his work – and all depicted in vibrant colorful hues. Pierro's work is usually based on topics like love, heartbreak, music, and drugs. A genuine approach without any pretentiousness on any level can be highlighted when talking about his artworks – a quality much appreciated and rare, as Megan Wolfe stated about his work regarding the exhibition Lethal Injection. It was an exhibition in 2012 held at the 111 Minna Gallery at which, with him, three more artists participated - Robert Bowen, Philip Lawson, Nicolas Giraud.
Cartoons and Dali - inspiration for the clocks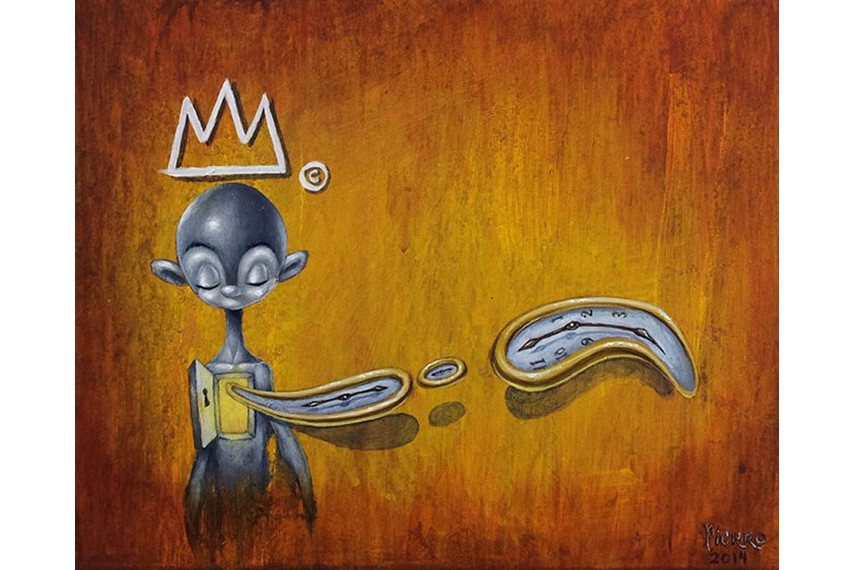 Artist who Portrays the Complexities od Modern Life
Pierro's work depicts conflicts and contradictions of contemporary feelings. His cartoon characters are often quite distorted or twisted, depressed and in pain, in dark and gloomy moods. But the vivid colors, motives of clouds, flowers, candies and hearts make a strong juxtaposition. It seems that Pierro manages to capture the complexity and multiplicity of modern American life and to reflect on its seriousness through pop and animated imagery.
Pierro lives and works in San Francisco.
Featured image: Isaac Pierro - Portrait of the artist in front of his work - Image via emptykingdom.com
All images used for illustrative purposes only