Influenced by the horrors and hardships of war in Africa, Mozambican-born artist Isaac Zavale often displays AK47 rifles in contrast with birds in his drawings. During the civil war between Frelimo and Renamo, his family escaped to Johannesburg, only to witness the Inkatha and ANC riots that shook South Africa in the early 90's. As a mix of Mozambican and South African cultures, Zavale relates to the callous symbolism of the rifle as opposed to the freedom represented by the birds. This relation, he feels, poses the question "what freedom do we have left in two countries each torn apart by civil war?" Another reason why he finds inspiration in the AK47 rifle is Mozambique's flag, one of the only two national flags of UN member states that showcase this assault weapon (the other is Guatemala).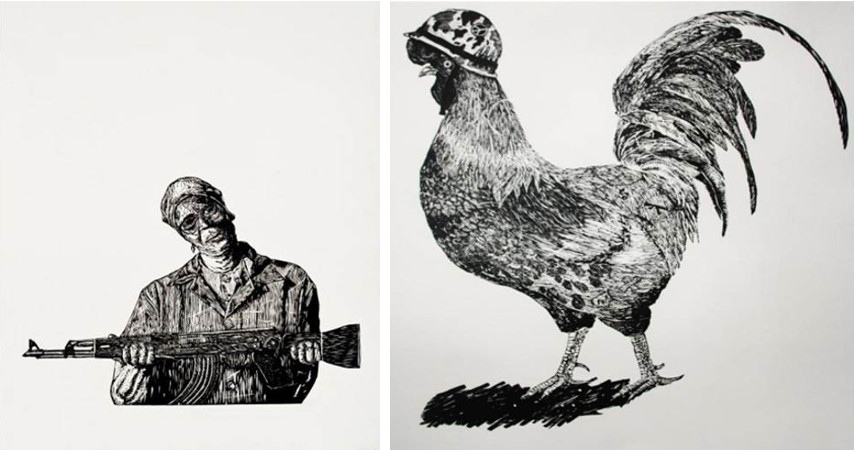 Alphabet Zoo and Street Culture
In spite of the turmoil in his life, Isaac Zavale has found his home and creative space in Newton, Johannesburg. It is there he and fellow printmaker and 'zinester Minenkulu Ngoyi practice and teach their forms of creative expression.This artistic duo prints a street-culture 'zine called Alphabet Zoo, as a platform to influence their city's urban culture. Most of it is printed on recycled paper (newspaper posters) found on city street poles, and their subject matter covers issues pertinent to their community. In 2016, Mini and Isaac opened their own printing studio called Prints on Paper, where they regularly organize silk screen and 'zine workshops, hoping to one day host the first Zine Fair or Zine Fest in their city, affectionately known as Jo'burg.
Alphabet Zoo, a view on 'zines and how they are designed
Various Printing Techniques
Zavale and Ngoyi both practice and teach various printmaking techniques. Anyone interested in learning these styles can contact them on their facebook, twitter and instagram profiles and sign up for one of their workshop events on the different methods of printing.  Linocut employs a sheet of linoleum (sometimes mounted on a wooden block) as the relief structure. Monotype printmaking uses a glass or metal plate on which the artist draws with an oily substance which they then press by hand on absorbent material. Silk screen printing is a technique where a mesh is used to transfer ink onto a substrate, except where the ink is blocked by a blocking stencil.
Even in lively colors, the AK47 symbol still finds itself in Isaac's art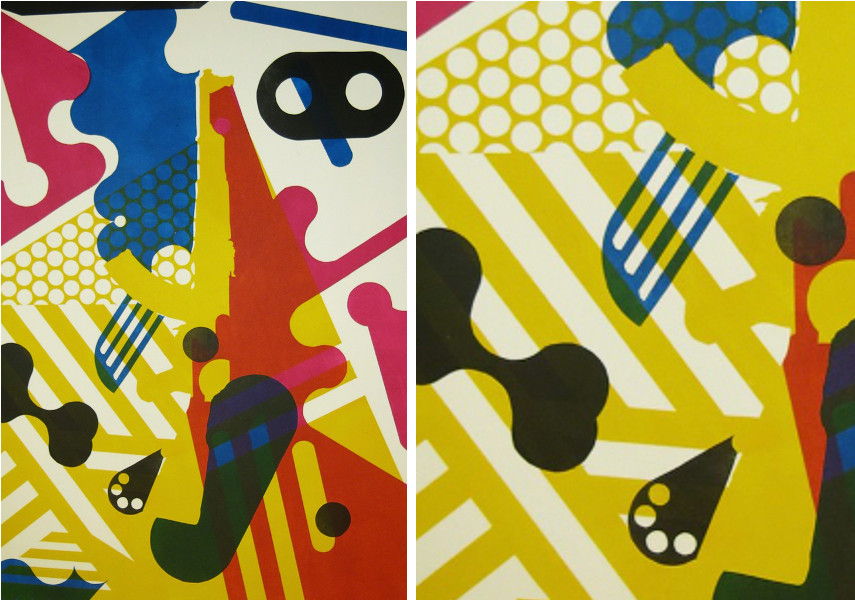 Recreating Cities Through Art
The Alphabet Zoo duo of artists encourages all young talented illustrators, designers, publishers and artists to share in the fun and contribute their skills to the South African alternative culture "We are interested in all the methods different people use when they work, and the final outcomes. This is why our work is community-based" – say the duo. Their 2014 project named Johannesburg Street brought together many artists and art styles and combined different mediums such as painting, photography, printmaking, videography and publications to capture the vibrant spirit of their city, turning streets into galleries of their own.
This artist is represented by Kalashnikovv Gallery.
Isaac Zavale lives and works in Johannesburg, South Africa.
Featured image: Isaac Zavale - portrait, photo via Tumblr