Painting is a self-discovery. Every good artist paints what he is. These were the words of Jackson Pollock, whose artworks seem like a chaos, but they are actually a pure harmony. The paintings have a life of their own, and the artist's job was to allow it to get through. For him, everything was about the statement, while the technique was just a way to arrive there. The way the paint was applied to the canvas, or dripped on it, gave his abstract expressionism a level of distinctiveness in the similar way his personal life was different from other artists. He died relatively young in a car crash, at the age of 44, after a long history of alcohol abuse, which eventually claimed his life.
For Pollock, everything was about the statement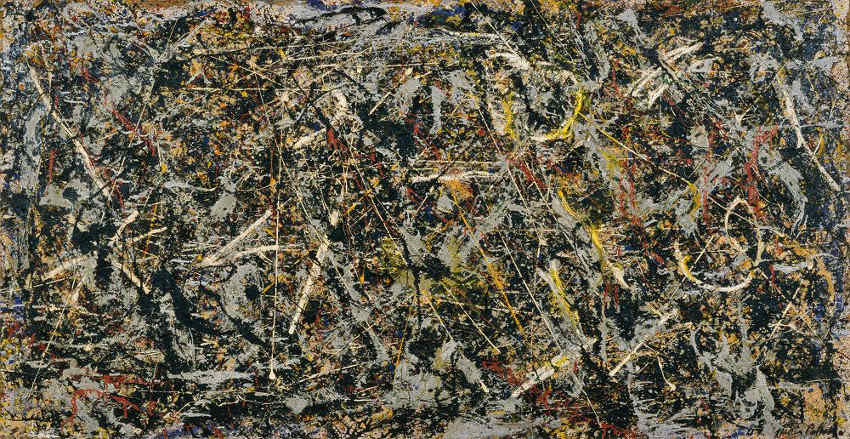 From All-over style, Pouring Paint, to Dripping
Paul Jackson Pollock born 1912 in Cody, Wyoming  was an influential American painter and a major figure in the abstract expressionist movement well known for his unique style of drip painting. Pollock studied under Thomas Hart Benton before leaving traditional techniques to explore abstraction expressionism via his splatter and action pieces, which involved pouring paint and other media directly onto canvases. Pollock was both renowned and critiqued for his conventions. He died after driving drunk and crashing into a tree in New York in 1956, at age 44.
Pollock was introduced to the use of liquid paint in 1936 at an experimental workshop operated in New York City by the Mexican muralist David Alfaro Siqueiros. Paintings of ritual violence or sexuality, with turbulent clashes of movement and fragmentary archetypal imagery, which led gradually in the early 1940s to a completely abstract 'all-over' style to which was given the name Abstract Expressionism. He then used paint pouring as one of several techniques on canvases, such as "Male and Female" and "Composition with Pouring I." After his move to Springs, he began painting with his canvases laid out on the studio floor, and he developed what was later called his "drip" technique, turning to synthetic resin-based paints called alkyd enamels, which, at that time, was a novel medium. Pollock described this use of household paints, instead of artist's paints, as "a natural growth out of a need." He used hardened brushes, sticks, and even basting syringes as paint applicators.
The artist was both renowned and critiqued for his conventions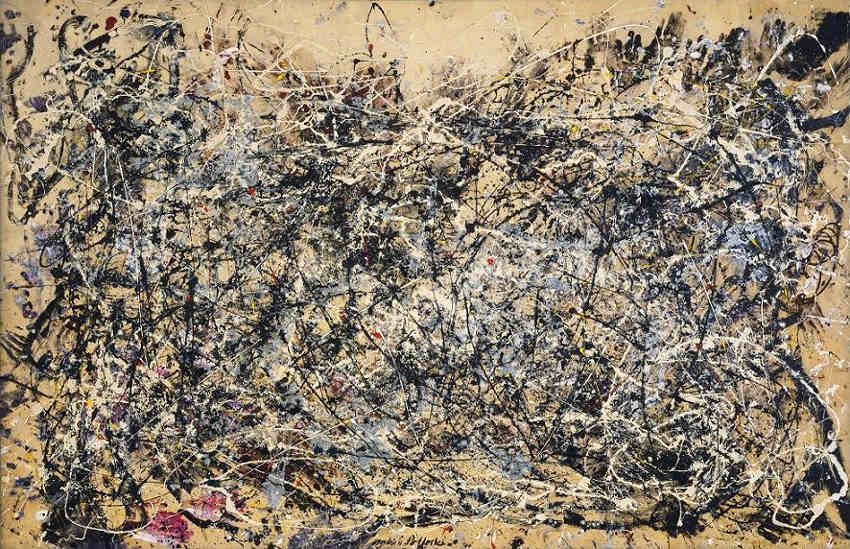 Action Painting
He had first one-man exhibition at Peggy Guggenheim's gallery Art of This Century, New York, 1943. His involvement with gestural painting, inspired partly by the sand painting of the American Indians and partly by Surrealism, culminated in his use from 1947 of a technique of dripping trails of paint onto a canvas laid flat on the floor. Pollock's technique of pouring and dripping paint is thought to be one of the origins of the term action painting. With this technique, Pollock was able to achieve a more immediate means of creating art, the paint now literally flowing from his chosen tool onto the canvas. By defying the convention of painting on an upright surface, he added a new dimension by being able to view and apply paint to his canvases from all directions.
His approach allowed him to apply the paint from all directions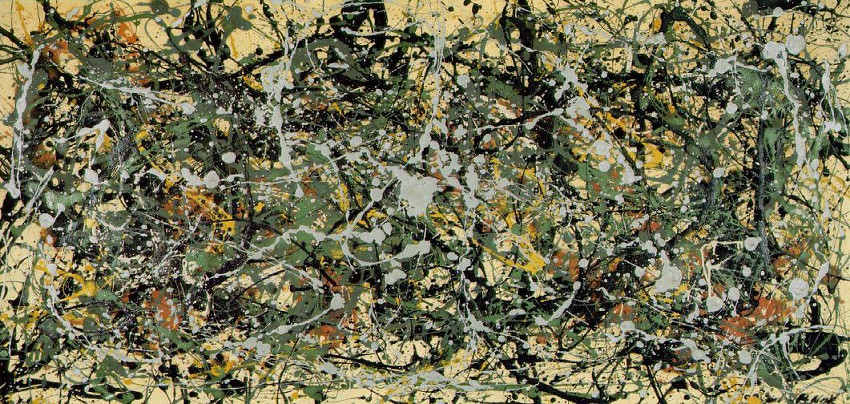 Legacy
During his lifetime, Pollock enjoyed considerable fame and notoriety, a major artist of his generation. Regarded as reclusive, he had a volatile personality, and struggled with alcoholism for most of his life. In 1945, he married the artist Lee Krasner, who became an important influence on his career and on his legacy. Pollock died at the age of 44 in an alcohol-related, single-car accident; he was driving. In December 1956, several months after his death, Pollock was given a memorial retrospective exhibition at the Museum of Modern Art (MoMA) in New York City. A larger, more comprehensive exhibition of his work was held there in 1967. In 1998 and 1999, his work was honored with large-scale retrospective exhibitions at MoMA and at The Tate in London.
Alcohol eventually claimed Pollock's life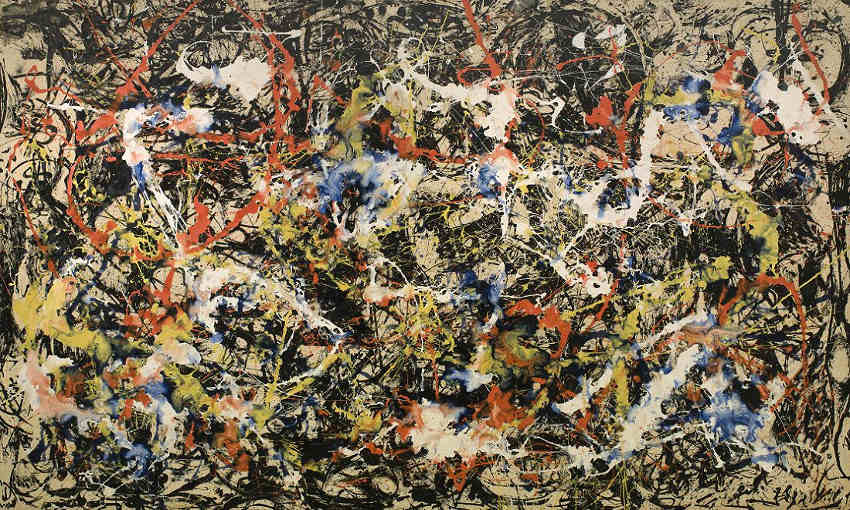 The Paintings Have a Life of Their Own
"When I am in my painting, I'm not aware of what I'm doing. It is only after a sort of 'get acquainted' period that I see what I have been about. I have no fear of making changes, destroying the image, etc., because the painting has a life of its own. I try to let it come through. It is only when I lose contact with the painting that the result is a mess. Otherwise there is pure harmony, an easy give and take, and the painting comes out well."- Jackson Pollock, My Painting.
He is represented by Vince Fine Arts in Miami.
All images used for illustrative purposes only.