Jacopo Mandich is an Italian artist, best known for his works in sculpture. He works with all kinds of materials, but mainly focuses on iron and wood. Mandich was born on March 30, 1979 in Rome. He received his education at the Fine Arts Academy in Rome, where he eventually graduated in 2005, majoring in sculpture.
Iron and Glass Sculptures by Jacopo Mandich

Jacopo's style is always developing. It is firmly based on various materials that he uses, mainly on wood, iron and stone. All of the materials are recycled. His sculptures seem to defy the basic principles of physics: the raw materials are molded in unusual directions, thus capturing the movement in his figures, and presenting emotional and sensory content. Jacopo manages to fuse together the strong passion for the subject, the deep connection to the dream world and the beauty of nature, creating sculptures that burst with energy. As a result, we get anthropomorphic creatures that look as if they belong to some alien planet.
Exhibition: Cosmogonie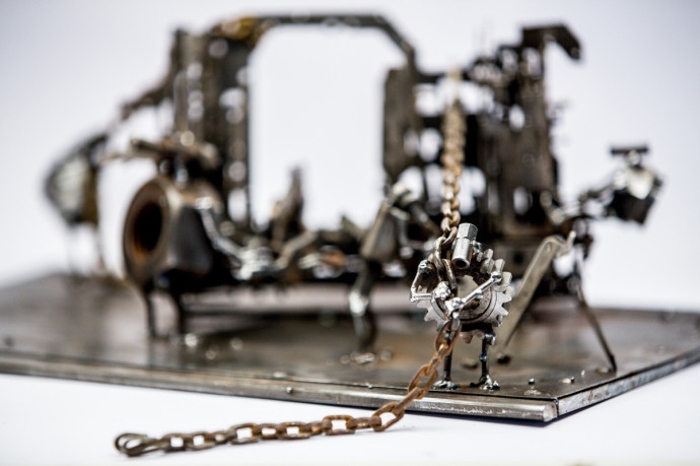 Jacopo Mandich has exhibited his artworks all over Italy. His first solo exhibition came only a year after he had graduated; it was held at the Manucci museum. His art was also on display at various venues in London and Paris. His most notable exhibition Cosmogonie was organized by Varsi gallery in 2014. Cosmogonie is actually a city, inhabited by the Survivors which come from different realities, each with its own role and unique social characters. Here, Mandich uses iron, wood and stone: each material has its own role. Iron represents sanity, wood is emotions, and stone the natural balance.
Jacopo Mandich is represented by Galleria Varsi in Rome, Italy.
All images © Jacopo Mandich.