If you're an artist, then your practice should be a daily thing. When observed like a concept that you pursue every single day, there is unavoidably something mechanical and unemotional about that process. James Jean is a young Taiwanese-American artist, who understands that no matter how much the practice becomes similar to repetition, we're still humans in the end. He thinks of his body as a mechanical vehicle fueled by his emotions, whatever they may be – anger, hate, subdue, or sorrow. The biggest fear for James Jean is getting crippled by some sort of depression and not be able to get up and create every day.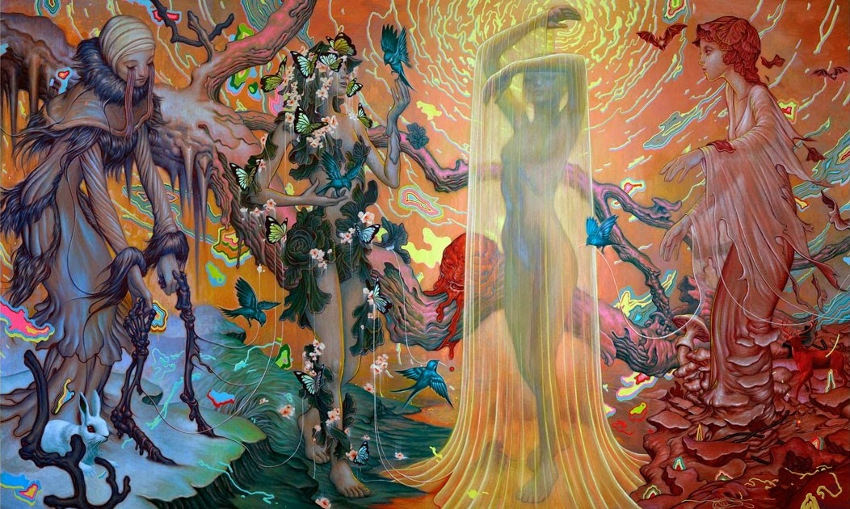 Beautifully Composed James Jean Art
The artist's imagination is on another level as he constantly creates compositions of characters, ethereal and in motion, always graceful in gesture. The laws of gravity are broken and the places depicted are some other, distant and unclear planes of existence. The elements of traditional symbolism are entwined in dynamic narratives, altogether forging Jean's unique and widely recognizable style. Among the things that inspire him the most, the observation, memory, and imagination stand out as the principle aspects of his work. There is an ever-present conflict between the artist's desire to avoid any meaning and intent in the process of creating, letting the pure act of observation of what's happening before him dictate what he does; On the other end, James Jean is interested to see how his prejudices and predilections influence his work, to create solely from imagination and memory.
James Jean shows characters that are ethereal, in motion and always graceful in gesture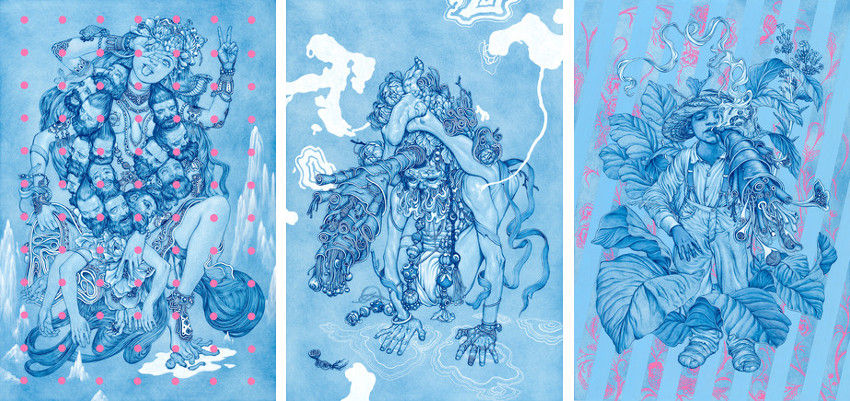 Between Commercial and Personal Work
Illustration was the first step on his artistic journey. While at school, he wanted to do pretty much anything that would require him to draw, if he could get paid for it. And then, after working briefly for New York Times and getting rejected from some major book publishers, James Jean attracted the attention of DC comics, where he began doing covers. That turned into a regular job for about seven years, all the way until 2007, when he turned his focus to his personal work. It is interesting that, during that period, despite his intention to shift completely to the personal work, his commercial gigs were hugely successful, as he worked for Time Magazine, Playboy, Prada, Rolling Stone, Linkin Park, just to name a few of his employers. For a time, Jean enjoyed the pressure of deadlines and constraints of illustration, since he learned to solve problems fast and polish his work until it gleamed. But he felt that in order to grow, he needed a change, so now he works in fine art, where the challenges and rewards are much greater on the intellectual and spiritual level.
In fine art, artists can claim rewards, much greater intellectually and spiritually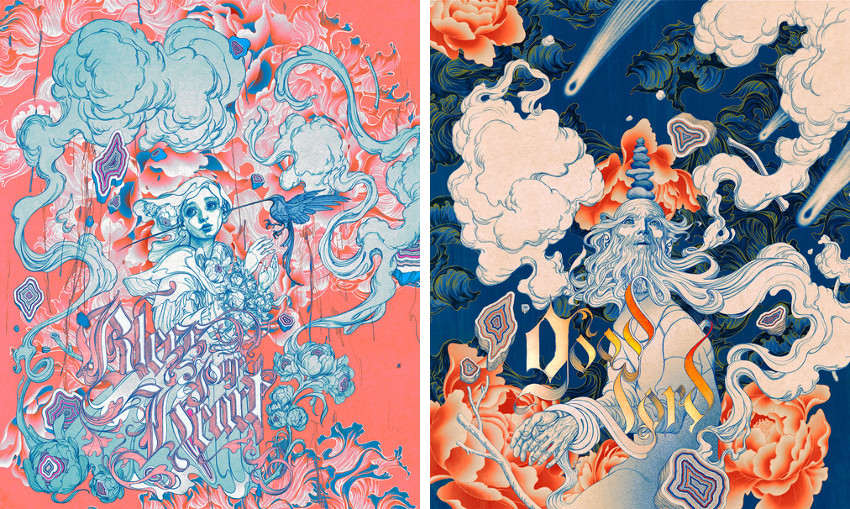 Trading One Passion for Another
As a teenager, James Jean was mostly interested in music. Playing the trumpet was an obsession of his, and while he had an interest in drawing, he would spend his time in the basement practicing jazz. The feeling of creating sound through metal was simply addictive. But, despite all of that, he applied to art school, where he traded his addiction to music for another addiction – the drawing. Jean studied at the New York School of Visual Arts. His covers were incredibly popular and acclaimed, earning him 5 consecutive Eisner Awards and 3 consecutive Harvey Awards for Best Cover Artist. He also won three Gold medals from the Society of Illustrators, first in 2000 and then two in 2007.
As a teenager, James Jean was mostly interested in music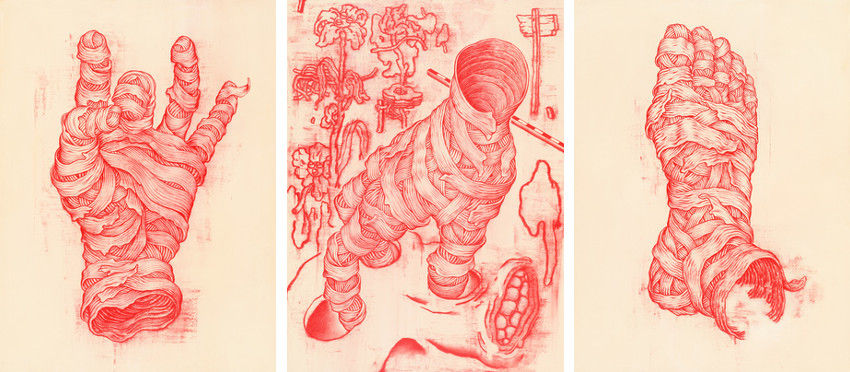 Seeking Peace
It was February of 2013 when things finally went completely out of hand (following a messy divorce), so Jean left the USA and severed his connections with almost everything. He moved to the Philippines and even had to trade some of his paintings just so he could have a place to stay. After two years of living abroad, he's now trying to get his life back to normal. During this travel, he became interested in photography, so it will be exciting to see where this change will lead him. The most important thing for him is peace, as he states that he works best when he is calm and undisturbed. There are still some challenges (there are always some, the life is ever-changing and nothing is certain), but he's emotionally speaking at peace, right where he needs to be so he could stir up entropy on canvas.
James Jean lives and works in Los Angeles.
Featured image: James Jean – portrait, image via hidari-zingaro.jp
All images courtesy of the artist