Jan Kaláb aka Cakes aka Point is a Czech graffiti artist, belonging to the oldest active generation of graffiti writers in the Czech Republic. Jan Kaláb was born 1978 in Czechoslovakia, at a time when the Iron Curtain still existed. In the 80s, when Jan Kaláb was growing up, Eastern World wasn't familiar with the culture of graffiti. Only a decade later, as Czech Republic separated from Slovakia and the country began opening to different influences, many of western culture became accepted and recognized. During this period, young Jan became infatuated with this new craft, only now to be acknowledged as one of the pioneers of the local scene. With the fall of the Iron Curtain, Jan Kaláb was able to fall into the world of graffiti and street art.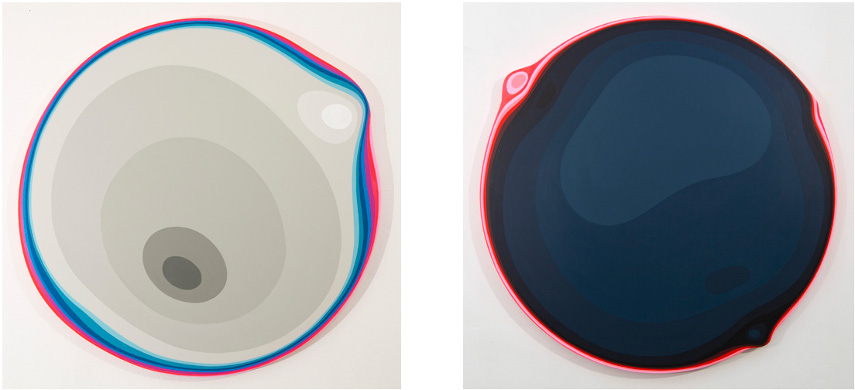 Jan Kalab: Czech Graffiti Pioneer
In Prague in the early 90's, there were a couple of pieces and mostly done by foreigners. As the country was opening itself to western influences, he became one of the pioneers of the local scene, and founded an iconic crew, the DSK. Sleepless nights around train yards, light tubes at police stations and above all hard work on his style: he went through all the classical steps of a writer's career. Next step was New York, where he made a big impression by painting whole cars in 2000, alongside with Key and Rome. Never one to standstill, his work has continually evolved from working on street art in Europe under the name Cakes, through to the challenging breakthrough of 3-D Graffiti. Using the name Point, he sculpted big abstract letters that were then placed on streets and walls, a departure from traditional graffiti and street art but in keeping with the original spirit of the scene.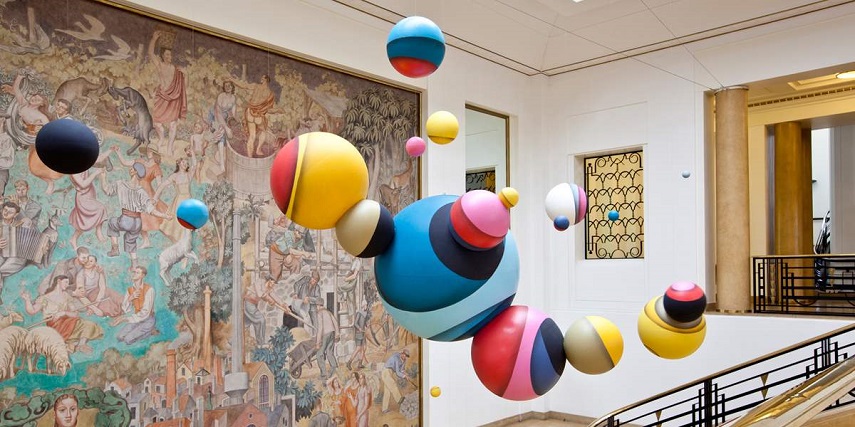 Kalab's Abstract Sculpture and Canvas
Those sculptures lead him to abstraction, a path he's been exploring through canvas from 2007, using acrylic painting and brushes. In the meantime, this admirer of Kupka graduated from the Academy of fine Arts of Prague – becoming the first Czech writer to do so. In 2007 Jan Kaláb moved to exploring abstraction on canvas, switching to acrylic paints for his studio work. On canvas, his expansive graffiti style is reduced to a concentrated, minimalist expression inspired by Piet Mondrian. The paintings became more geometric with themes of depth, time, motion and dynamics and he took some of these a step further, when he took them onto the streets of various cities to create a series of photographs. Getting involved and exploring a new form of graffiti which consisted or creating huge abstract sculpture-like letters and putting them on street walls, this led his to abstraction – a path he's been exploring through canvas from 2007, using acrylic painting and brushes. His style of writing graffiti is taken to another level by adding dynamic, colorful and playful compositions with depth and motion.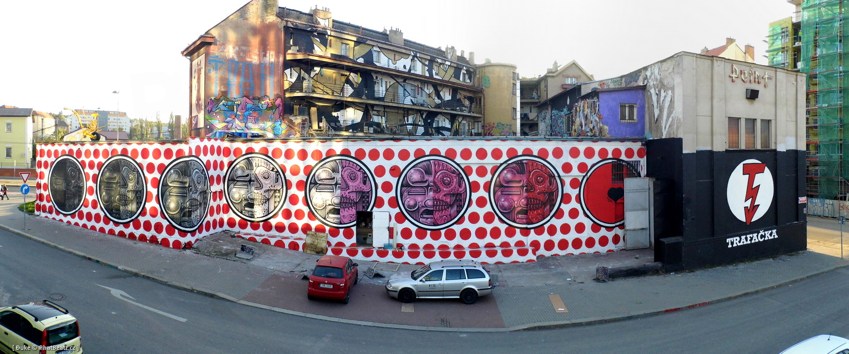 Trafačka
Jan Kaláb had his first solo exhibition in 2008 in Prague. Others solos took place in Romania, Argentina, Germania or in the United States. With time, his forms became more and more geometric. He used colorful squares and circles as an obsessive vocabulary for infinite variations around depth, time, and motion. Playing with circles conveyed organic imperfection and swing into his work. Dynamic is also crucial in his recent experiments, when he took pictures of some of his paintings in the streets of New York or other cities. The project became a social one when he realized he needed help from strangers to carry the canvas. This is no surprise, since collective energy is crucial in his creative process. The artist is very invested in collective events. He's the co-creator of a highly dynamic cultural space in Prague, called Trafačka. More than 160 exhibitions took place there from the opening in 2006 till the closure in 2015. On his own or collectively, the motto is the same: always getting higher, always inventing new forms – a tribute to the soul of graffiti. Jan once said to Widewalls: Graffiti is magic. It is something that soaks you in without knowing what is really going on. Jan moved into studio based work explaining it: "It is natural evolution, from rage to concentration. We are grown up now."
The artist is represented by Galerie Openspace, MAGMA Gallery, Golden Hands Gallery, Fabien Castanier Gallery and Art is just a four letter word.
Jan Kaláb lives and works in Prague, Czech Republic.