Photographer Jan Saudek, known for his hand-tinted photographs often portraying nude or semi-nude (mostly female) figures, and infamous for his promiscuous lifestyle, is one of Czech Republic's most highly acclaimed artists. He created the dreamy world his subjects inhabit by painting over staged black-and-white photos, frequently re-using identical images and motifs for the backdrop, such as a cloudy sky, a view of Prague's Charles Bridge or his famous flaky wall. Looking to capture the beauty and reality of life, Saudek's art shows scenes of love, lust, interpersonal bond, family, youth, old age and the in-between. His private life of easy virtue, something he was notorious for, has served as inspiration for the artist, alongside his lovers who he considered his muses. In his words: "I have no ways of portraying the lives of others. I portray my own."[1]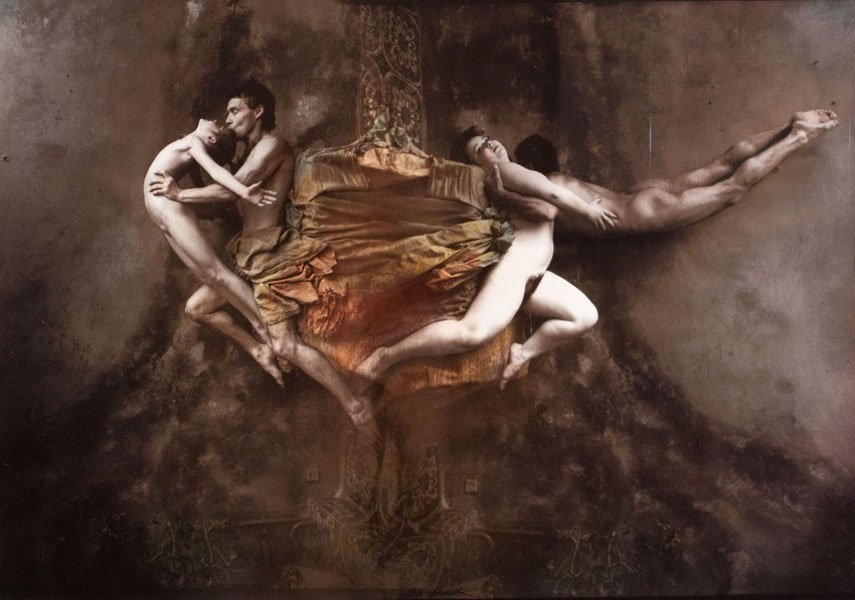 Early Years
Jan Saudek was born in 1935 in Prague, Czech Republic. As children of Jewish parents, he and his brothers were sent to concentration camp during the Nazi occupation, as was their father, Gustav Saudek. Six of his siblings perished in the Theresienstadt concentration camp, while Jan and his twin brother Karel survived, having being held at Mischlinge, a special concentration camp for twins. Their father also survived. The violence in his early years made a deep impression on Saudek, as he looked upon the dead and dying around him "long and close, the way a child does". He recalls at the age of nine seeing a German boy-soldier strung up from a lamppost by his ankles. "Even a child like me can see he's from the Wehrmacht, and not an SS man. They pour petrol over him and set light to him… It's the innocent who pay for every war."[2]
One of his early works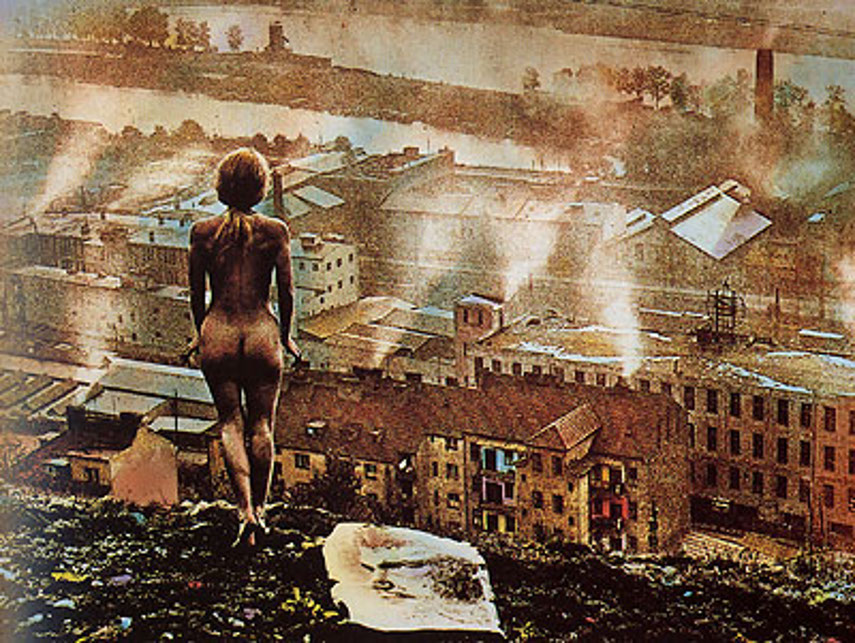 Photography Telling Stories
After the war, Jan was influenced by a cartoon section from an American newspaper used as packaging for a gift sent from the United States. The comic strip tales of Captain Marvel stirred his imagination, and that of his twin brother Karel, who would go on to become the best known Czech graphic novelists. Being exposed to photographs made by Margaret Bourke-White, Gisele Freund and Eugene Smith, Jan Saudek started to form a view of photography as a medium best used to tell stories, capable of great narrative potential. Much later, as an adult, he would remark: "If a photograph does not tell a story it's not a photograph." Additionally, he observes: "Perhaps it's the story of all of our thoughts, those that become public and challenge conventional wisdom and those that remain confined by shame." [3]He received his first camera in 1949, a KODAK Baby Brownie. In 1951, as he writes: "I compose my first photo, which I later colour in. Without the slightest hesitation our family doctor, to whom my mother very diffidently shows the photo, pronounces it hopelessly bad, complete and utter kitsch, and what's more old-fashioned. I believe every word and immediately stop taking pictures. (Years later I come across the photo again: it's beautiful, in the way that to be young is beautiful! I wouldn't know how to do it like that now! I've lost the photo again - but at least I saw it just once more - and that's enough. Just once, just once...)"[4]
His promiscuity took its toll on his love life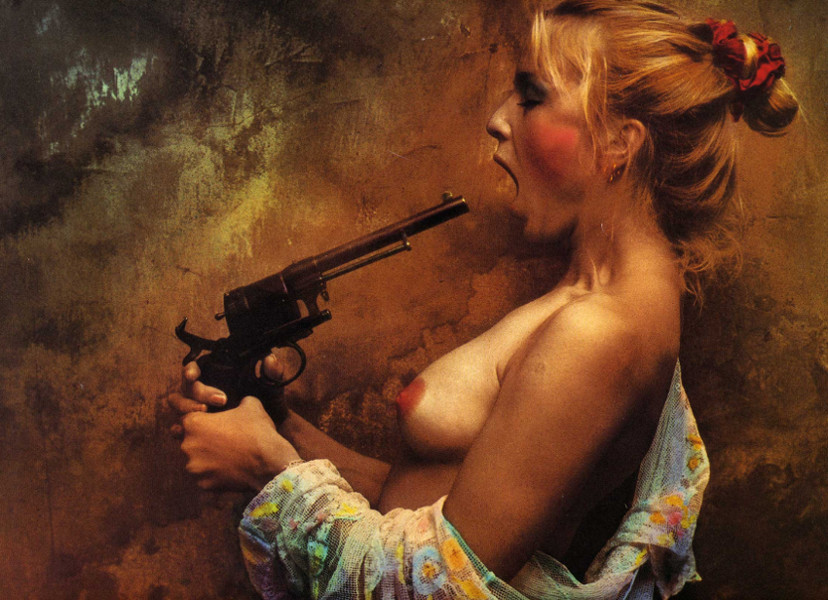 Rising in Spite of Controversy
Eventually, he went back to photography, and attended a school for industrial photography in Prague in 1950-53. In 1959, his young wife gifted him a professional, more advanced camera – the Flexaret 6x6. After returning from military service, he was inspired in 1963 by the catalogue for Edwards Stechen's The Family of Man exhibition, which motivated him to pursue a career in the arts, as a serious photographer. In 1969, he visited the United States, where curator Hugh Edwards encouraged him to persist in his artistic wishes. Returning to his hometown and country, Saudek was unfortunately forced to work from hiding in a cellar, out of the eye of the secret police. His themes of personal erotic freedom and implicitly political symbols of corruption and innocence weren't being taken lightly by the government. In the late 1970's he was gaining popularity as the leading Czech photographer; he started coloring his photographs with paint in 1977. In 1983, he had a book published in the English-speaking world, and in the same year, finally, the Czech Communist authorities permitted him to work as an artist. In 1987, his archives were raided and his negatives apprehended by the police. They were later returned.
Jan has had more than 400 solo exhibitions in museums and galleries across the world and is one of the most renowned Czech artists.
Jan Saudek lives and works in Prague, Czech Republic.
References:
Saudek, J., Fricke, C. (1998), Jan Saudek, Taschen, Köln
Anonymous (2011), Jan Saudek and Sara Saudkova, Cultural Development Consulting [November 1, 2016]
Ibid.
Anonymous (2007), Jan Saudek CV, Jan Saudek official website [November 1, 2016]
Featured image: Portrait of the artist, photo credits of the artist