We all know of the great names of the history of art, especially those that marked the recent times behind us. From Jean-Michel Basquiat to Pablo Picasso, there are always a number of artists that take on the limelight of the current artistic attention, becoming widely known and recognized even among those outside of art circles. However, the art world of any given time is comprised of a large number of those creating art, and to a larger or smaller degree, every artist shapes its course. Jan Toorop was one such Dutch artist who contributed to the development of Realism, Impressionism, Neo-Impressionism, Post-Impressionism, as well as Art Nouveau, yet remains known to this day only in his own country of Netherlands. Creating a unique symbolist movement, Jan Toorop is one of the less known contributors to the history of art.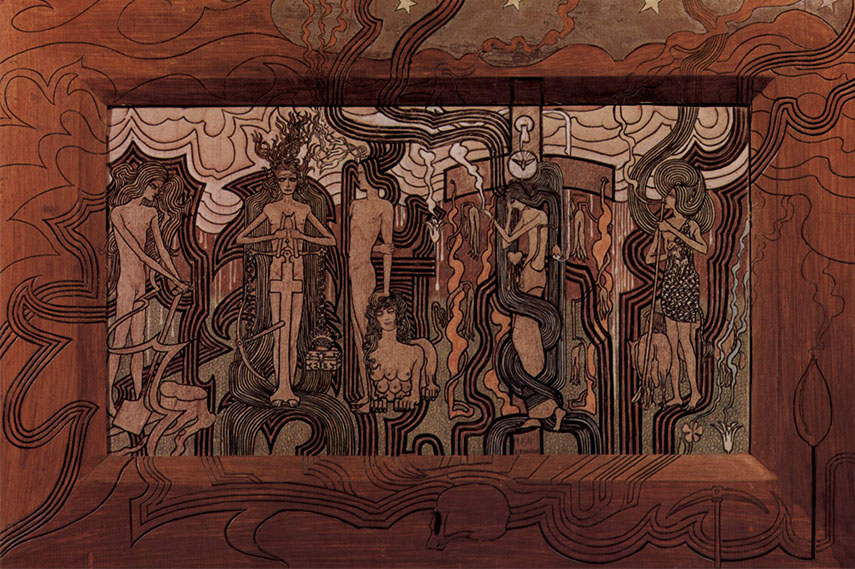 Beginnings of Jan Toorop
The duality of origin of Johannes Theodorus "Jan" Toorop took root back in his youth, as he was born in Purworejo, on the island of Java in the Dutch East Indies, Indonesia, and sent to Netherlands when he was just nine years old to continue his studies. His parents didn't follow and consequently, he never saw them again, but he did maintain an excellent relationship with them and they supported him financially. Toroop's education at these early years wasn't going smoothly, but given his natural talent for drawing discovered by The Hague art collector Mr. Ahn, he was able to take on studying art instead, attending the National Academy in Amsterdam.
The event that had a great influence on Jan Toorop was the creation of the group Les Vingt (or Les xx), which he joined a year after his initial attempt to become a member. The group was composed of primarily Belgian artists trying to emphasize the new developments in Belgian art, but they started accepting foreign painters into the fold as well later on. The group's social circles provided a great source of new contacts for Toorop, influencing him when it comes to both the visual arts and music. Working in various fields at this point, Jan Toorop was implementing Realism, Impressionism, Neo-Impressionism, and Post-Impressionism into his practice.
Les Vingt group had a great influence on Javanese-born artist Jan Toorop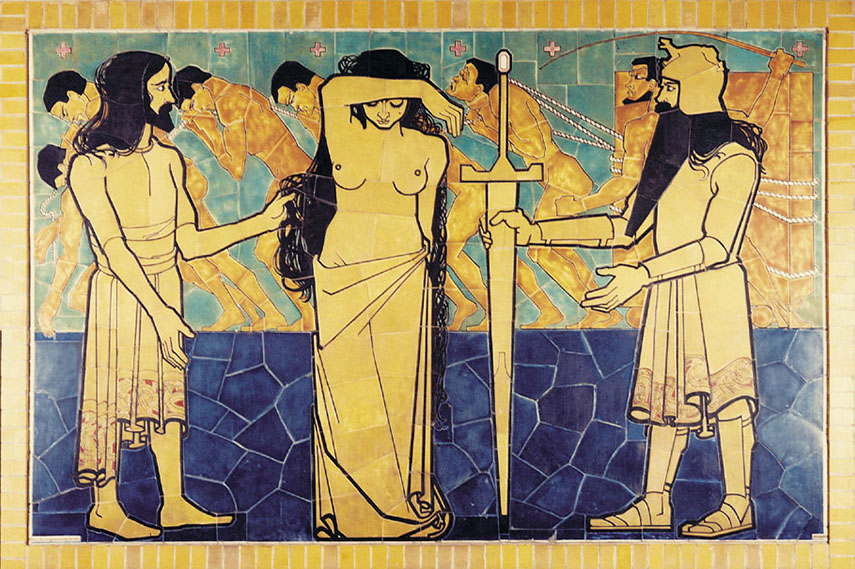 Myriad of Styles
Jan Toorop's style has changed on multiple occasions during his career, and it would often happen in a rapid succession from one to the other. Even the interpretations he gave of his own works would vary in different periods, depending on his given state of mind. Other creatives had a great influence on his choice of style, and after his association with Les Vingt, it was the Impressionists of Paris that made an impression on Toorop. Some of the representatives of this influence are the portrait of Annie Hall (1885) and Trio Fleuri (1885-1886), and even in the latter one can traces of Symbolism be seen.
On a different occasion, Toorop turned towards the Middle Ages, influenced by the propaganda for the Arts and Crafts movement during his visit to the Morris' Kelmscott Press. This fascination can also be seen later on in his career as he produced stained-glass windows. His relocation to The Hague had him make yet another switch in his style, and given that the city was the one most receptive to Art Nouveau, it comes as no surprise that Toorop would adopt it. It was, however, the Symbolism that had Toroop truly stand out, forming it in a unique and uncanny way.
Toorop adopted Art Nouveau after his relocation to the Dutch city of The Hague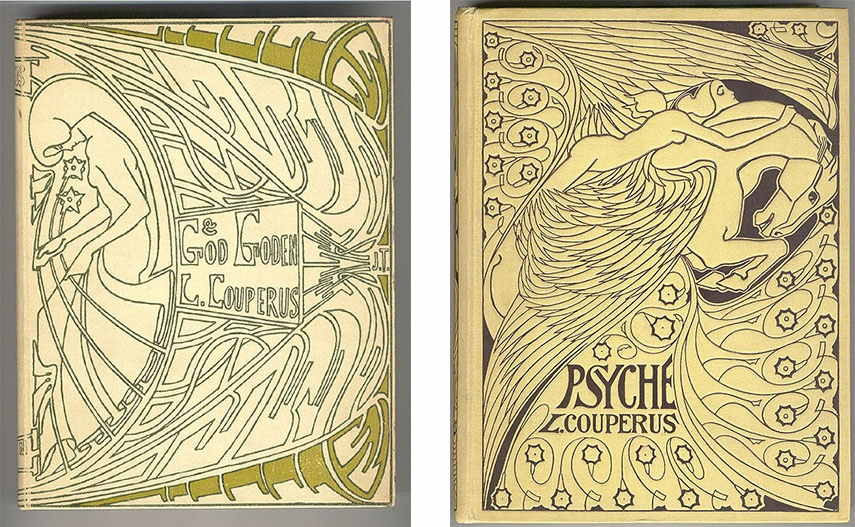 A Unique Symbolist
It was his interest in Gesammtkunst that had Toorop pulled into the world of Symbolism, and the contacts that he maintained within the art scene of the time definitely helped push him in that direction. His piece Temptation made in 1887, though stylistically Pointillist, was anticipating his future Symbolism-centered painitngs, and Toorop would return to the subject on multiple occasions throughout the rest of his career. Recollecting the memories of childhood years spent on the island of Java, he has developed his style based on the motifs of this Indonesian area, using dynamic and unpredictable lines, highly stylized willowy figures, and curvilinear designs. In line with his constant search for a new creative territory to explore within painting, Jan Toorop produced expressive drawings of Katwijk fishermen even during his Symbolism-based period. Taking yet another new path, his entrance into the 20th century was marked by a move to Nijmegen and its Catholic circles.
Toorop produced expressive drawings of Katwijk fishermen even during his Symbolism-based period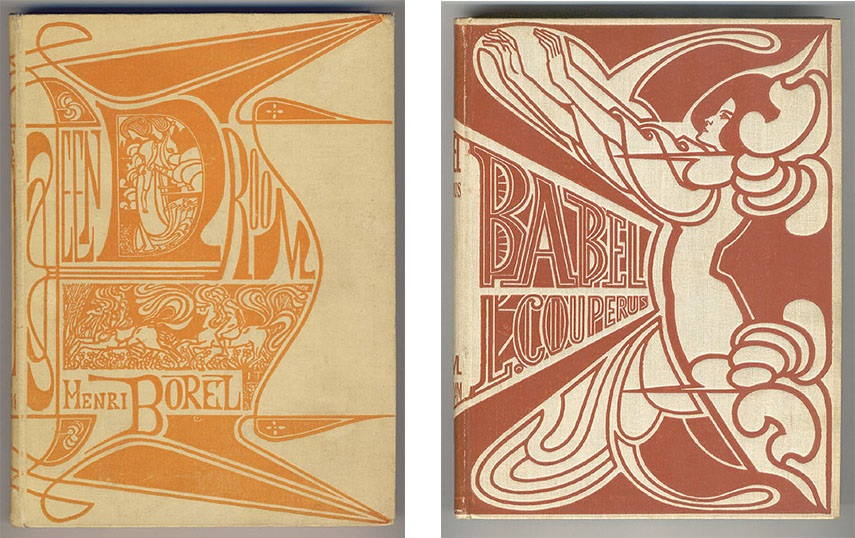 Turning to Religion
1908 was the year of an important decision for Jan Toorop: his move to the center of Dutch Catholicism, Nijmegen, ended up influencing his work for the rest of his career. The overture for his move was made in the preceding years, as he joined a circle of Catholic creatives who called themselves De Violier. Having converted to Catholicism, the latter years of his life and career were focused on making pieces that correlated to faith, influencing his painting in a sense that he made more rigid, less inspired lines, and had made stained-glass windows.
Jan Toorop died in 1928 in The Hague, Netherlands, leaving behind an extensive body of work in various different directions. From his well known Delft Salad Oil to his work being labeled as "pictures of saints," there is no doubt that Toorop was influenced by and had influenced a great number of other creatives not just in Netherlands but far abroad. Although his work does not truly belong to any single movement, Toorop has left a strong mark on the world of art and its representatives, entering artistic history. His works have been exhibited in such galleries and museums as Gemeentemuseum, The Hague, Netherlands; Hunterian Art Gallery, University of Glasgow, Glasgow, UK; Van Gogh Museum, Amsterdam, Netherlands; Tate Britain, London, UK; and Haus der Kunst, Munich, Germany, to name a few.
Featured image: Jan Toorop - portrait, photo via wikipedia.org
All other photos via wikiart.org