Exploring the internal feminine viciousness through her rich narrative paintings, Jana Brike creates the images that capture the wild beauty that is in accordance with her way of thinking and living. Growing up in a spirit of Soviet Russia, her Latvian inheritance led her to the world of stories focused on the beauty of nature told trough the language of ancient wisdom. Her main influences derive from hundreds of years long pagan literal tradition which has been passed from generation to generation. Always enjoyed in fairy tale illustrations, old Russian traditional painters and watching ballet and fantasy movies, Brike believed that she would be a painter since the age of five.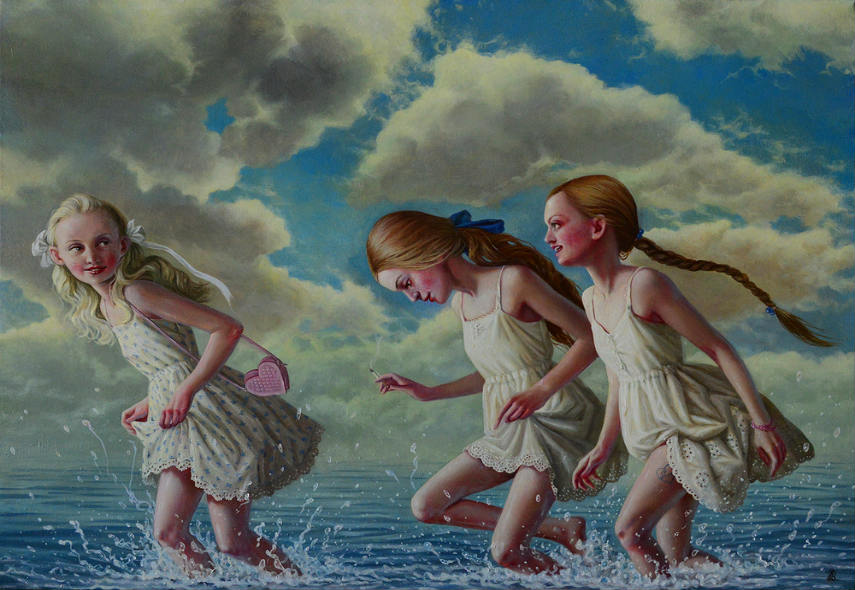 High Tide
Her world of imagination was encouraged and deeply affected by the totalitarian Soviet regime since her early childhood. Surrounded by poverty and scarcity of every kind, she made the toys from flowers, creating unique princesses that lasted one whole day. Spending the summers on the countryside with her granny, she enjoyed planting plants and wondering alone in the woods. At the age of ten, she started with her painting lessons, serious professional training where she learned about basics, as preparing canvases and pigments. She studied painting at the Art Academy of Latvia where she received her M.A. degree. Her work has been exhibited internationally at 11 solo shows and numerous group projects.
Brike's world of imagination was deeply affected by the totalitarian Soviet regime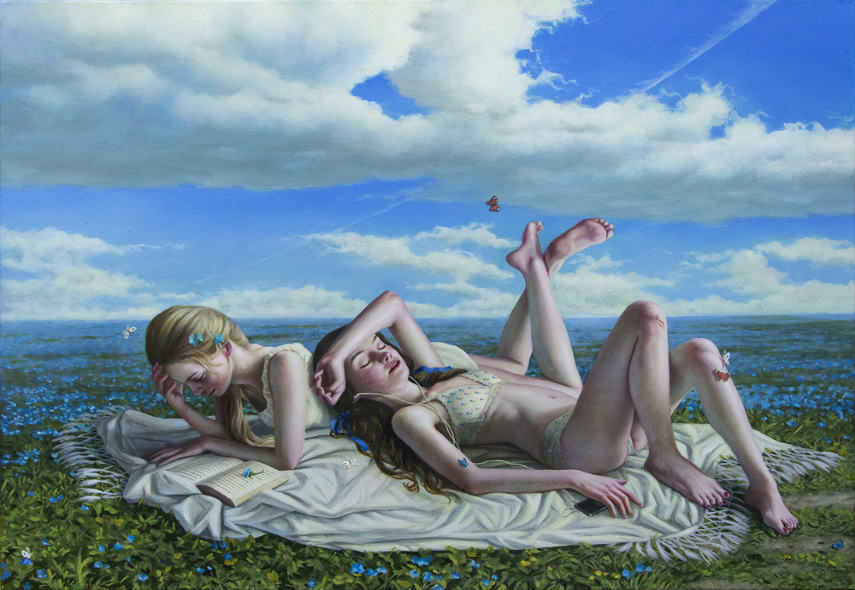 Anatomy of Innocence
Over the ages, Brike's style became more peaceful, harmonious and self-aware. Changing the mediums occasionally, as drawing, animation, mixed media sculpture, installation and digital art, she prefers the traditional oil painting which offers her smooth feel of the surface and slow meditative process. Her work consists of separate series growing around the certain idea. Relying on the intuition, there is no systematic research or planning in advance. The personal symbolism is derived from her vivid dreams of hurricanes and tidal waves, giving the water important meaning of life provider, as well as something danger and mystical. Her young, fragile characters who stand unprotected in a storm reveal Brike's personal feelings in many situations in her life.
The water is important symbol in her paintings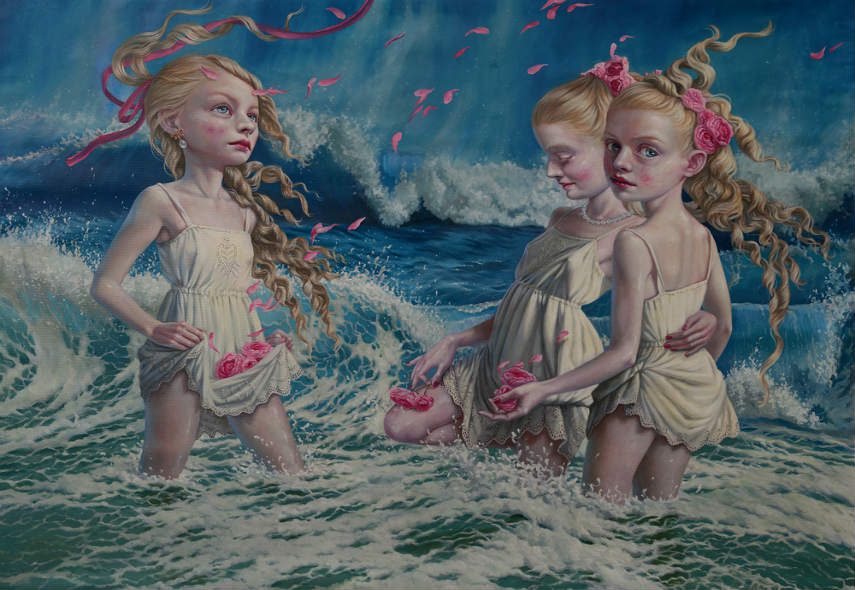 Coming of Age
Exploring her inner being and personal life through her paintings, the essence is always in the issues of love, freedom, life and death, growing up and relationship with the own body image. Devoting the attention to the feminine soul space, she aims to catch the spirit of the wild woman in her girlhood body and the process of maturing. Rejecting the contemporary images that use female body as the objects, she puts her characters into a safe unsexual zone, obsessed with an idea of depicting innocence. She likes to use grown up women as the models, distorting their proportions and making them look like girls and boys on her paintings.
She aims to catch the spirit of the wild woman in her girlhood body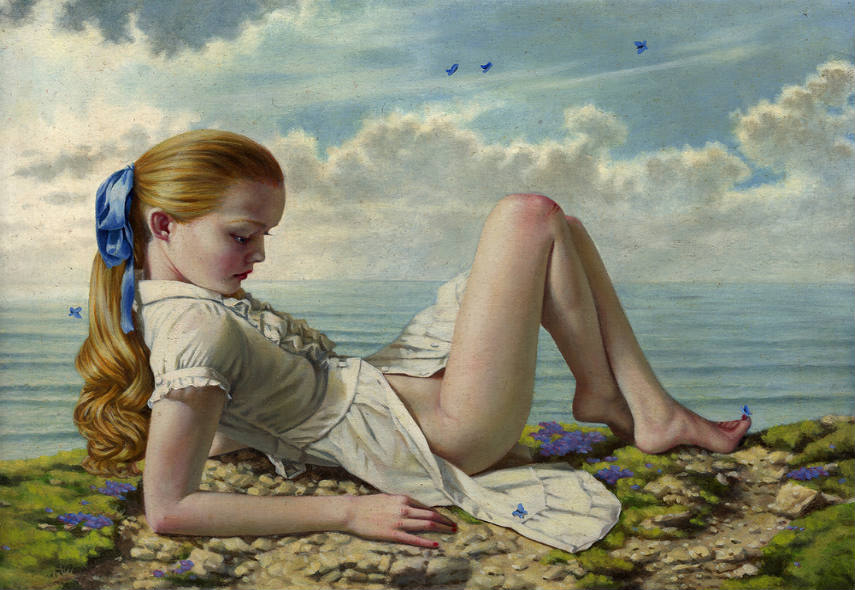 After the End of Time
Brike's Pop Surrealist work is inspired mostly by the Latvian people, its folklore and fairytales. She is fascinated by a children book illustrations and old school soviet animation films. Also, she looks up to the old masters and traditional paintings and the western pop culture. The list of phenomena and things she is inspired by goes on and on, but we'll add only a few more: a secret and mystical imagery of the war and deportations, ballet, and the Latvian countryside Catholic Church ceremonies. However, most of all, Jana is inspired by the human soul, its pursuit of dreams, love, and self-discovery.
This artist is represented by Stephanie Chefas Projects.
Jana Brike lives in Latvia, in her native town of Riga.
Featured image: portrait photo copyright © artist
All images courtesy of the artist