Living in a world of dark magic forest, Jasmine Becket-Griffith paints strange beings from fantasy and gothic artwork. Her favorite subjects include fairies, rainbows, skulls and pirates. Her little girls with big sad eyes express the feeling of loneliness. Innocent princesses sometimes turn into evil characters from dark sides of the story. She prefers acrylic on canvas or wooden panel, but her design appears on many products of licensed merchandise, including co-branded Disney projects. Since 2006, Becket-Griffith works as an independent contractor with the Walt Disney Company.
Success as a Product of Everyday Work
She was born in 1979. After she earned Bachelor's degree in Studio Art, specializing drawing and painting at the University of Missouri in Kansas City, she works as a self-employed free-lance artist since 1996. She spends most of her time painting and during her favorite activity, she finds her inspiration in listening to the music, particularly bands like Nine Inch Nails, The Beatles, Pink Floyd and Led Zeppelin. When she's not painting, Becket-Griffith visits art conventions, exhibitions and festivals where she sells her work and paints live, representing her art to her fans.
Her art is inspired by the music of her favourite bands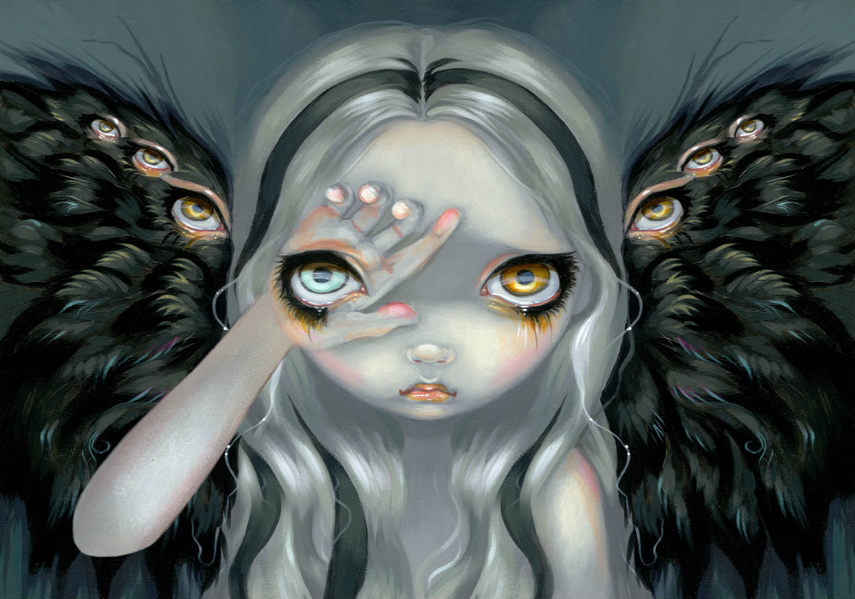 Jasmine Becket-Griffith's Art
Her strange characters draw a lot of attention and her work is very popular among the various audience. Transferring her fantasy world onto the canvas, she tells the stories with familiar characters that awaken the feelings of deep connection to the viewer. Mermaids, fairies and girls with the butterflies in their hair are opposed to the dark princesses and girls with the black cats, dragons and skulls. The look in their eyes reveals the hidden message and their relationship with the surroundings. From angel guardians to the ones that carry the dark prophecy, her subjects do not leave anyone indifferent.
Fairy is Jasmine Becket-Griffit's favorite character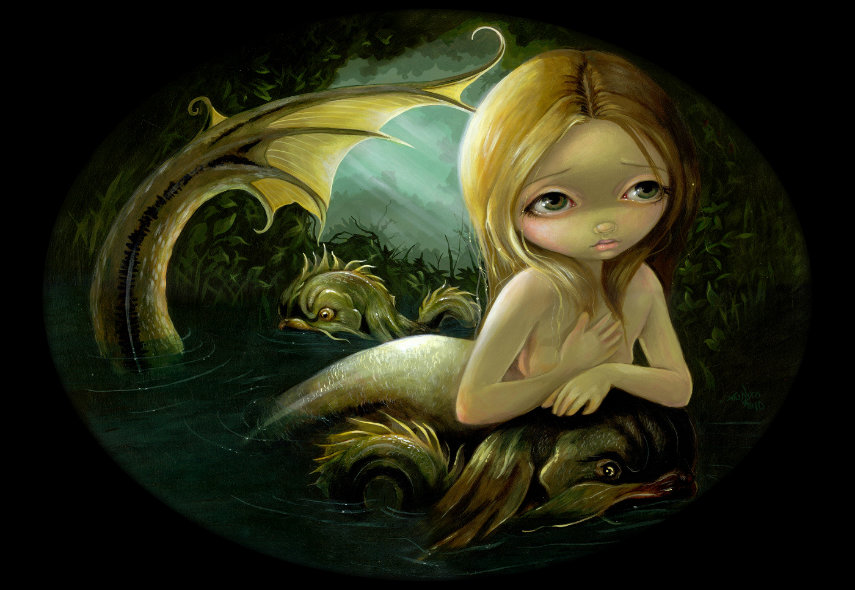 Becket-Griffith Brings New Kind of Fantasy
Becket-Griffith's painting reveals her passion and the energy with which she accesses to her vocation attracts her numerous fans. She lives in the US with her husband, who is also her assistant, and their two cats. She maintains a small studio in London, and most of her time she paints and organizes the selling of her works. Her licensed Disney character pieces could be found at Disneyland's Wonder Ground Gallery in Anaheim and at Disney World's Disney Marketplace Co-Op. She strives to constant innovations and improvement of the themes to keep the excitement of bringing always something new.
Jasmine Becket-Griffith lives and works in Celebration, Florida.
The artist is represented by Corey Helford Gallery, Los Angeles.
Jasmine Becket-Griffith - artist portrait, photo via Amazon.com
All images copyright the artist