Well known for his multi-medium talent and versatility, Jason Bronkhorst is an artist whose body of work covers the fields of sculpture and painting. Although his wide range of mediums made him a bit unpredictable as an artist, Jason has recently been mostly producing interesting portraits that are usually on the colorful borderline between grotesque and intriguing. These fabulous series really helped place Jason's name on the map of the most prominent rising painters of his country.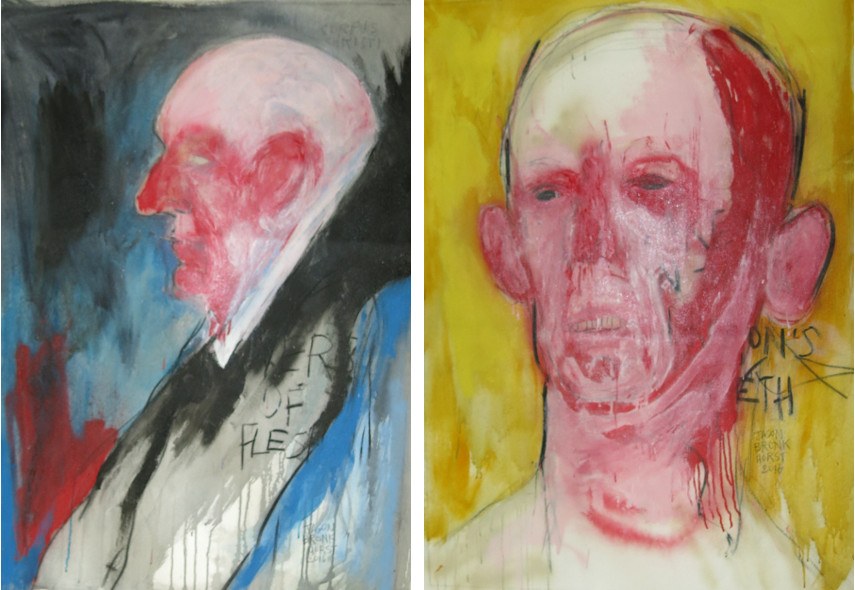 A Long Journey to Art
Jason was born during the year of 1976, in the town of Port Elizabeth, a city on Algoa Bay in Eastern Cape Province. Interestingly, when he was a young toddler, he was intent on becoming a fireman. He also enjoyed drawing and eventually decided this was more of a road for him. His grandad was an architect and he fondly remembers having loads of nice paper to draw on, also inspired for some reason by the smell of the said paper. These are the earliest memories Jason has of any aspect of art creation. However, he eventually decided to take a more contemporary, avant-garde art form when compared to his grandfather. He acquired his artistic knowledge by studying at the prestigious National School of the Arts, Braamfontein, where he graduated during the year of 1995. Since then, he has been active in the field of illustration, design, publishing and photography. At first, he wanted to be a cartoonist forever, which logically reflected on his early primary inspirations as Bronkhorst looked up to any cartoonist he could find. But Jason's work eventually took a different path and became more traditional in his expression. Although this does vary quite a bit, his projects have oftentimes concentrated on the topics of his own nation, reflecting upon post-colonialism, capitalism, patriarchy and white supremacy.
The only thing that is more varied then Jason Bronkhorst's choosing of mediums in which to work is the topics he picks to tackle with his art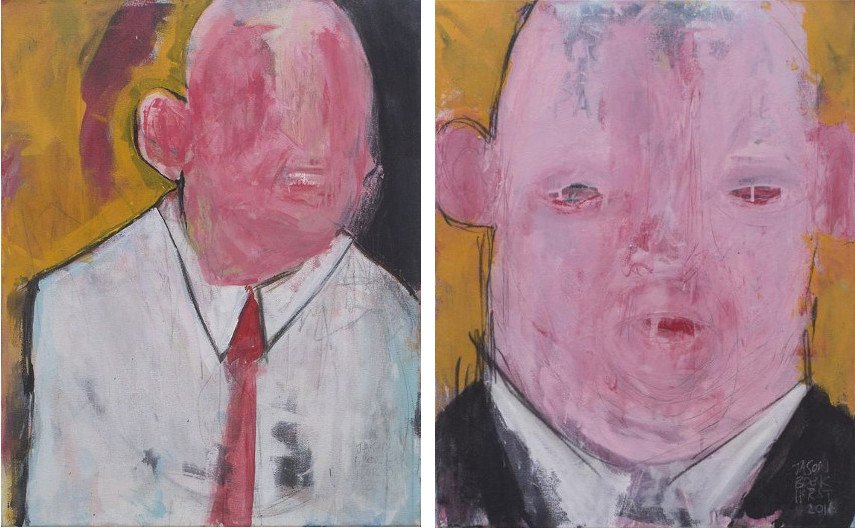 Jason Bronkhorst's Portraits
Besides many of his responsibilities, this artist is currently active as a creative director his hometown. Although this does cut into his creating time rather critically, he is still able to produce more than impressive pieces despite the slower tempo. His latest series of paintings are self-portraits, with each painting containing layers and layers of images and words, erased and present continuously.
Jason Bronkhorst is represented by Kalashnikovv Gallery Berlin and Kalashnikovv Gallery.
Jason Bronkhorst lives and works in Johannesburg.
Featured image: Jason Bronkhorst - Portrait of the artist by Warren van Rensburg
All images courtesy of the artist.