Jason Bryant is an American artist whose work is based on counter-culture elements and balanced with black and white cinematic imagery as the artist is heavily influenced by classic film.
Bryant was born in 1976, in Wilson in rural North Carolina. He grew up with a mother who encouraged him from the early age to "keep in touch" with art. She would often draw, together with Jason's uncle, comic book figures for the boy. These moments and vivid memory of them served this artist not to quit that special bond he has with an artistic creation.
Inspired by classic film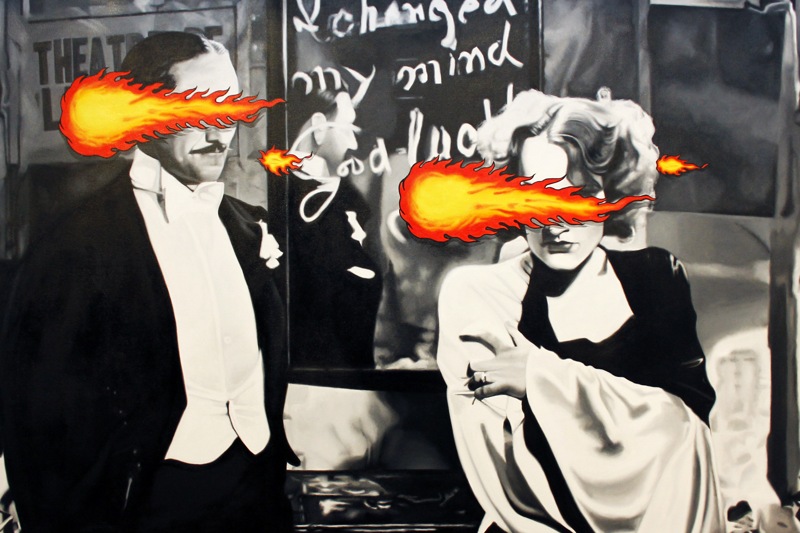 Jason earned his painting BFA at the East Carolina University where his mentor was Paul Hartley. Upon graduation, in 1999, he moves to Baltimore as he was granted an internship with the Mayors Advisory Committee on Art and Culture. In 2004, Jason received his MFA from the Mount Royal School of Art at the Maryland Institute College of Art.
After completing his art education, he moved to New York where he started to collaborate very soon with such names as Kehinde Wiley or Bjarne Melgaard, working as an artist assistant in a variety of studios.
As an 11 years old boy, Jason entered the world of skateboarding. Together with art, these two skills remained his two biggest passions. Practicing skateboard tricks is behind him, but this artist managed to join art with skateboarding in a very creative way. Even though he does not skate that actively any more, he now brings skate graphics into his work, painting directly on boards. One of those kinds of series is titled Merging Icons and it merges iconic skate graphics with iconic film stills.
Inspired by skateboarding
As for his paintings, Jason's large scale oil paintings are inspired by film and comic books. What he does is cropping images to create his characteristic and dynamic perspective. However, his artworks are very technical and refined as he insists on traditional approach to painting, due to his immense respect for the history of painting.
Bryant's work appeared in such publications as Thrasher Magazine Juxtapoz, The Baltimore City Paper, The Philadelphia Inquirer Link Magazine, Direct Art Magazine volumes 5 and 7…
This artist is represented by 19 Karen Contemporary Artspace in Mermaid Beach QLD.
Jason Bryant lives and works in New York City.
All images copyright © the artist