Jason deCaires Taylor is a sculptor, underwater photographer and scuba diver who showed his immense love for the aquatic worlds through his underwater sculptures which are slowly transforming themselves into coral reefs. Taylor's evolving sculptures are supporting the lifecycle of the aquatic organisms as they are made from pH neutral cement, which means that Taylor isn't concerned only with the aesthetical properties of his artworks, but also with their functionality and biological purpose. Taylor is also known as the founder of the largest aquatic museum in the world in Mexico and his continuous efforts to help the preservation of fragile or already endangered marine habitats.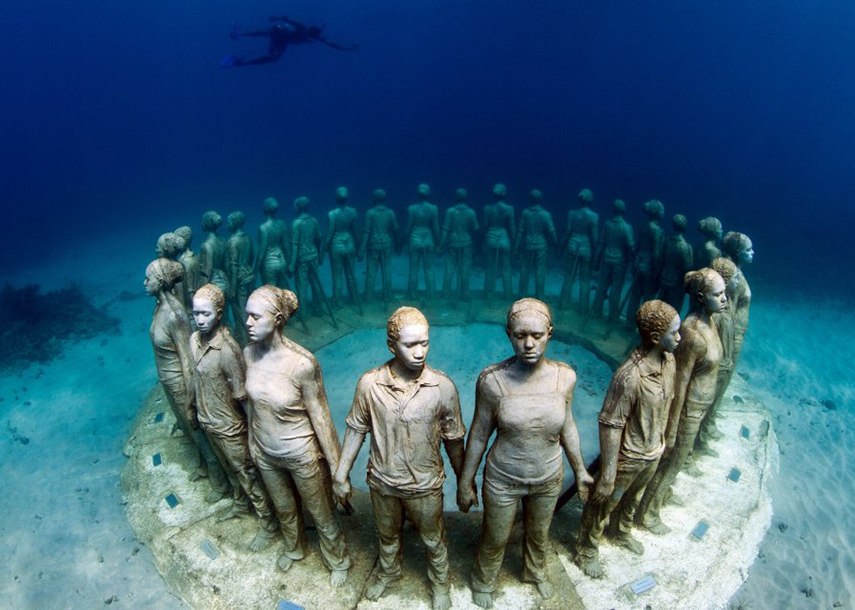 Magic of the Deep Blue World
Taylor had quite dynamic and adventurous childhood. Born to a  British and a Guyanese mother, young Taylor used to travel very often. While growing up between Europe and Asia, Taylor was spending a lot of time in the exploration of the coral reefs in southeast Asia. Even at that young age, he had already shown a strong interest in the marine world. Later on, in his late teens, he decided to pursue fine arts and he graduated from the London Institute of Arts in 1998 with a BFA in Sculpture. At the same time, he never lost his passion for the ocean and became a fully qualified scuba diving instructor as well as a marine conservationist. His talent in fine arts and curiosity about the sea world have been strongly intertwined for more than 20 years and recently Taylor also won a prestigious award for his dramatic underwater images, which just reaffirmed his great talent.
Taylor has recently won a prestigious award for his dramatic underwater images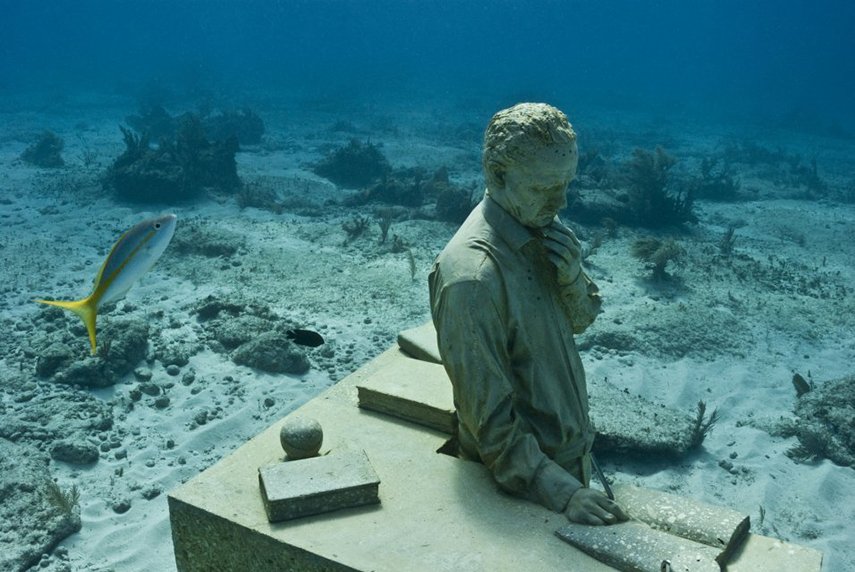 Underwater Sculpture Parks
Taylor's dream to create the world's first underwater sculpture park came true in 2006. This long-awaited, mesmerizing park opened in the West Indies and now it represents one of the Top 25 Wonders of the World according to National Geographic. Encouraged by his great success, Taylor continued to work on his projects and in 2009 he co-founded MUSA, which is a monumental museum of underwater sculptures containing for than 500 of his pieces. These are mainly individual installations with live corals taken from the areas with the damaged reef. The most important smaller works which can be seen in MUSA are Man on Fire, a statue representing a local fisherman, The Gardener, a girl taking care of potted corals, and The Dream Collector, a man reading messages found inside bottles on the bottom of the sea. Taylor's largest artwork, called The Silent Evolution, has been installed in MUSA in 2010 and it features 450 statues of people in various positions, showing a wide array of emotions and evoking both classical and modern narratives. The rest of Taylor's early work such as Vicissitudes and The Unstill Life can be found at other locations, such as the Molinere Bay in the Carribean sea or Grenada of the West Indies, while his newer piece from 2014, a gigantic 5 meter tall Ocean Atlas, is located in the Bahamas. So far, Taylor has created around 700 magnificent underwater pieces which are depicting the human intervention at marine environments as positive and healing.
Taylor's largest artwork The Silent Evolution features 450 statues of people in various positions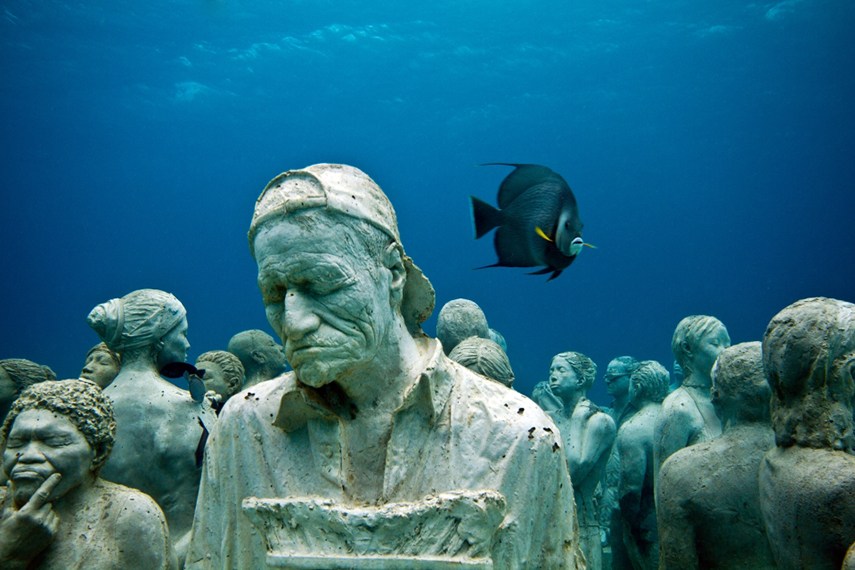 The Cycle of Decay and Rebirth
Taylor's enigmatic sculptures portray a simple, universal topic of the human relationship with nature and remind us that we need to care about our surroundings. His pieces are based on living people who are cast in concrete and because of this it is particularly interesting to watch these sculptures getting transformed from cold, sterile concrete into alive, colorful reefs. This is exactly what Taylor wanted to achieve – to portray, through his unique art, how we can obtain a healthy, symbiotic relationship with nature. The artist always works closely with marine scientists and his materials are stable and naturally responsive. They also promote the health of local ecosystems, since they are positioned in carefully planned locations, according to the tidal patterns and coral geography. Taylor's art is unique in the sense that it is meant to become one with nature. It will necessarily go through various transformations, but its immortality lies exactly in this magical flexibility.
Taylor's goal is to portray how we can obtain a healthy, symbiotic relationship with nature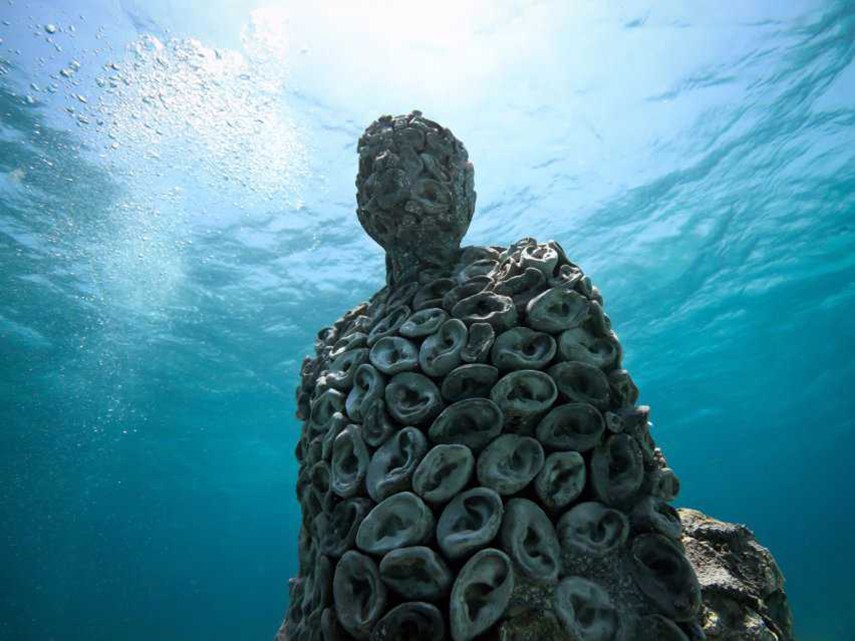 Eco-Art Movement
Taylor projects are highly esteemed not only because of their artistic qualities and marine conservation goals but also because they increase out environmental awareness and reminds us of the beauties and treasures of the ocean world. Taylor's work has been categorized as the eco-art movement since it is clearly a bio-restorative and educational work with a strong worldwide impact. A lot of magazines and documentaries have featured Taylor's work, such as BBC, CNN, USA Today and the Discovery Channel. In 2014, Taylor has won the Foreign Policy Global Thinker award for his extraordinary achievements.
The artist is represented by Jonathan Levine Gallery.
Jason deCaires Taylor lives and works in the Canary Islands.
Featured image: Taylor's portrait - photo credit metro.us
All images courtesy of the artist.