It often doesn't take much for an artist to portray creativity and move the viewers with an art piece. Even a single color can portray a storm, taking the mind from one place to the other within the curves it makes on the canvas. Such is the art of the British artist Jason Martin who is widely known for his monochromatic paintings, as well as his sculptural work, conveying a myriad of emotions with thick paint swaying across different materials. With a lot of diversity within its simplicity, Martin's practice always invites for a closer inspection, capturing thought in its endless monochrome.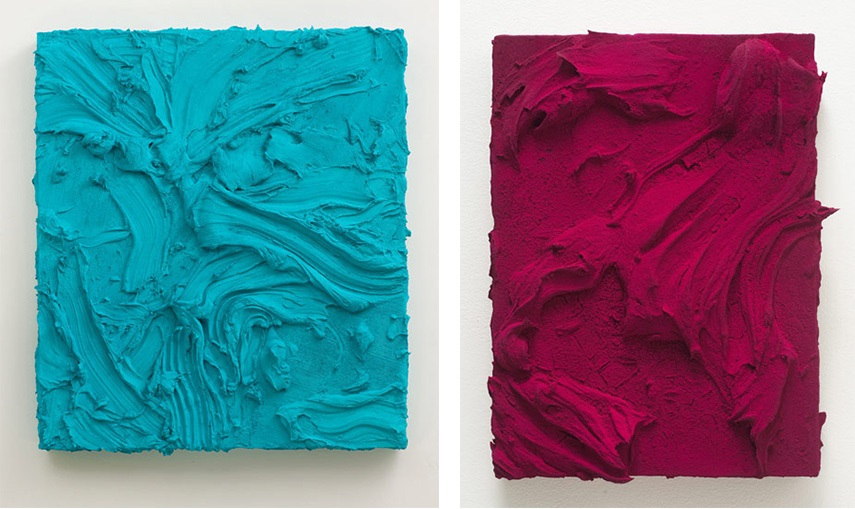 Depth of Monochrome
Anything but mundane, Jason Martin's practice of using a single color for his paintings only proves the talent and skill that the artist reaches for in order to elevate simplicity to mastery. Making monochrome paintings on various materials that serve him as canvas, including aluminum, stainless steel and Plexiglas, he uses a custom comb-like tool to form the thick layers of oil paint into far more than just a colorful surface. The paint takes on a hair-like pattern, furrows running through its structure and bumps and curves translating energy to the viewer. Both rigid and fluent, the selection of a specific color adds an "aura-like" element to each piece, working in conjunction with the physical elements to portray a certain spectrum of feelings and thoughts.
Jason Martin forms the thick layers of oil paint into far more than just a colorful surface
Oscillating Practices
Portraying the involvement Martin has with his practice is the fact that he produces his own brushes that he uses to evoke the abstract pieces into a seeming reality. With his monochrome paintings on one side of the spectrum, he produces sculptural work on the other, both opposing and mimicking his painterly work. Where his paintings resemble movement in their form, his sculptures, like the Behemoth made in 2012, exudes a far more stationary feeling, regardless of its dimensionality and physical closeness to the senses; made completely out of cork immersed in black pigment, the piece maintains a singular "aura" that his paintings exude.
There's an "aura-like" element that each of Martin's paintings exude
Singularity of Jason Martin
Proving his immense value as an artist, Jason Martin constantly succeeds in creating distinct pieces by using the same simple materials. With naught but a single color and the movement inscribed in it, his pieces are bound to take you on an emotional journey. By making singularities out of each work, Martin's practice stands out in the contemporary crowd and forms a color of its own. With a number of both solo and group exhibitions under his belt, Martin is the artist to follow in the current art scene.
Jason Martin lives and works between London, England and Lisbon, Portugal.
Featured image: Jason Martin, photo via incolors.club
All other photos courtesy of L.A. Louver Gallery