One of the most famous statements concerning modern art phenomenon that happened during the 20th century is the following declaration Jasper Johns said during the 1970s: To be an artist you have to give up everything, including the desire to be a good artist. Over the course of his career that lasted for over 50 years, Johns has been creating pieces of art based solely on his own concepts and principles, eventually establishing his own style. Jasper's works were so ahead of his time that it took some patience for the world to be fully ready for his ideas - fortunately, Johns in now considered to be one of the key figures of modern art and his creations have been credited with making a crucial impact on later movements of Pop art and Minimalism. Working in a variety of techniques from encaustic to printmaking, this is a story about an artist that was not afraid to experiment, innovate and stand behind his unique concepts.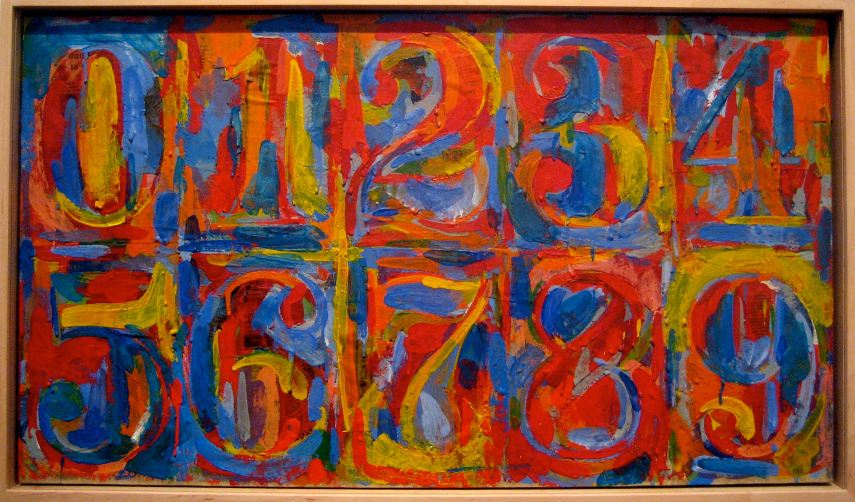 A Hard Childhood
Jasper Johns was born in Georgia on May 15, 1930, and grew up amidst subtropical beaches and marshlike sea islands of South Carolina. When Johns was a mere toddler, his parents decided to call it quits and divorce each other, subsequently sending young Jasper to live with his grandfather. The sudden shift of scenery and frightening changes would take their toll on every child and Johns was no exception - the earliest years of his life were marked by traumatic events and feelings of abandonment. His beloved grandfather died when Johns was a little over nine years of age after which he spent a short period of time with his remarried mother and her new family. This was just another uncomfortable change for the small child and after everyone realized things were not working out as hoped, Jasper was yet again sent off to live with someone else - this time, his next destination was the house of his aunt. Besides a couple of years Johns spent rejoined with his mother, the young artist was usually settled at his aunt for the duration of high school. Arguably the most interesting thing about Johns's grim childhood is the fact it included very little exposure to art, yet Jasper perpetually talked about how one day he will be a successful artist, knowing deep in his soul that there was no other outcome for his life story. In an attempt to somehow put the wheels of his goals in motion, Johns started attending classes at the University of South Carolina, where he studied for three full semesters prior to the decision of leaving home and setting sails for the lights of New York City.
After Jasper Johns managed to somehow reach the city lights of the Big Apple, he soon became a student at the Parsons School of Design. He was quite comfortable there and was showing remarkable progress and potential, but unfortunately, he was forced to quit the studies due to a lack of funds. This broke Jasper's heart, but there was no going around it. Then came the year of 1951, which will prove to have even more misfortune for the young Johns who was still searching for his place in the world - he was drafted into the U.S. Army during the Korean War. Fortunately, the luck was starting to show the other cheek for Jasper as he was placed nowhere near Korea - he was actually stationed in the city where he spent his childhood, South Carolina! Afterward, Johns was sent to a barracks in Sendai, Japan. Here, far away from any real combat, young Jasper got an opportunity to aquent himself with the customs and traditions of the Far East, instantly falling in love with both the culture and art located in The Land of the Rising Sun. After initial depression and issues with adjusting to the ways of a soldier, Johns finally felt that old familiar urge in his soul as it was again whispering artistic ideas in his ear. The time he spent in Japan was crucial for the development of his entire personality and had a massive impact on the way Jasper would artistically express himself in the future.
Avoiding the other artist's concepts, Jasper Johns always showed that he would rely exclusively on his own ideas and tools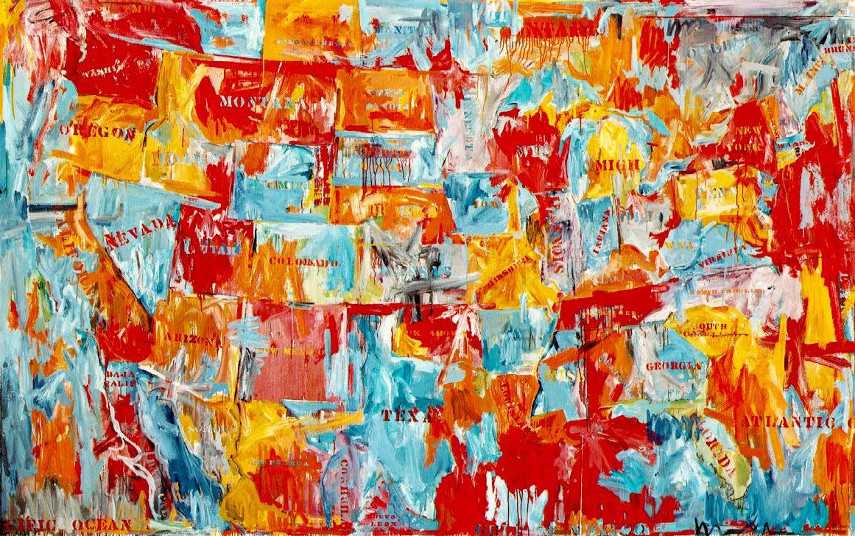 Rejoining the New York Artists
After Jasper Johns finally left the army in the year of 1953, the creatively refreshed artist yet again set his sails for the New York City - only this time around, he was armed with the knowledge and inspiration that came from the exposure to Japanese traditional art. Soon after his arrival, Johns befriended a fellow artist Robert Rauschenberg - the duo had huge ambitions and started off by designing windows for all sorts of clientele, namely for stores like Tiffany's. The Rauschenberg-Johns team added new members to its arsenal after a while, as the avant-garde composer John Cage and a choreographer Merce Cunningham joined and reinforced the artistic pair. By his own acclaim, Jasper had a dream during the year of 1954 which can be defined as a vision of a sort - he dreamed that he was painting an American flag. Subsequently, this inspired him to create The Flag, a painting in encaustic - this classical technique has its roots in ancient Egypt and it is based on mixing pigments with melted wax. As a sign of a creative rebirth, Jasper Johns actually destroyed all of the art he'd produced before The Flag came to be, explaining that: all of the previous pieces were done with the spirit that I wanted to be an artist, not that I was an artist. Prior to that moment, Johns was already getting attention, but now he was starting to develop a reputation as an exciting and uncompromising artist. One day, an art dealer Leo Castelli happened to spot his paintings while visiting Rauschenberg's home - impressed by the originality of the pieces Robert managed to save from Johns' fix ideas of burning his own work, Castelli started following and exploring Jasper's newer works. Soon afterward, the dealer invited Johns to have a solo exhibition at his gallery. This 1958 showing was a success, with the director of the Museum of Modern Art purchasing three of Johns's paintings and consequently transforming Jasper into a rising star of the art scene.
Both a trademark and a milestone of Jasper's career, painting the American flag became a useful give away that you are looking at a true Johns' piece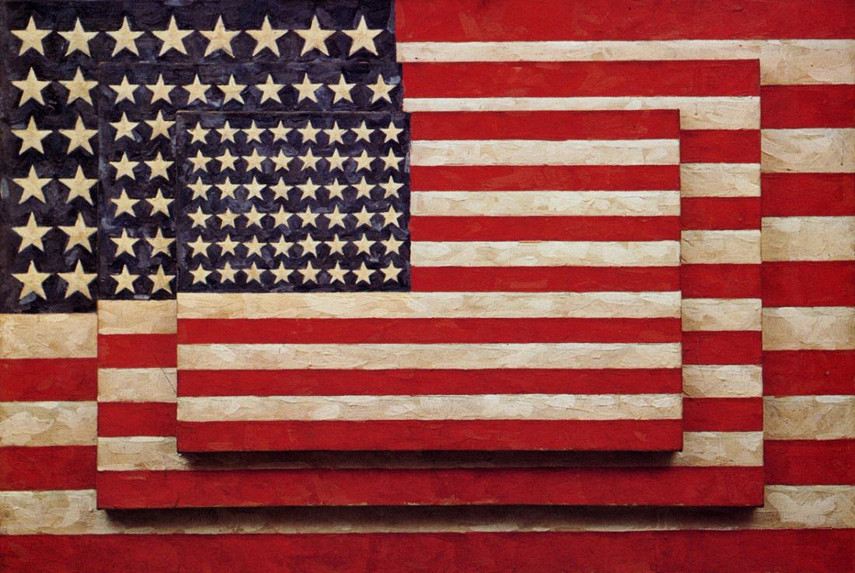 Artistic Concepts
The Flag was just one example of a ready-made note Johns had an affinity for - taking a commonly seen object and displaying it in a new context, similar to the way Marcel Duchamp created the famous Fountain. Besides the transformation of the American flag, Jasper also worked with images of targets, numbers, letters and maps. This was an incredible moment in originality as the art scene of the time did not have anything to rival against Johns and his concepts. From today's standpoint, it seems as though Jasper disrupted the dominance of Abstract Expressionism and in many ways paved the way for new movements, setting the stage for both Pop Art and Minimalism. Without any warning, Jasper Johns suddenly took a turn for full abstraction during the 1970s when he started using cross-hatched patterns in numerous works. By the end of the decade, he would settle with a nice balance of abstraction and figuration, with the pieces like Cicada that had a fine blend of cross-hatching and a cicada. As he was growing older, Jasper also began inserting subtle autobiographical touches and nods inside his compositions, highlighting his own pieces and showing an interesting awareness of his personal development.
Throughout his art, Jasper Johns had one particular concept he never betrayed and has stayed true for the entirety of his career - he would never try to convey a specific message by channeling it within his art. He always preferred the idea in which the audience was responsible for interpreting his work, subsequently leading it down the path of personal meanings and messages. This kind of an approach may seem a bit trivial these days, but when you turn the clock for the 70s, it becomes a truly original concept. Besides painting and partial ready-mades, Jasper has also worked in sculpture, drawing and printmaking - but no matter what material was used as a mean to a goal, Johns always focused more on the process of creating, claiming this was the actual art instead of the final result. His art may have been nailed and criticized on many occasions, but he always knew how to handle it and it seem as he was constantly able to spin the circumstances into his own favor. It should also be noted that Johns has collaborated with numerous crucial figures from the art world, working alongside such names as Andy Warhol and Samuel Beckett. However, it should also be stated that the friendship he had with Robert Rauschenberg suddenly came to an end in 1961, though the specific details behind their separation remained unknown. Always a popular and influential individual, Johns has been rewarded for his work on many times - amongst his most prestigious recognitions, Jasper has been awarded the Grand Prize at the Venice Biennale during the year of 1988.
Despite some artists and experts that liked to claim otherwise, Johns never desired to convey a specific message by channeling it through his art
A Master of Ideas and Handling Pressure
It is impressive how Jasper Johns has managed to stay confident and convinced in his concepts throughout his career that was full of doubters and experts that were hell bent on criticizing his artwork. Despite varied opinions, Johns never lost popularity amongst the viewers as his exhibitions have never failed to attract visitors and his pieces stand as some of the most expensive works ever sold. When the art world was desperately searching for new ideas, Johns stood up and ventured outside the comfort of the established abstract style, introducing his flags and maps that ultimately altered the course of modern art history. Shortly put, Jasper is unquestionably one of the key figures in any conversation concerning novelties brought by contemporary art.
This artist is represented by GAGOSIAN Beverely Hills, GAGOSIAN BRITANNIA STREET London, GAGOSIAN Madison Avenue, GAGOSIAN Park & 75 New York, GAGOSIAN West 21st Street, GAGOSIAN West 24th Street, GAGOSIAN SHIENBAUM FINE ART Miami and WOODWARD GALLERY New York.
Jasper Johns lives and works in New York City.
Featured Image: Jasper Johns - Photo of the artist - Image via incomefile.com
All images used for illustrative purposes only