Garbage men are present every day in our lives. We meet them all the time, dressed in the fluorescent clothes, but in spite of that, they seem to be invisible. As the part of the urban environment, in Jaune's work they are leaving their jobs and getting into funny, absurd adventures. Instead of cleaning, they are making the mess, climbing the buildings, throwing the garbage bags. Jaune inverts different everyday occasions, giving them a new meaning. With his humorous images, he represents one more interesting life on the streets.
Garbage men getting into funny adventures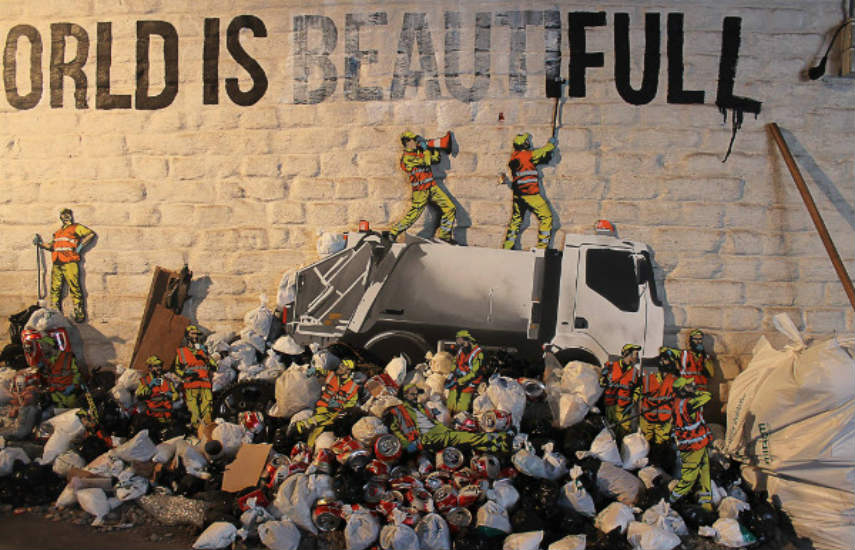 I was a Garbage Man
After a couple interventions in the street of Brussels, Jaune started to show his art in some big street festivals in different cities, as Luxembourg, Antwerpen, Leuven. He took a part in few group and solo exhibitions and his work is visible in public places (the Bloom Hotel and pubs). His specialization is the use of the stencil, which is a faster and more effective way to draw something more complicated. The result of this technique is more precise and rich in detail picture.
The idea of a garbage men figures was born after his own experience working in this profession. He realized that despite his effective colored clothes, nobody was paying attention to him. Jaune created this special concept, and since 2011, beside murals, he is making the figures of the garbage men, taking them onto the streets and placing into installations. By putting his subjects in funny and uninspected situations, Jaune creates a different relation between the man and the trash, giving the new perception of garbage men's job.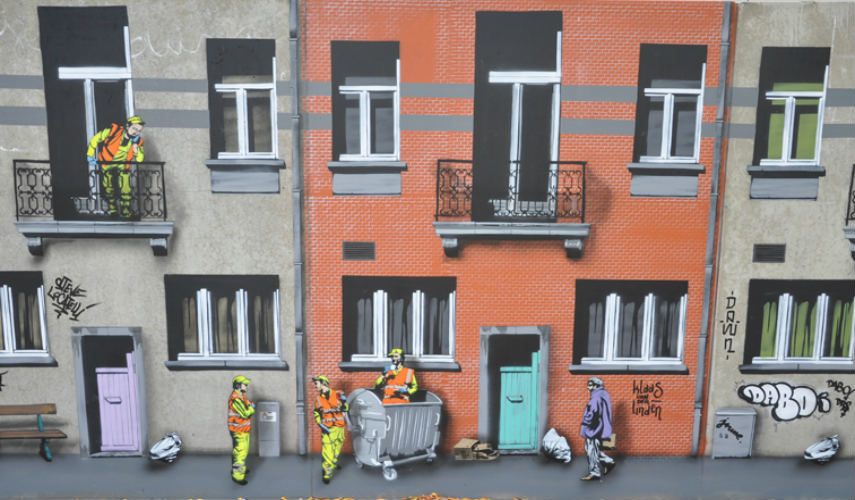 Funny Interpretations with the Strong Message
The characteristic of Jaune's work is the tension of the moment. He represents daily situations trough funny elements, sometimes making the illusion of things that are going to happened. A man who has almost fallen, or teacup falling out of the window are surprising situations that make his artworks even more interesting. His images always carry a strong message, transparent or hidden, and indubitably, the starting position of every interpretation is a joke. During Day One Festival in the streets of Antwerpen, Jaune painted a mural with a whole mini building with human characters in everyday urban situations.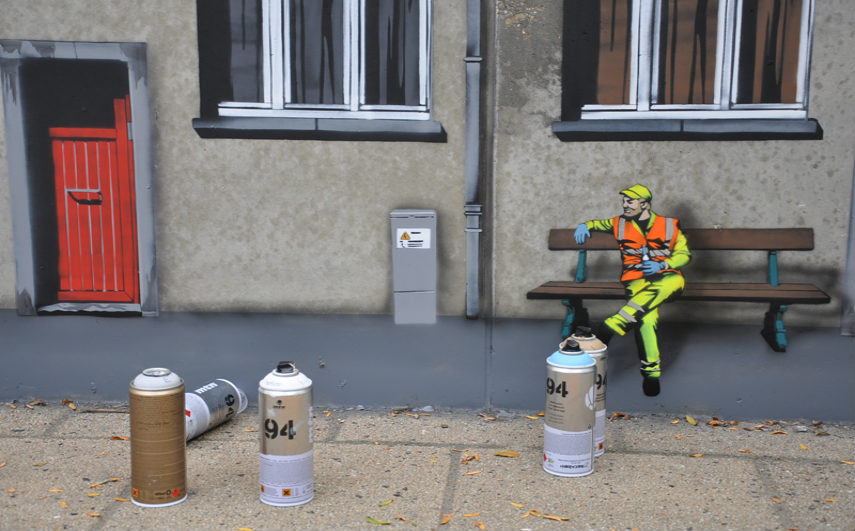 Let's Make People Laugh
Jaune has successfully made his recognizable concept of the little garbage men through his murals and installations. Placing them in some strange situations he tried to get closer the profession of the trash men to common people. Joking with the viewer, this street artist's goal was that usual everyday things convert into interesting, funny occasions that could make people laugh. With the technique of stencil, Jaune is able to represent detailed and quite realistic forms of the objects and subjects in his work.
Jaune is represented by Vroom & Varossieau.
Jaune lives and works in Brussels, Belgium.
Featured image: photo via project2565.com
All images used for illustrative purpose only