Franco Fasoli more commonly known as JAZ is a street art creative from Argentina whose equally known for his large-scale street art pieces, small-scale collages, and bronze sculptures. The artist uses aerosol, acrylic, latex paint and collage to explore personal identity and the cultural identity of a various nation with and emphasis on the nations in Latin America. Human and animal characters represent a recurrent topic in the artist's work as well as the tension and duality expressed in various manners in different cultures.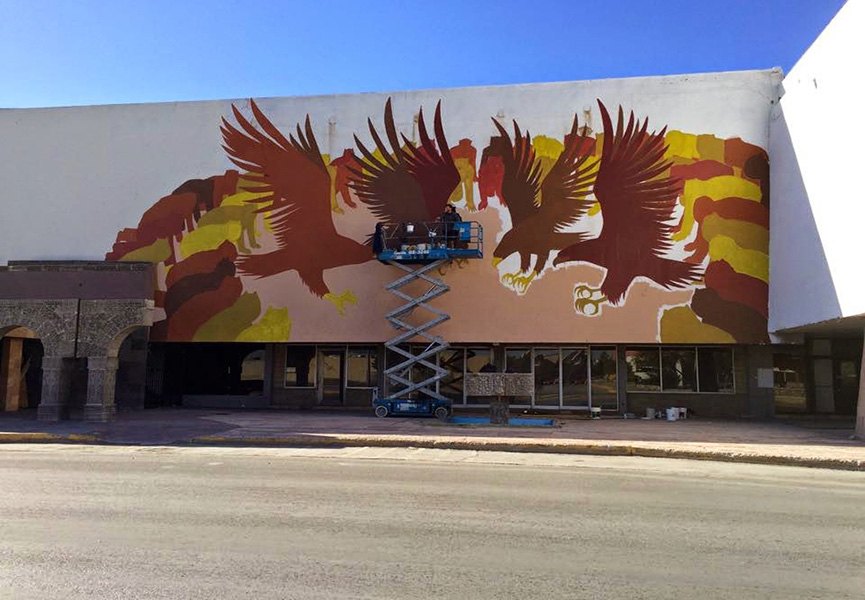 Street Art and Graffiti done Fileteado Style
Jaz studied scenography at Instituto del Teatro Colón after which he went on to study painting, drawing, and ceramics at the IUNA (Instituto Universitario Naciónal de Arte).[1] In 1999 he began to decorate walls alongside other talented street artists of his generation like Poeta, Ever and Cary. These young artists who had a great influence on Jaz's work, together explored the fileteado drawing style and its applicability in the art of graffiti. The unique style developed in the city of Buenos Aires is marked by highly energetic color and lines that represent the combination of letters and wildlife and traditional ornaments of Argentina.
In the early 1990s Jaz was an up-and-coming artist to watch and now he's considered one of the best Argentinian muralists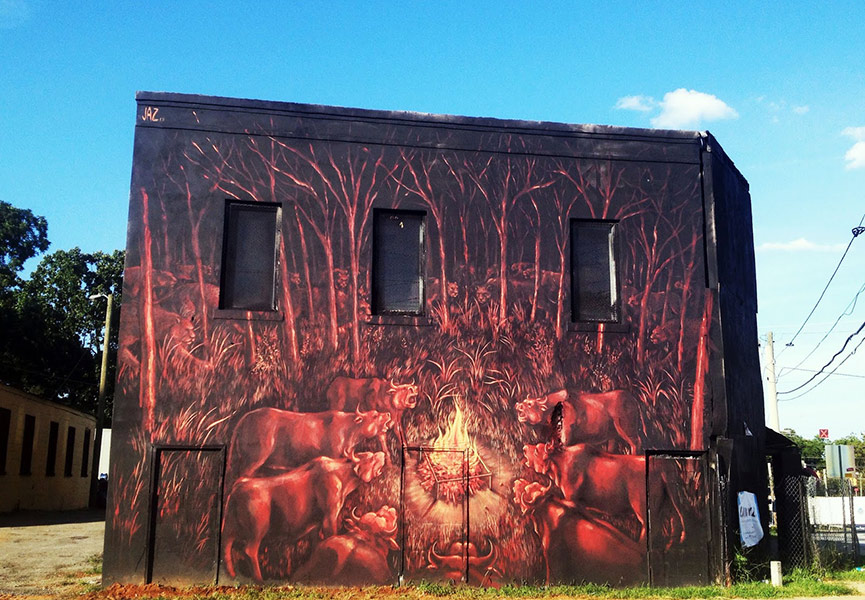 Tango Musicians and Lucha Libre Series
In 2005 Jaz turned away from lettering and begin to portray musicians and other characters from tango background. His musician series was inspired by the district of Buenos Aries dubbed Palermo Hollywood known for its vivid musical scene. In 2009 he turned to painting animals particularly donkeys first as an addition to his human character but later on the animals became sole subjects at his pieces. Unlike his human characters that carry an array of the psychological characteristic with them, his animals are painted in a very neutral manner without a particular attitude, but always with a lot of care and sensitivity. Depicting characters with human bodies and animal heads represented the next step in the artist's career. The series was influenced by Lucha libre a type of wrestling where participants wear a variety of masks typical of Mexico. By portraying the human combat Jaz also portrays the inner struggle happening in every one of his characters.
By portraying the act of combat Jaz also portrays the inner struggle happening in every one of his characters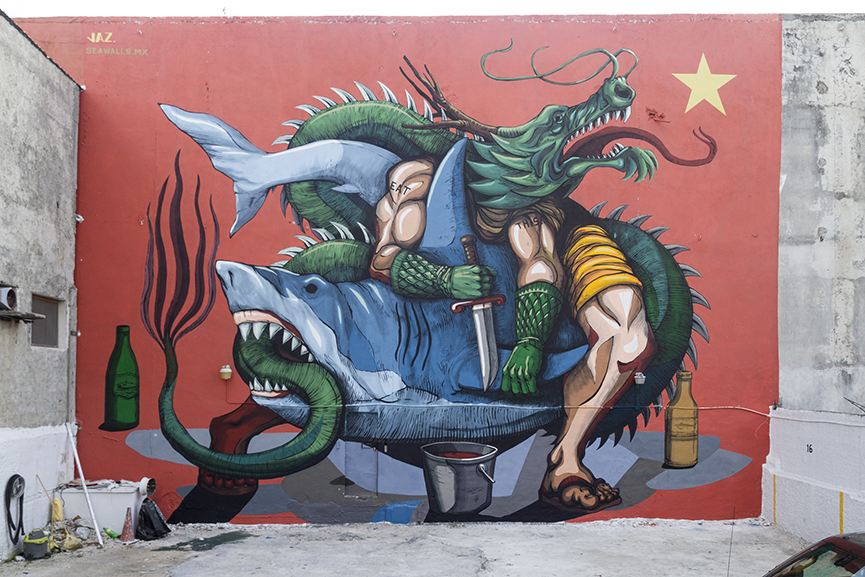 Portraying Social and Cultural Environment of Latin America
An artist's residency in Miami inspired Jaz to take on a new artistic direction. In 2015 he began creating an array of collages that were exhibited at Choque solo show in the Celaya Brothers Gallery in Mexico City.[2] Jaz carefully combined parts of colored paper thus creating the interplay of light and shadow on the flat surface. His pieces still revolve around the human condition and cultural environment as the artist articulates a variety of life stories, problem and obstacles people encounter every day. His propensity to portraying tension are still very much visible in Jaz's collages but this time they are expressed through the combination of different planes of color.
Depicting humans and animals together become a trade mark sign of Jaz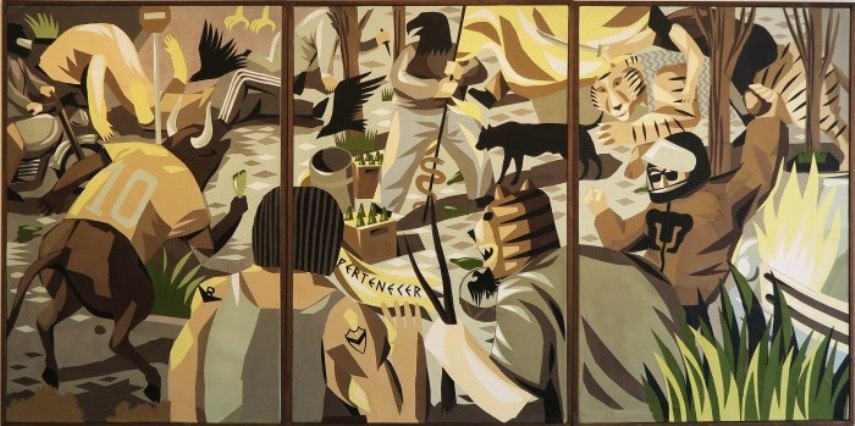 Franco Fasoli's Sculptures
In recent years Franco Fasoli aka Jaz turned to sculpting as another way of expressing his ideas. Though the media is changed the main topics of the artist's work remained the same - animals and human being. Recently the artist has finished his series of sculptures dealing with the inner struggle occurring inside every human being. The sculptures depict an array of merged human figures twisting and turning while battling with themselves were realistically executed with great sense for movement and proportions.
FAZ's first book, titled Public/Private: Ten Years from the Career of Franco Fasoli, chronicles the first decade of his artistic production and is available here.
The artist lives and works in Buenos Aires, Argentina
References:
Anonymous, (2011), All that Jaz and tango: Interview with Franco Fasoli, BA street art, [March 18, 2017]
Carbia M., (2015), Street artist Franco Fasoli aka Jaz shifts to collage, Juxtapose Magazine, [March 18, 2017]
Featured image: Jaz - Portrait via actu.univ-fcomte.fr
Images courtesy of the artist unless otherwise credited