Fluent in a number of styles, minimalist, monochromatic, gestural, impressionistic, and quite potent in working on scales both small and large, Jean-Baptiste Bernadet is a French contemporary painter whose works hovers between what is abstract and what is recognizable. Accepting the fact that there is no certainty in life, he hopes (and manages) to reflect that uncertainty through his paintings. Without limiting himself to just one approach with a linear structure, he has developed a visual language where everything is somehow interconnected. If there is a constant in Bernadet's work, it's that there is no constant. He is dependably restless and mercurial, always exploring painting's many dialects.[1]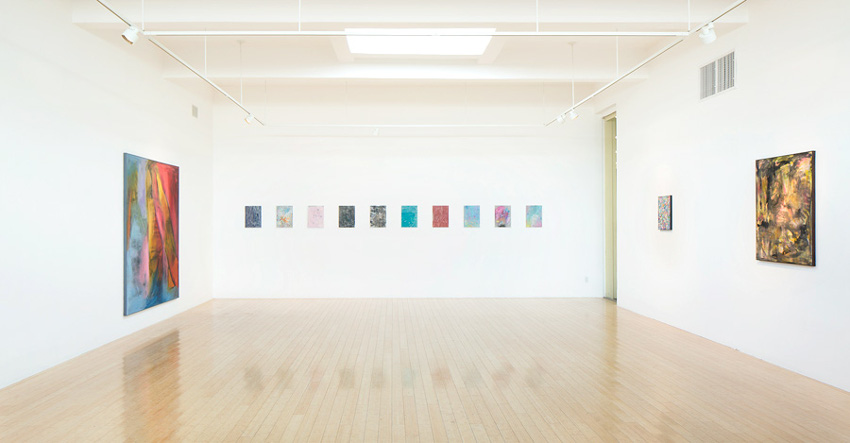 Jean-Baptiste Bernadet – Style
Painting begins with an impression. It varies from a simple observation in the streets, a phrase in the speech, a detail – pretty much anything that triggers that very first brushstroke on canvas. Through the process of covering and erasing, superimposition and simulation, the piece slowly arises. As for many artists of his generation, Bernadet considers an artwork to be the sum of time and energy devoted to it. Having gotten rid of some of the distractions that usually appear at the beginning of every young artist's career (as he called it "the mystique of action painting, the pathos"), every one of his paintings records the history of its production, visible through the thickness of the successive layers of paint.[2] This layering path that Bernadet walks upon was first opened in the 1950's by the Americans Frank Stella, Ad Reinhardt, and Kenneth Noland. Also, Claude Monet inevitably comes to mind when Bernadet's paintings (the Fugue paintings) get closely inspected, not simply because of the appearance, but rather the inherent ability of the works to envelop the viewers into their own visual universe.
Thick layers of paint tell the stories, allowing the viewers to know the paintings's origins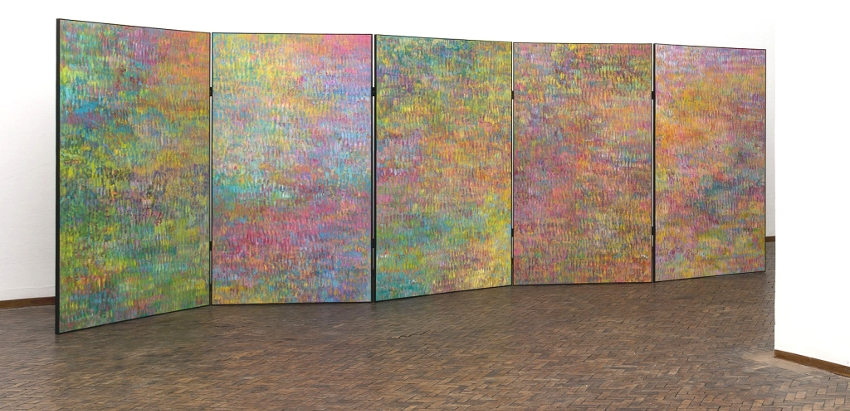 Installation View
The artist was born in Paris but has lived in Brussels since 2000. He studied at the Académie Royale des Beaux-Arts de Bruxelles, graduating in 2001, at the École Supérieure des Beaux-Arts de Rennes, obtaining a Master of Fine Arts degree in 2002, and at the ENSAV La Cambre, Brussels, where he completed his Master of Fine Arts in 2003. While each of his paintings can provide a good introduction to his process and the understanding of art, only at exhibitions could his talent be fully grasped. He had numerous successful solo shows, and from 2001 he's also participated in many group exhibitions. Fugue paintings, observed from a distance, appear airy and atmospheric, a hazy veil of color suspended somewhere just before the picture plane. Only at first. Approaching the painting, the resplendent mist appears to part only to abruptly harden as each brushstroke comes into view and suddenly snaps into place, each delineating a block of pure color.[3] It is a challenge to look at a Fugue painting for too long, as their subversive formalism is destabilizing the conventional visual cues. Without draining his works of the pleasurable aspect of looking, Bernadet paints the pieces whose aesthetic beauty conceals a more sinister subversion of the very means by which that experience is delivered to us - our visual senses.
Jean-Baptiste Bernadet lives and works in Brussels.
References:
Dailey M. The ever-evolving Belgian artist thrives on uncertainty. W magazine [September 9,2016]
Deyries-Henry D. Introducing Jean-Baptiste Bernadet, Art Press [No. 433, May 2016]
Bacon A. Fugue, The Brooklyn Rail [No. 433, May 2016]
Featured image: Jean-Baptiste Bernadet in his studio - photo credits Amanda Hakan, via wmagazine.com
All other images courtesy of the artist