Jean Lowe is a noted American painter and sculptor known for her three-dimensional works of enamel-painted papier-mâché. Lowe received her BA from UC Berkeley in 1983, and her MFA from UC San Diego in 1988 where she served as a visiting lecturer from 1992 to 2008.
Jean Lowe's Books and Ideas in an Age of Anxiety
Jean Lowe creates three-dimensional sculptural representations of everyday objects using papier-mâché, French for "chewed paper", and enamel paint. Her humorous and subversive installations question intellectual and cultural institutions and societal assumptions.
Lowe is known for her large collection of papier-mâché books with evocative and amusing titles such as Accelerated Zen Buddhism: How to Win at the Hereafter, Anxiety: The Unexploited Weight Loss Tool, and Who's Who in American Prisons.
Her work Books and Ideas in an Age of Anxiety comprises a collection of them in display cases and is situated in Byers Hall at UCSF as part of the J. Michael Bishop Art Collection at Mission Bay.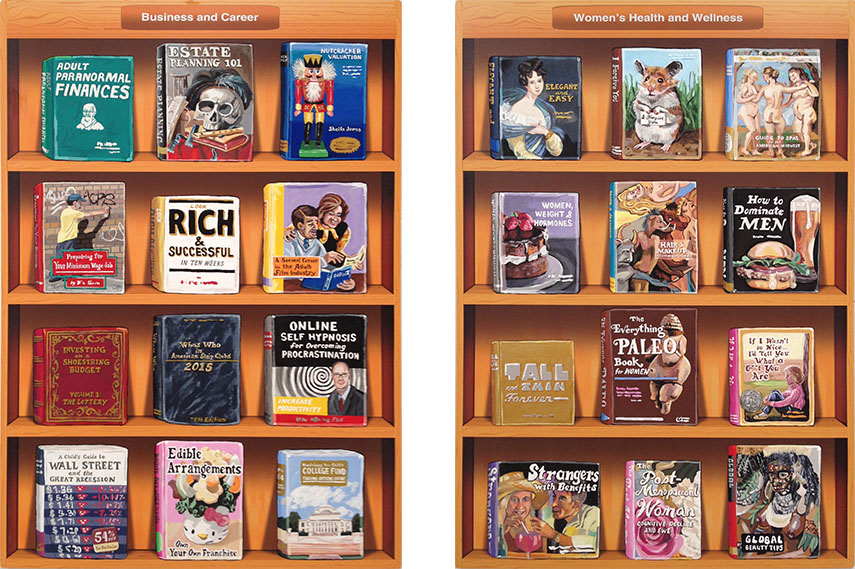 Hey Sexy!
In 2012 Lowe held very successful solo show Hey Sexy! at Quint Contemporary Art in San Diego. The exhibition incorporated paintings and installations in which Jean investigated our place within a consumer society evoking the intellectually provocative while simultaneously maintaining an entertaining playfulness. Depicting imagery from consumer culture with baroque decor backgrounds of the 17th, 18th, and 19th centuries, Lowe's the Hey Sexy! series of works address the viewer actively as a participant in our consumerism driven environment, an idea that is easily grasped but also very expansive as it refers to the very capitalistic model that drives the progress of modernity.
Lost Time
Playfully transforming the banal into the magical, Lowe slyly critiques the way society assigns value. For her recent solo show held at McKenzie Fine Art in Chelsea, Jean created a fake auction house showroom. Her showroom installation was decorated with paintings and digital prints depicting glossy auction house catalogue covers and posters. From fictional auction houses and websites such as "Heritage Holdovers", "Roquefort's", and "PoliceAuctions.com", Lowe's pieces illustrate items from sales which feature everything from love letters, fine watches, and important old master works, to manuscripts and ephemera.
Collection at the Museum of Contemporary Art San Diego
Jean Lowe is the recipient of WESTAF/NEA Regional Fellowship in sculpture grant in 1992, A Pollock-Krasner Foundation award and a CalArts/Alpert Ucross Residency Prize, among many others. Lowe's work is included in many private and public collections including the Museum of Contemporary Art San Diego, La Jolla, CA, San Diego Museum of Art Athenaeum Music & Arts Library, La Jolla, CA, the Kemper Museum of Contemporary Art, John Michael Kohler Arts Center and the California Center for the Arts Museum, Escondido, CA, among others and she has been exhibited at museums and galleries across the US and in European venues, as well.
Jean Lowe lives and works in Encinitas, California and is married to artist Kim MacConnel.