Art has been used for far more than expressing the prowess of an individual in a given field: it often crossed bridges and set milestones in history for people divergent in many aspects. It allows those having different, even opposite points of view to be aware of the state of mind of the other by giving it a physical form, one perceivable and available for everyone to experience. Dealing mainly with the social issues of the late 20th century, Jean-Michel Basquiat's work is both artistically alluring and bringing to the forefront many of the dualities of the time. Although he had an unfortunately short life and career, Basquiat has left an enormous impact on the world of art.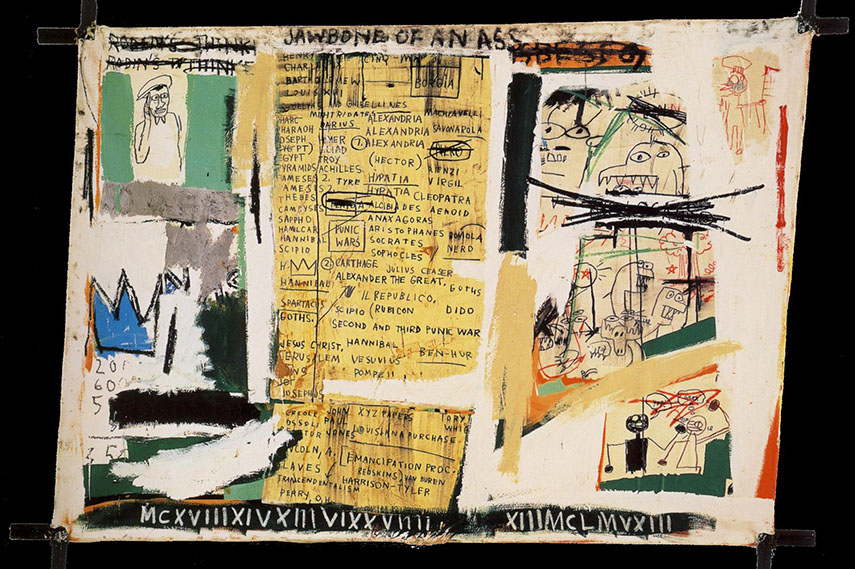 Beginner's Struggle
Jean-Michel Basquiat was one of those people that knew what they were going to do at a young age and didn't give up on it. Roughed up more than once during his youth, the one thing constantly present in his everyday was art. The love for it was instilled by his mother Matilda, as she had taken him to the Manhattan museums regularly, as well as making him a junior member of the Brooklyn Museum of Art. Having issues at home in his teens, Basquiat left the high school only one year before graduation, and he used art as a means of survival. He would sell shirts and postcards that portrayed his skills while making a living out of it, staying with friends in Brooklyn. During the late 1970s, his creativeness manifested in the form of graffiti, as he tagged the street walls and trains under the name of SAMO.
Roughed up more than once in his youth, the one thing constantly present in Basquiat's everyday was art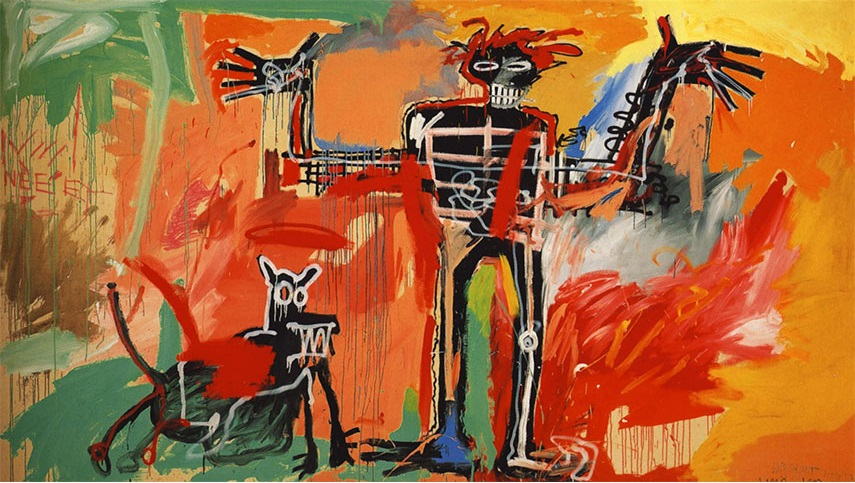 Breakthrough
His financial struggle lasted for over three years, and during this time, he would paint the buildings of Lower Manhattan with graffiti bearing messages like "SAMO as an escape clause" or "Plush safe he think.. SAMO" (SAMO standing for "Same old shit"). He even appeared on the TV show "TV Party," but the real breakthrough that he needed came in the form of a group exhibition in the early 1980s. With his work being noticed, he had joined the Annina Nosei gallery and utilized their space to work towards his first one-man show. Naturally, it was a huge hit - he often conjoined words, phrases, cryptic symbols and figures which engaged the viewers profoundly.
The emergence of Basquiat in the art scene of the 1980s coincided with the appearance of Neo-expressionism which is characterized by rough handling of the material, and it couldn't have served him better. Even though he had switched to painting at one point, he maintained his characteristic style of improvisation and "quick input." His collaboration with Andy Warhol, both private and professional, aided Basquiat's fame as much as it did Warhol's work. They produced a number of "mutual" paintings, one finishing the work of the other, which brought them both positive and negative reviews over the years.
Basquiat's collaboration with Andy Warhol aided him in acquiring worldwide fame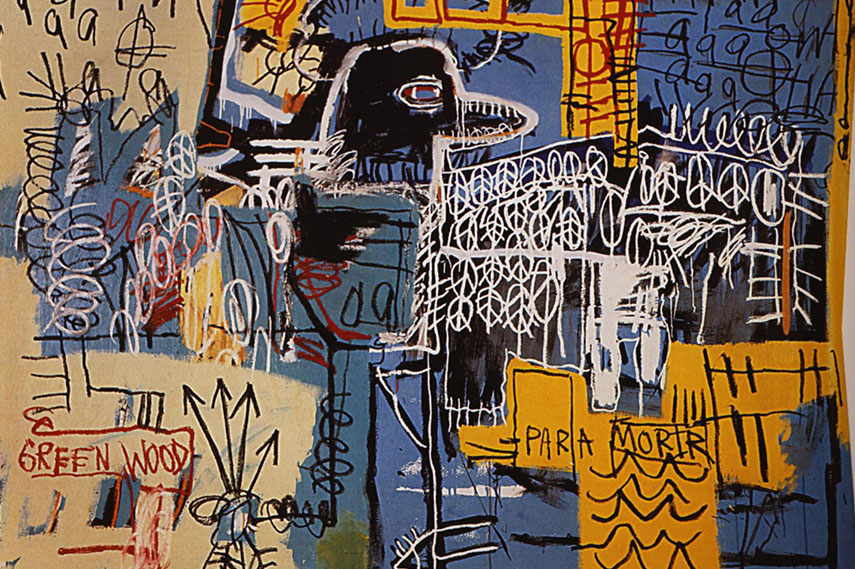 References in the Artworks of Basquiat
By the age of 27, Basquiat managed to produce over 1000 paintings and 2000 drawings! Yet, his pieces were never without purpose or a deeper meaning, whether he was talking about numerous social issues or wittily referencing various book content and knowledge through his work. Having an African-Caribbean heritage, he would often criticize the systems of colonialism and racism in his paintings, drawings, and poetics. He was also greatly influenced by the book Gray's Anatomy that he read as a child, portraying anatomical elements in many of his pieces later on. One of such reoccurring elements is the foot, shown on multiple occasions even within the same artwork, depicting not just his studies of anatomy but all sorts of historical, even religious references through narratives.
There was a certain duality that permeated his works on several levels. Dichotomies of a sort, he would merge text and image, historical elements with contemporary status; his narratives portrayed wealth versus poverty, often having mysterious and hidden meanings next to primitive elements. It all added to the genius of his practice, and though some parts may seem crude, Basquiat used them as tools for deeper truths of the individual.
Basquiat often criticized the systems of colonialism and racism in his paintings, drawings, and poetics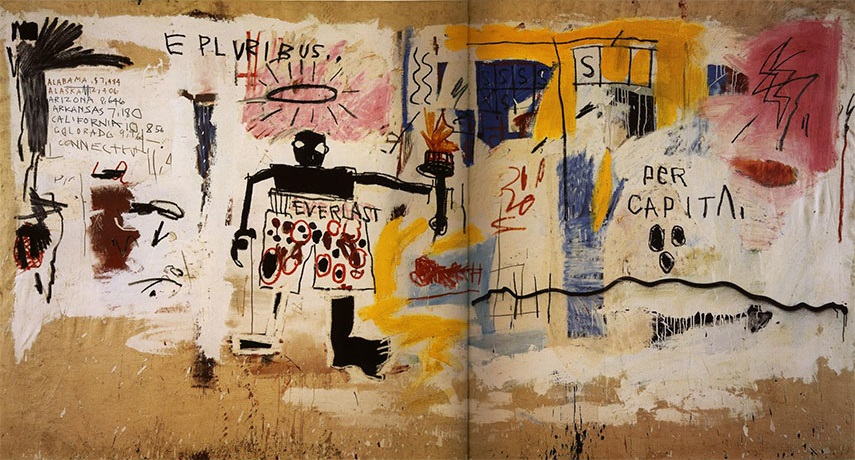 Drug Issues
Claiming worldwide critical acclaim in such short notice, even after not-so-envious beginnings, anyone would think that Basquiat will dominate the art scene in the years to come. However, there was one major weak point in his otherwise thriving career, one that would impede his creative output and influence his social behavior towards the end of his life. The death of his friend Andy Warhol was hard on Basquiat, and his already existing drug addiction and depression grew far more severe in the following period. The fame he obtained worked against him during the tough times of the mid-1980s, and friends described him as paranoid as he would segregate himself from any company for prolonged periods of time. His trip to Hawaii in 1987 was an attempt at sobriety, one that unfortunately did not bring results. Basquiat returned to New York in 1988 and died of heroin overdose at his gallery studio in NoHo neighborhood at the age of 27.
Basquiat's already existing drug addiction and depression grew far more severe in the mid-1980s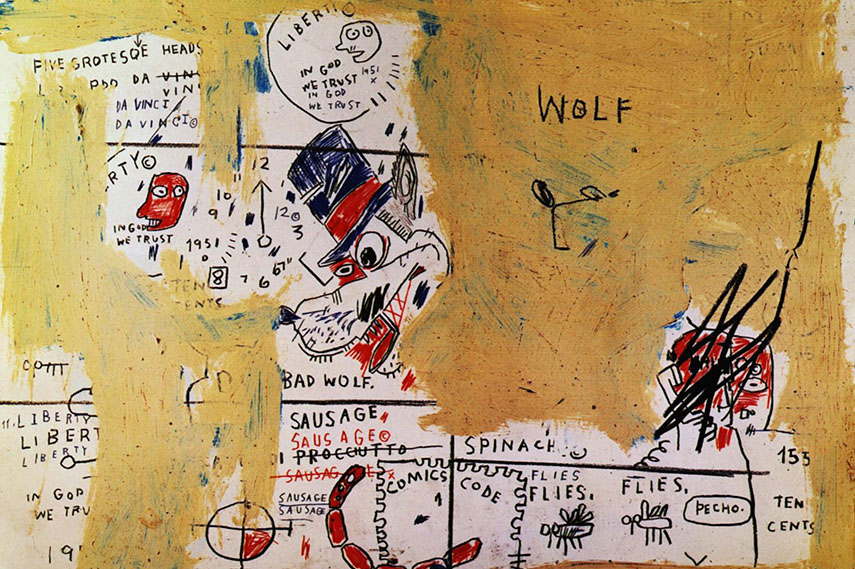 Divided Thought of Value
Even though his career and life ended far sooner than they should have, the American artist Jean-Michel Basquiat left behind an extensive oeuvre, one that is at the top of the list of monetary value today. However, the thought is divided of how truly valuable his works are, with some critics nudging towards it becoming repetitious. Others, on the other hand, see his presence and repertoire as a gift, as Basquiat had not just an eye, but a touch for artistic expression. The fact that he was a self-thought artist gives his works a whole new dimension, and regardless of how he is portrayed, he left an incredible influence on the course of art during his 27 years of life.
The artist is represented by Vroom & Varossieau.
Featured image: Jean-Michel Basquiat. All photos credit wikiart.org.
All images used for illustrative purposes only.