Does a photographer need a camera in order to be considered one? Does he need to actually take the images of the important scenes he's witnessing? Is it still photography if he returns later and re-creates these moments? Jeff Wall is a Canadian photographer, one of the world's finest. His process differs from the usual understanding of photography as instant witnessing, as he "stages" his images, recreating the moments he'd witnessed but did not photograph at the time.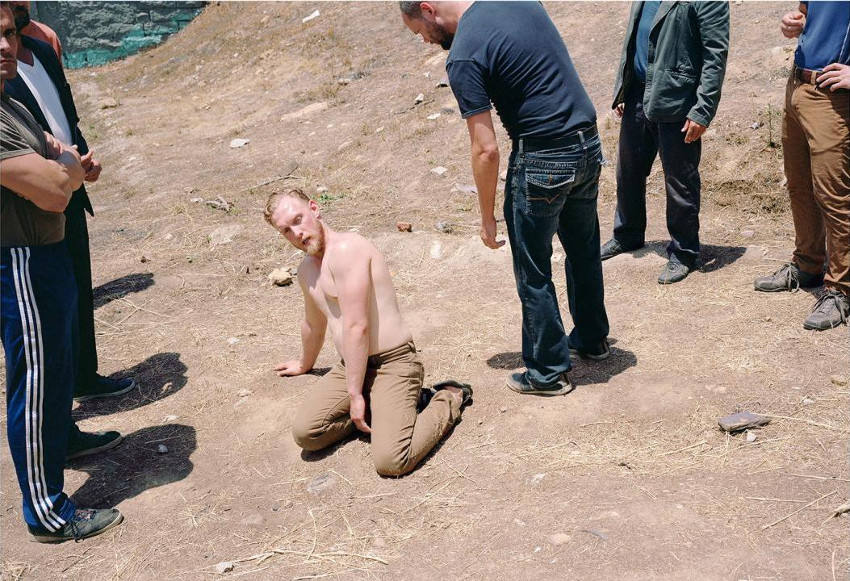 Jeffrey Wall Biography
Born in Vancouver, his father was a doctor and his mother who was a housewife. His parents were never interested in the whole art thing. Nevertheless, they have always encouraged their son to pursue a career in art. In addition, they were subscribed to the Abrams Art Book series, which every month delivered color monographs on masters such as Rembrandt, El Greco and Paul Cézanne to their door. Wall would enjoy these, and by the time he was a teenager, he was already quite familiar with the work of some of the greatest artists in history, including Robert Frank's seminal 1958 photo book The Americans, as well as Bruegel's 1562 epic painting The Triumph of Death. I seemed as if he had found a goal in his life, so when he graduated from high school, Wall chose to study Art History at the University of British Columbia, where he earned his MA in 1970. Many years later, he regretted such a decision. "I was too self-centered, too overconfident, too in a hurry. It was a childish, immature thing to do. Going to university and studying art history was nothing, because that just means reading books about artists that you like."[1]
In the late '60s, Wall had a sudden change of heart and decided to drop painting and drawing, something that he's been doing since he was very young. After he completed his studies in 1970, he was offered a position at a post-graduate program at Courtauld Institute, University of London. As he admitted himself, there wasn't any honest intention of finishing a thesis, and he just wanted to go to England. At the time, he was already married to Jeannette, a striking Englishwoman with dark auburn hair. They met in Vancouver and had two children when the call from England came, so they all moved across the Atlantic. There, trapped in what seemed to be a post-conceptual hiatus, Wall didn't create any new works for a long time. How could he, when he didn't know what he wanted to create? Only upon returning to Canada in the mid-'70s that some of that creative sparks began to appear again. Traditional fields like painting and sculpting were out of the question, proven to be simply too limited to Wall. So he began considering the relationship between painting and photography.
In the late '60s, Jeff Wall dropped painting and drawing, and decided to become a photographer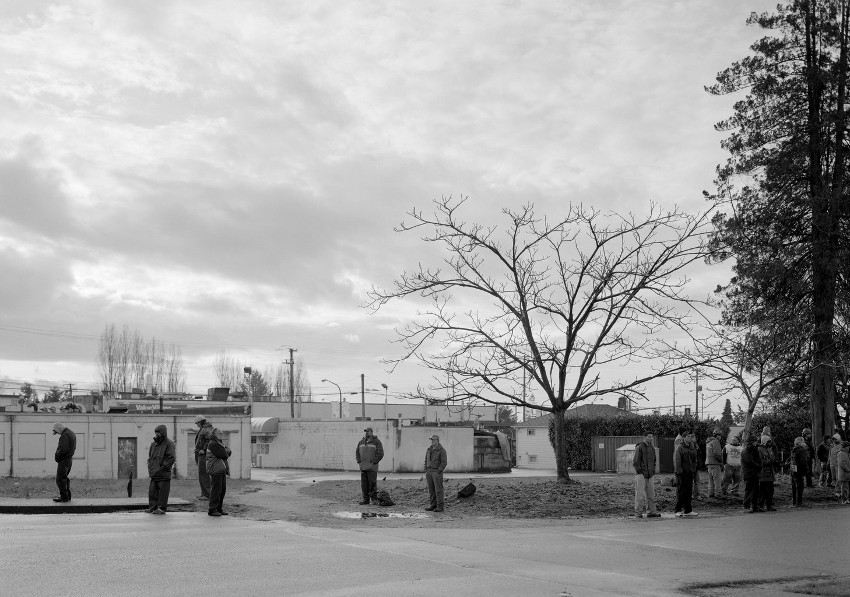 From Thomas Gursky to Cindy Sherman: Artistic Influences and Relations
In order to fully understand the art of Jeff Wall, the first thing it must be done is establishing what he isn't. It will result in a negative definition, but it's arguably the best starting point. Undeniably, the most famous photographers of the first part of the 20th century were photojournalists. People such as Henri Cartier-Bresson, Robert Frank, Walker Evans, and Gary Winogrand. All of them roamed the streets with lightweight cameras, searching for the moment when reality would compose itself into an aesthetically beautiful image. According to Cartier-Bresson, it is the famous decisive moment. In this type of photographic work, the accent is on the man's skills to recognize and capture these moments. If executed properly, the rewards are astonishing. Some of the most famous images were made "simply" by clicking the camera at the right split second. This type of photojournalism is anathema to Wall, who was educated as an art historian and whose photos strive for the carefully composed depth and fascination of painting.[2] In the late '70s and the early '80s, as Wall was engaged further with his artistic endeavors, and in 1978, he presented his first exhibition, The Destroyed Room, at The Art Gallery of Greater Vancouver.
Around this time, a number of other photographers began to emerge. In his hometown, a loose group of individuals created the so-called Vancouver School, with Ian Wallace and Rodney Graham as their lead characters, among others. Wall followed the work of other emerging artists as well, and, even though the fact they were returning to figurative work was reassuring to him, his head didn't turn. Quite familiar with the work of Cindy Sherman, he claims that he wasn't "blown away" by it in such a way that it would directly influence his own work. Also, he knew what the people such as David Salle or Robert Longo were doing, as it provided a context of knowing what was happening on the scene. "Singular as Wall's achievement may be, his ambition has inspired a wave of younger photographers. You can see the influence of his huge images and studied compositions on the Düsseldorf group led by Andreas Gursky, Thomas Struth, Thomas Ruff and Candida Höfer. (Gursky even cited that Wall has been a "great model for me")[3] All of these photographers stepped away from the decisive moment strategy and created their own images, rather than capturing them. "They resented the street aesthetic or the documentary approach because they wanted to show that all photography — even the most seemingly real — is an illusion. They thought it was silly to pretend that documentary photography offers truths."[4]
His works are created rather than captured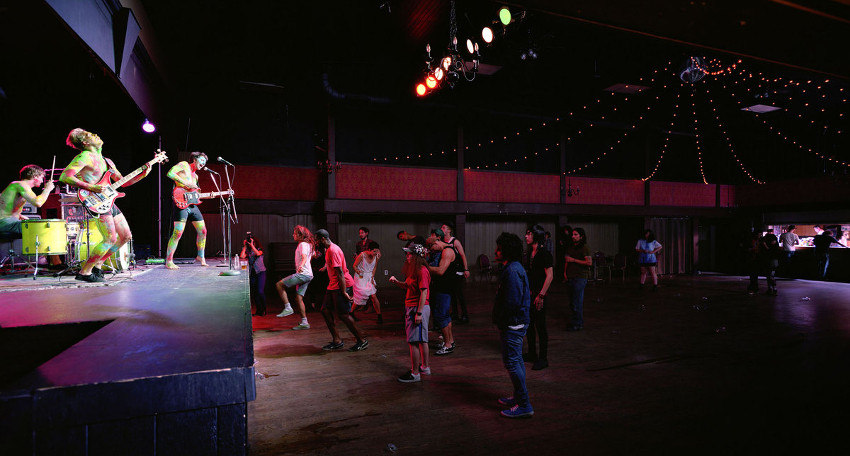 Limited in Numbers and Popular – the Story Behind the Process
The process employed by Wall is often called staged, but he resents the term. Rather, he thinks of his work as "cinematographic" re-creations of everyday moments he has witnessed but did not photograph at the time. "To not photograph gives a certain freedom to then re-create or reshape what I saw."[5] That is what art is really about – the freedom to create whatever he want. A photographer that goes through life without a camera, Wall deems what of the moments he had witnessed, or heard, of or read about, until those moments linger in him until eventually forcing him to re-create and capture them. This way, the traditional understanding of photography as instant witnessing is being obliterated and replaced with a new one. The one that provides a level of artistic freedom, the ultimate goal of any artist. Despite taking such artistic liberties, Wall strives to achieve a feeling of authenticity with a determination that requires dedication and patience. His particular process of production has led some to label his as a master of deception, but he refuses the allegations, stating: "I don't have to prove the actuality of what I am showing. Besides, that's not the claim I'm making. I'm making a claim that there is a real resemblance to reality."[6] As mentioned above, the photographer entered the field of photography thinking of its relations to painting. And he took some recognizable feats from it, as well – layered complexity being on top. One other major feat is a singularity. In his early days, he would only produce his images in the edition of one (sometimes two, just to keep the other as a sort of artistic proof. These days, he goes up to three of four). The photographic process in concluded when a negative is made into a positive, a print. He has no need to make more than one image, admitting that the only justifiable reason for him to make a second print is a social one – exhibition, reproduction, or publication.
The photographs represent a major change in the approach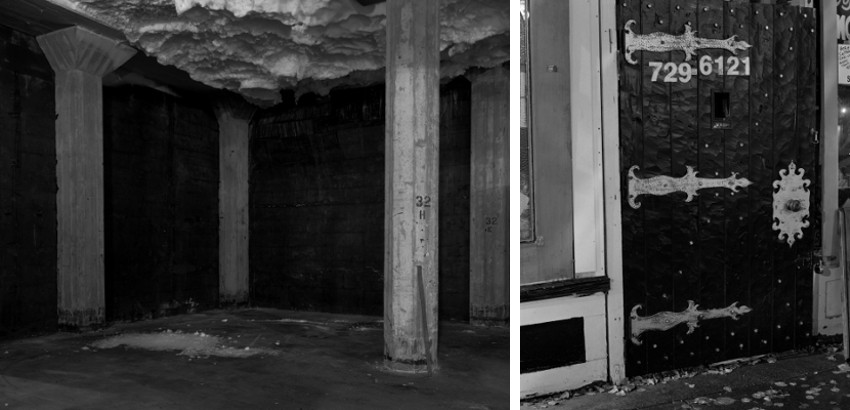 Legacy
Up to this day, Wall isn't sure what made him turn away from painting and choosing photography as a medium of his expression. Whatever the case may be, it is without a doubt that he is one the world's most popular and influential photographers, whose pieces are high in demand and are sold for high prices at auctions. His talent and ability to capture a scene, to record his own version of the decisive moment, is been widely recognized by both the critics and the ordinary people. Each of his images creates its own universe, with its own time and story. And as with all great masters of storytelling, Wall leaves some parts open for interpretation, including the viewers into his photography.
He is represented by White Cube.
Jeff Wall lives and works in Vancouver.
References:
Featured image: Jeff Wall - portrait - photo credits Linda Nylind, image via theguardian.com
All other images courtesy of White Cube