Jeffrey Cheung is an American contemporary artist who works in a variety of media, ranging from linocut prints, to paintings, to collage and drawings. He is best known for his large-scale works focused on the physical interaction between males.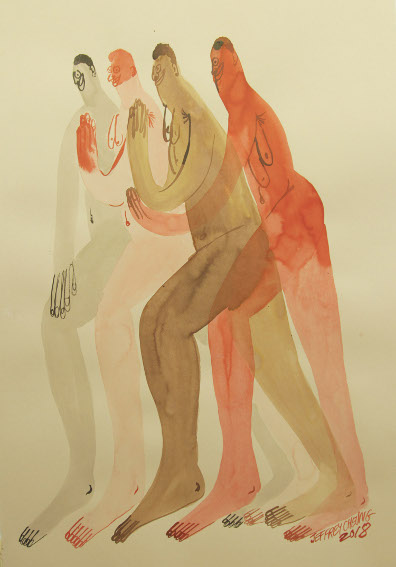 Work
Usually, his characters include one or several men who don't represent the classical nude model. With the characteristic rolls of fat, long noses, bald heads or modest penises, his subjects confront us with a contented smile. Unembarrassed by their unfashionable looks, they are portrayed as proud of their bodies — enjoying in the authoritative status imparted to them by the artist use of larger-than-life scale.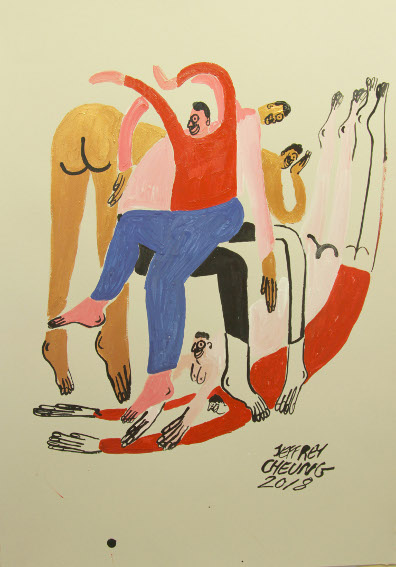 Exhibitions
Jeffrey Cheung obtained his BA in Art from the University of California, Santa Cruz in 2011. His artworks have been included in many individual and collective shows throughout California. Some of his solo exhibitions include Meat & Potatoes at Hashimoto Contemporary in San Francisco, Total Trash at Lobot Gallery, Oakland, CA, and Big Dreams at Sticks and Stones Gallery, Oakland, CA.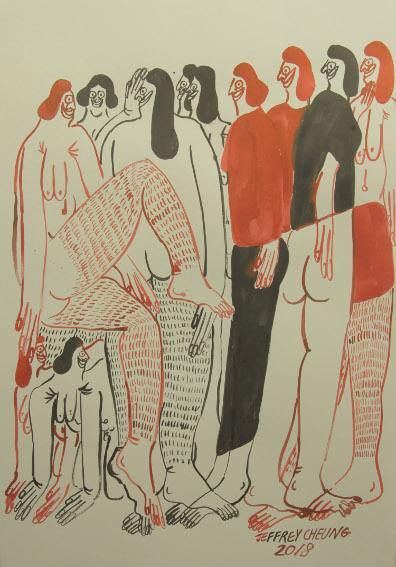 Jeffrey Cheung at Andenken Gallery
Cheung's first European solo exhibition, Together opens at Andenken Gallery in Amsterdam, NL, on Friday, September 28th, 2018. This works on paper show runs until Saturday, October 20th, 2018.
Jeffrey Cheung lives and works in Oakland, California.
Featured image: Jeffrey Cheung - Up, 70 x 50 cm, Ink on paper
All images courtesy of the artist and Andenken Gallery. © Jeffrey Cheung