Enjoying a stellar recognition in the international art waters for years now, Jenny Saville is a British painter whose profoundly stylized pieces of nude portraiture depict captivating bulky figures. Initially, this author emerged as part of the Young British Artists group alongside the likes of Damien Hirst and Sarah Lucas. Jenny is fascinated by flesh and the human body, a feature that is best explained by the author herself: I paint flesh because I'm human. If you work in oil, as I do, it comes naturally. The flesh is just the most beautiful thing to paint. This simple and yet quite adequate explanation actually portrays Saville's body of work rather accurately - her uncompromising treatment of painterly bodies has even caused some to draw comparisons with the artworks of Lucian Freud and Peter Paul Rubens[1].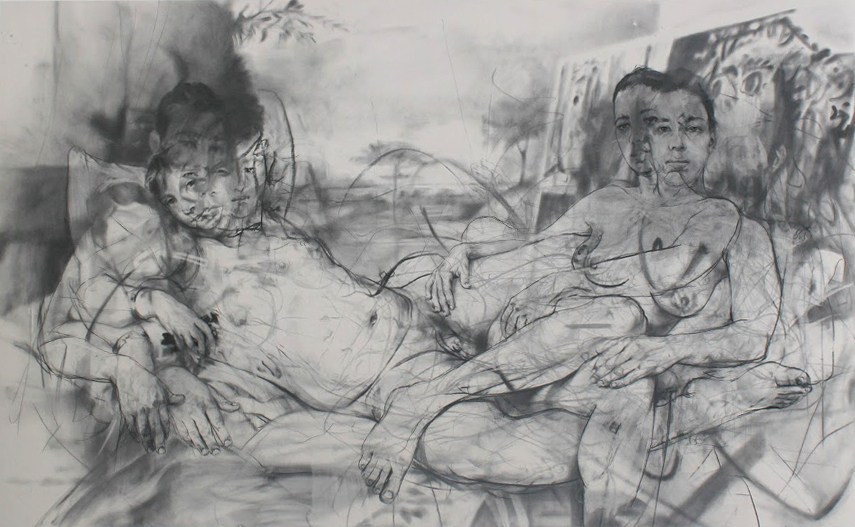 Jenny Saville and Her Fascination With Flesh
Jenny Saville was born on the 7th of May during the year of 1970, in Cambridge, England. She attended the classes at the Lilley and Stone School in Newark, now known as the Grove School Specialist Science College. Her college days were spent in Scotland as Jenny studied at the Glasgow School of Art between the years of 1988 and 1992. After that, Saville found herself at the receiving end of a six-month scholarship - she stayed at the University of Cincinnati where, as Jenny herself described, she saw lots of big women and big white bodies in shorts and T-shirts. This was just the kind of physicality that she was interested in as Saville enjoyed observing fat meat ever since her early fascination with her large piano teacher. Saville also credits Pablo Picasso as one of her strongest influences that turned her towards the female figures as the legendary Spaniard possessed a way of treating painterly subjects as if they were solidly there and not fleeting[2]. At the end of Saville's postgraduate education, the leading British art collector, Charles Saatchi, offered the artist an 18-month contract and agreed to support her while she created new artworks to be exhibited at the collector's leading gallery in London. Upon completion, these pieces became a part of the Young British Artists III collection and were presented to the wider public in the year of 1994. Saville's self-portrait titled as The Plan was her personal highlight of the show.
Obsession with flesh and big women was a constant drive for the entirety of Jenny Saville's career, ever since her earliest college days of art making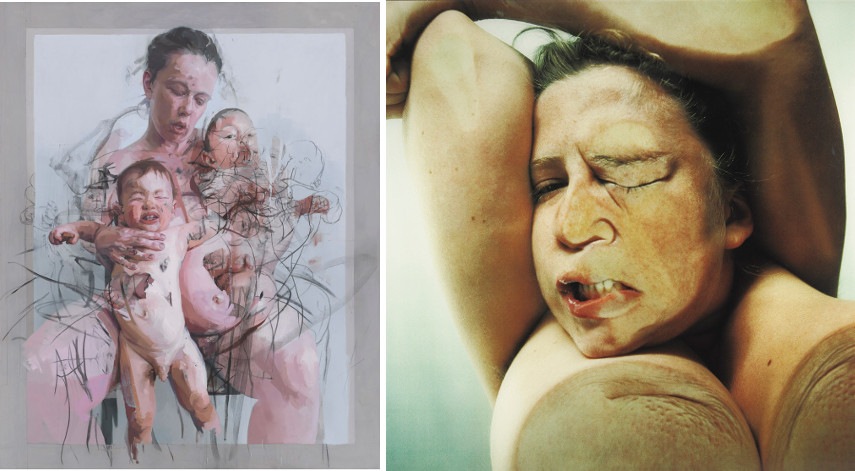 The Launch Into Stardom
Naturally, many new pieces soon followed the revelation of The Plan, all causing more attention from the viewers than the previous one. Rising quickly to critical and public recognition, Jenny established an approach that requited her to use figure painting, a classical standard in art history, and turn it into something contemporary and completely her own. She started reinventing the core principles of figure painting and reestablish its context in the modern scene. Saville is primarily noted for her use of large-scale paintings as her nudes are usually placed atop large surfaces that further reinforce the size of the depicted figures. Keeping the form distorted was always a huge issue for this author as these deformities usually carry the conceptual idea behind the piece. She usually achieved these effects by using high-caliber brush strokes and patches of oil color, demonstrating a strong control over this relatively challenging technique of forming a painterly composition. These images are strongly pigmented and give a highly sensual impression of the surface of the skin - a characteristic that is often referred to as one of Saville's most precious abilities. Since 1994, plastic surgery operations performed in the New York City became a big part of Jenny's work, naturally fitting in with the already established concepts and the fascination with the obese body[3]. She kept her focus on the female body, although she did slightly deviate into subjects with transgender and indeterminate gender. Furthermore, her obsession with all the things mankind and other factors can do with a body is underlined by the often incorporation of disturbing photographs within her shows and published books, such as the pictures of liposuction, trauma victims, deformity correction, disease states and transgender patients.
What Saville is ultimately credited for achieving is reinventing the context of figurative painting within the world of contemporary art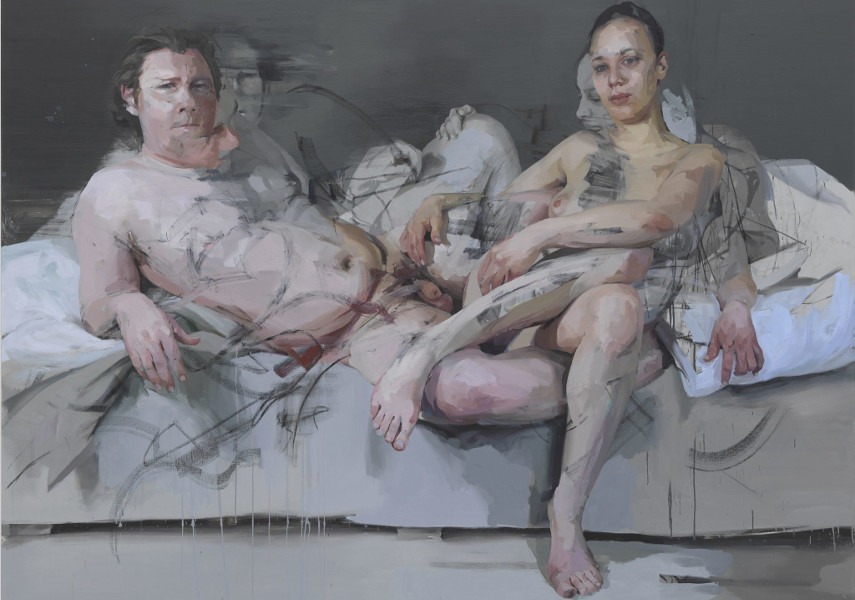 The Beauty of the Grotesque
Ultimately, the main feature of Jenny Saville's art is the captivation by the endless aesthetic and formal possibilities behind the materiality of the human body, all of its flaws and features. Her monumental oil paintings possess subjects imbued with a sculptural yet elusive dimensionality that verges on the abstract, yet are obviously exaggerated in a grotesque manner. They are deformed, obese, brutalized or mutilated, offering the perfect contrast to the conventional idealized portraits of women often used as references to the most beautiful artworks ever created. This kind of morbidity is often discovered among the works of the Young British Artists and finds a place in all the non-portraiture pieces of Saville as well. It's even present in her mature works where the bodies are embracing, intertwined in Jenny's enduring figurative investigations that evolved as she herself matured over the years[5].
This artist is represented by Gagosian Park & 75 New York, Gagosian West 24th Street New York, Gagosian Beverly Hills, Gagosian Britannia Street London and Gagosian West 21st Street New York.
Jenny Saville lives and works in Oxford, England.
References:
Eccher, D., Jenny Saville, Electa; Bilingual edition, 2005
Anonymous (credited to Gagosian Gallery), Jenny Saville, Rizzoli; 2nd Printing edition, 2005
Richardson, J., Jenny Saville: Continuum, Gagosian / Rizzoli, 2012
Elderfield, J.,Jenny Saville: Oxyrhynchus, Gagosian / Rizzoli, 2015
Brutvan, C., Cullinan, N., Jenny Saville, Norton Museum of Art, 2012
Featured image: Jenny Saville - Photo of the artist in front of her work - Image via royalacademy.org.uk
All images used for illustrative purposes only.