Jens Heller is a German artist who creates paintings that deal with big issues, including life and death, with a sense of humor or absurdity. In his distinctive and whimsical works on canvas, the artist uses a sharp contrast in light and shadow to isolate his subjects and heighten their emotional tension. Using highly rendered visual texture, sheen and reflective surfaces, he creates visually rich paintings, that seem to be imaginary and visionary.
Still Life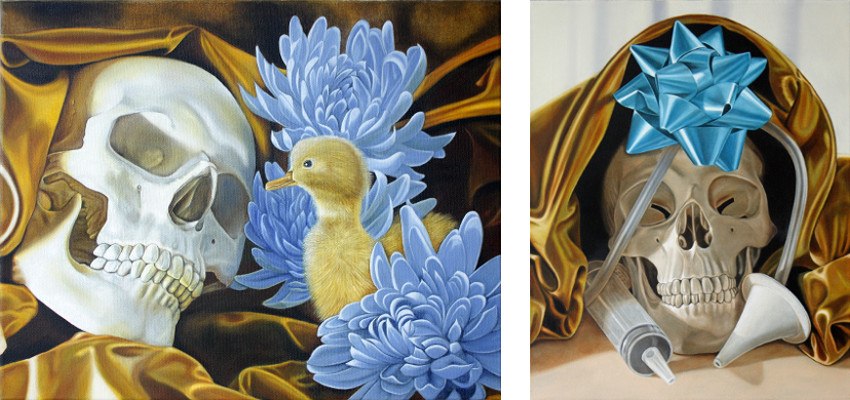 Although his painting techniques are quite baroque, the themes he deals with are very modern, complex and a bit absurd. In one of his most famous series of paintings titled Archonten, the main subject is a demonic creature that has been taken from the mythological tales and brought into the real life through his artworks. In the other series he often depicts bees, hedgehogs, wasps and similar little beings with their own mysterious life that invite viewers in for closer inspection of the paintings.
Archont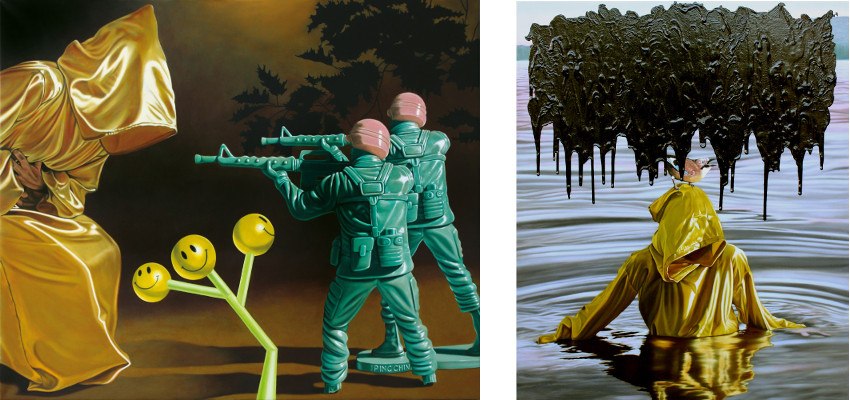 Born in 1966, in Oldenburg, a city in the state of Lower Saxony, Germany, Heller obtained a degree in Literature and Philosophy in Hamburg in 1994, as well as in Sculpture and Painting in Ottersberg near Bremen in 1998.
His first solo exhibition was presented in Gallery Open in 2011. Since than, he had solo shows in Galleri Brænderigarden, Horsens, Denmark in 2014 and Greskewitz-Kleinitz Gallery, Hamburg, Germany in 2015. Heller's work has been included in more than fifty collective shows in galleries throughout Germany and beyond including Rockelmann &, Berlin; whatulookinart, Berlin; Galleri Oxholm, Copenhagen; Galerie Kuhn, Lilienthal, and others.
The artist is represented by Rockelmann & located in Germany's capital. In November 2014 his paintings were included in duo show Complex Relationships in the Berlin gallery. Featuring artworks by Heller and Chicago-based artist Megan Stroech the exhibition was on view through January 17, 2015.
The Hedgehog People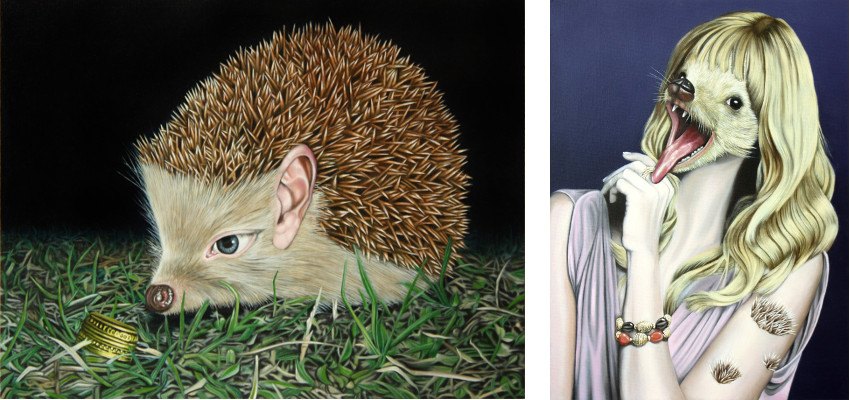 Jens Heller is based in Berlin.
Featured image - Jans Heller - Alas Europa (I) - Europa In The Forest Glade (detail), 2013
All images courtesy © the artist