Jeremy Fish is a San Francisco-based American illustrator who gained worldwide acclaim thanks to his incredible bold, anime-influenced imagery that adorns countless products and walls around the globe. His narrative artworks feature everything from gnomes to dogs as Fish is rather fond of using a vast range of characters in his work. Jeremy's designs are applied to many different fields of various industries - skateboards, t-shirts, periodicals, sneakers, album covers, toys, etc. He also sketches designs for urban murals, massively contributing to the variety and the quality of the San Francisco street scene. Besides his designs, it should also be noted that Fish has collaborated on numerous high-profile graphic design projects that had him working with the likes of Nike and the hip-hop artist Aesop Rock.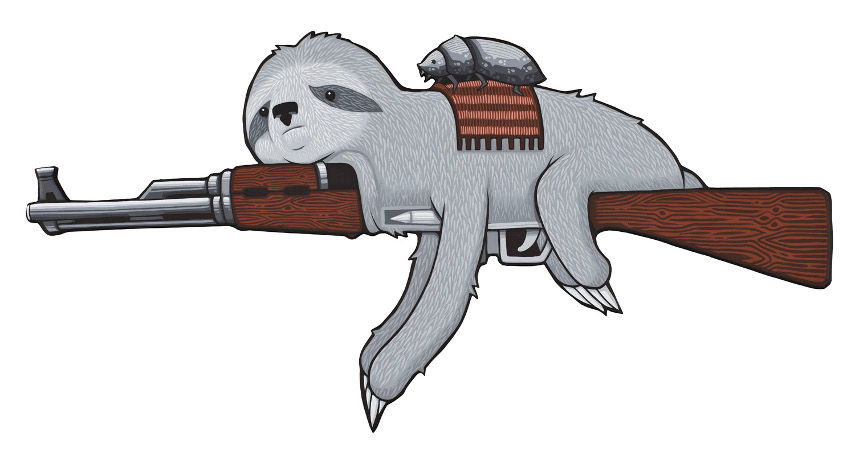 San Francisco and Aesop Rock
Jeremy Fish was born in Albany, New York, during the year of 1974. He lived in upstate New York for twenty years after which he moved to San Francisco in 1994 in order to attend classes at an arts school. He received his BFA in Interdisciplinary Studies from the San Francisco Art Institute in 1997. Fish decided to stay in The City by the Bay as the local arts scene appealed to him more than the one at New York[1]. From 2005, Jeremy collaborated with the rapper Aesop Rock as the two discovered they shared many creative grounds. About a year after they started working together on regular basis, Fish and Rock created a book entitled The Next Best Thing which also included a 7-inch picture disk. Later collaborations of this pair were the Aesop Rock's fifth studio album None Shall Pass for which Jeremy designed the cover image and the 2009 release Ghosts of the Barbary Coast on Definitive Jux.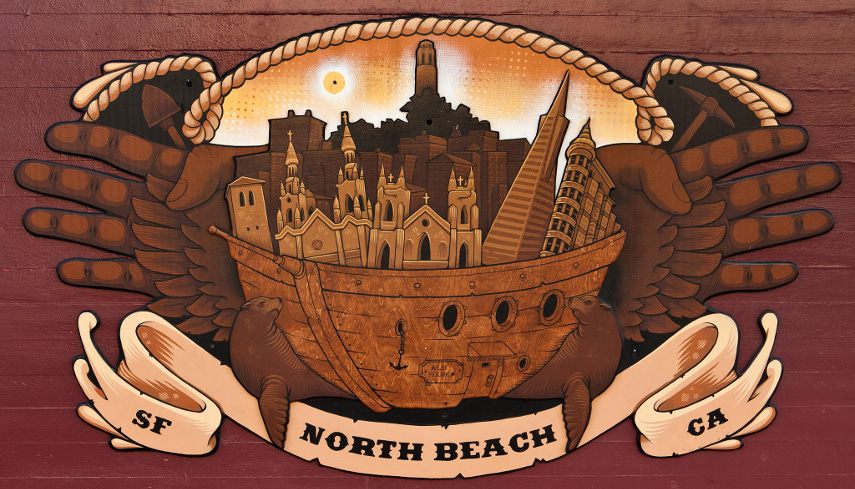 A Balance Between Fine and Commercial Art
In 2008, DRAGO staged Rome-antic Delusions[2], an exhibition of Fish's painted pieces, drawings and screen prints. This show was held in Rome and many of the displayed pieces were created in the capital of Italy. In many ways, the Rome-antic Delusions established Jeremy Fish as a genuine fine artist, proving that he was much more than a designer of album covers and sneakers. Since then, this artist was able to balance his work between fine artistic practices and commercial illustration. Three years after the DRAGO exhibition, the illustrator authored a sculpture and a mural at Haight Street and Laguna Street in San Francisco called Silly Pink Bunnies. Unfortunately, these were removed in the year of 2013 due to the city's construction plans - a Kickstarter crowdfunding campaign was started and raised over $50,000 to erect a permanent bronze bunny at the same location in the future, so hopefully the Bunnies will be back where they belong in no time. During the late stages of 2014, Fish suffered a brain aneurysm that required surgery. He recovered successfully and was soon back designing, doing what he loves and does best. In 2015, Jeremy was officially named as the San Francisco City Hall's first Artist-in-Residence.
The style of Jeremy Fish is recognizable due to the way this artist uses charming visuals, makes intriguing comments and statement, depicts diverse characters and engaging symbols
The Characters and Symbols of Jeremy Fish
Among many who have attempted to define Fish's work as precisely as possible by using a short statement, perhaps the aforementioned rapper Aesop Rock is the one who did it best: The bold, precise outlines give his ideas an immediate impact, but it's the aftertaste that really cuts deep. Everything comes with a story. I have never known Jeremy to create something without a reason for it to exist and an accompanying tale. His pictures are built from the simplest ingredients, ingredients with which the everyman can identify. This, combined with the fact that Jeremy based his visual vocabulary on a modern and appealing style[3], is what makes Fish's work so successful and sought after. His art is all about storytelling and communication, told through a rich library of wild characters and engaging symbols that never fail to intrigue the viewers regardless of where the design is applied.
Jeremy Fish lives and works in San Francisco, The United States.
References:
Fish, J., Happily Ever After: The Artwork of Jeremy Fish, Upper Playground, 2014
Fish, J., Rome-antic Delusions, Drago, 2008
Fish, J., Rock, A., Once Upon a Time: Paintings, Drawings, and Tall Tales, Upper Playground, 2008
Featured image: Jeremy Fish - Photo of the artist - Image via goplaymagazine.com
All images used for illustrative purposes only.