What do the Great Wall of China and the Red Square in Moscow have in common with many walls of Paris streets? The answer is hiding in the street art: l'Homme en blanc or the White Man – a drawn silhouette of a man, imagined as a symbol of light, strength and peace, created in 1983 by the French artist Jérôme Mesnager. Educated for a cabinet maker and the comics' author, this artist distinguished himself during the rise of the free figuration in the early 1980s, together with Blek le rat, Miss Tic, Jef Aérosol and Némo.
Jérôme Mesnager contributed to the rise of a free figuration in the early 1980s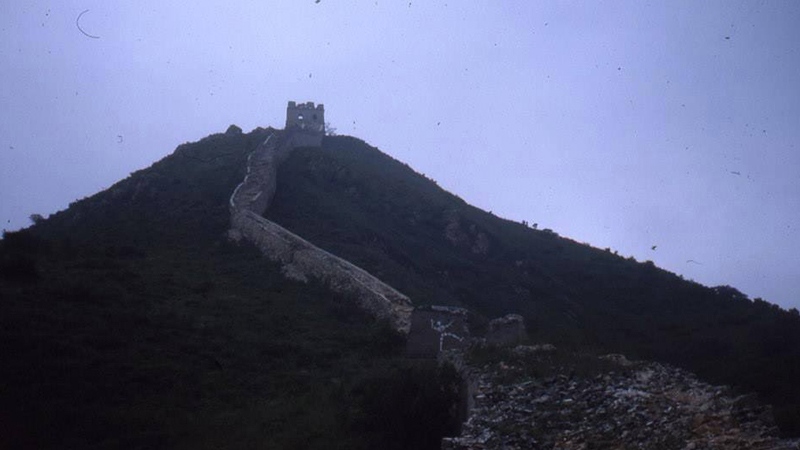 Mesnager: Cabinetmaker and a Comics Author that Conquered the Street Art World
Jérôme Mesnager was born in Colmar, in the Alsace region of northeastern France. He attended École Boulle – a school of fine arts&crafts and applied arts, named after André-Charles Boulle, a well-known cabinetmaker from the XVII century. In 1974, he got his degree in cabinetmaking course. For a while, he was teaching this craft at Boulle. However, the city and its streets were calling him to adorn them with some excitingly ephemeral art. In 1979, Mesnager made a smooth transition towards a bit more urban art by attending Yves Got's and Georges Pichard's comics' course at The Duperré School of Applied Arts. Pichard was known for many BD Franco-Belgian comics magazine covers and Got was a creator of Didou, a small animated rabbit hero.
In 1982, gravitating fast to his current artistic expression, Mesnager co-founded a Zig-Zag in 1982. This group gathered young artists, eager to occupy streets and abandoned factories with their graffiti and performances, so their voice could be heard, or better said: seen.
The White Man - a symbol of light, strength, and peace was born on 16 January 1983, at 12h30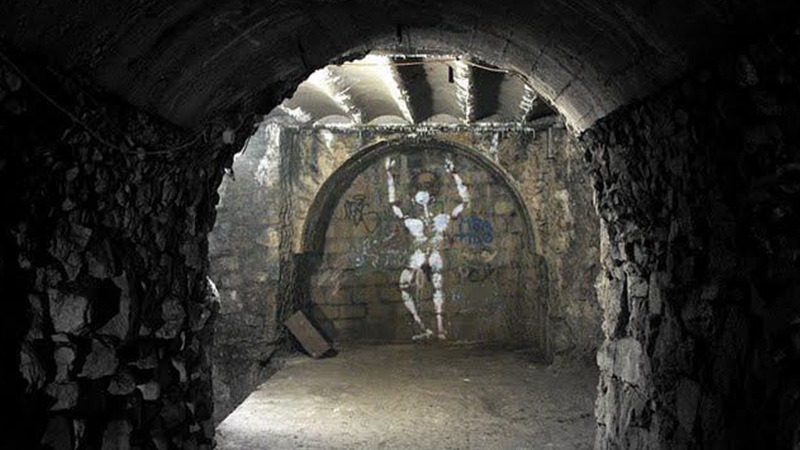 On 16 January 1983 the White Man (sometimes translated as The White Body) was born, changing this artist's life forever. Since that moment, Jérôme is on a mission, conducting it all around the world. The mission consists of spreading the happiness and peace through drawings of the White Man. In time, this silhouette became widely known as a symbol of positive living and the happiness of being free. The White Man is more than 30 years old now, but did not back away a bit in his task, remaining a focal point of Mesnager's painting.
Jérôme's White Man: From the Catacombs of Paris to the Parisian Hotel Rooms
One of Mesnager's most interesting project is the great mural done in 1995, in the Ménilmontant Street in Paris and titled C'est nous les gars de Ménilmontant, a neighborhood in the 20th arrondissement of Paris, known to locals as Ménilmuche. This artwork is sort of a homage to Matisse's La Danse, created between 1909 and 1910.
In 2006, the White Man "moved in" the Hotel des Academies et des Arts in Paris, inhabiting 20 hotel bedrooms, some communal areas inside the hotel and a giant exterior wall of the fifth floor.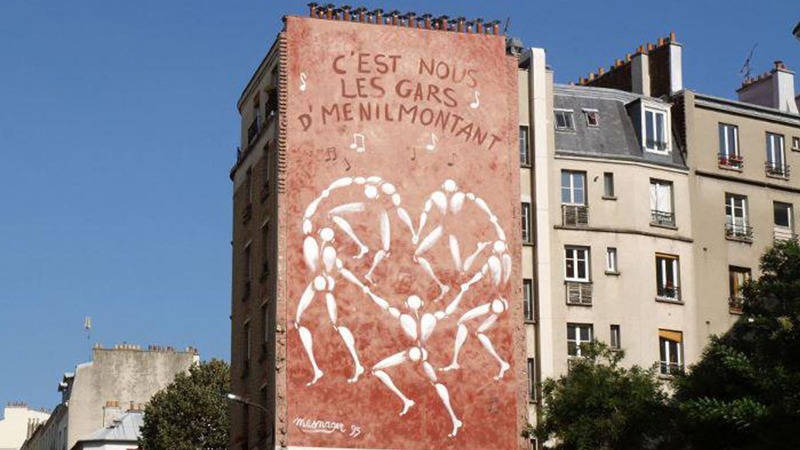 Another interesting location the White Man found himself at, are the famous Parisian catacombs, in its off-limits area, closed but regularly invaded by the urban cavers called cataphylls.
This artist created his own way of fighting the universal malady of a modern man, depicting l'Homme en blanc all over the world, a reminder for the human kind that this malady is not incurable and that we can go back to our true self: a high minded species, capable of empathy and happiness. One simply couldn't ask for more.
This artist is represented by Galerie Brugier-Rigai from Paris.
Jérôme Mesnager lives in Paris, France. l'Homme en blanc, hopefully, lives in each one of us.
All images copyright © the artist