Christoph Ganter aka Jeroo is a German graffiti artist and illustrator whose career spans over 20 years. Born in 1980, Jeroo received his diploma from the University of Constance in 2008.
Jeroo's Graffiti Art
Jeroo began his artistic career in 1993 with a graffiti project in his school. After years of testing his skills, he has developed a fresh, distinct style, which is mainly characterized by combining graffiti with influences like Art Nouveau. Inspired by nature and galaxy, his trademarks are distorted and twisted letters and motifs such as birds and plants combined with geometric and organic shapes. Jeroo belongs to the internationally renowned representatives of the German graffiti scene who has over 1000 images sprayed all around the globe. In 2001, he joined the Swiss-German crew JDI´S.
Inspired by nature and galaxy, Jeroo's trademarks are distorted letters and nature motifs
Works on Canvas by Jeroo
After fifteen years of writing graffiti, Jeroo felt the need for a different approach, so he built a small studio in his apartment and began creating characters on canvas. His artworks are complex because they are painted using spray cans. Jeroo developed a special technique of taping to perfect the structure of the work and create exact angles and shapes. The resulting product can be seen in his recent works that show a mesmerizing hybrid vision where fantastic creatures emerge from a world of letters.
By combining his graffiti background with newfound explorations in style and medium, Jeroo has definitely found his own unique style.
The artist paints his studio works by using spray cans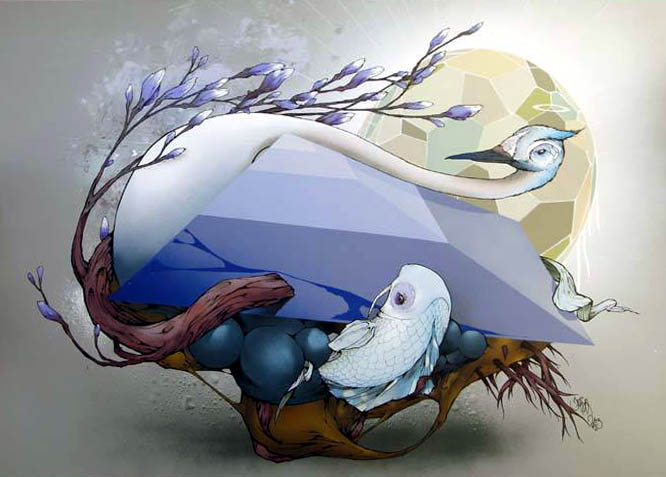 Graffiti School: A Student Guide
In 2013, Jeroo presented his book Graffiti School: A student Guide published by Thames and Hudson. The book is an introduction to graffiti techniques and style, aimed at "legal sprayers" who value artistic quality and professional finish. Early chapters attempt to contextualize graffiti, looking at it from cultural, historical and artistic perspectives. In addition, Graffiti School: A student Guide is all about practical instructions and basic knowledge: from composition, handling and maintenance of your graffiti equipment through to illustrated step-by-step instructions to design elements and techniques. The book also includes a teacher's manual.
In 2011, Jeroo contributed to the book Street Fonts: Graffiti Alphabets from Around the World, which was also published by Thames & Hudson.
Based in Stuttgart, Germany, Jeroo works at the Fanny-Leicht-Gymnasium.
All images courtesy of the artist