Jesse R Yu, also known as J★RYU, is an American artist focused on exploring the themes of life and death and more intriguingly, what lies beyond. Working in a various of mediums including sculpture, drawing and painting, Jesse R Yu is primarily known for his Forest of Sorrows, the ongoing story in which he often uses the ghosts and the trees as elements.
Jesse R Yu's nickname - J★RYU - dates back to Yu's high school days. It references both his initials and a character in the popular fighting video game Street Fighter.
J★RYU's Background
Jesse R Yu was born and raised in North Carolina, after his parents immigrated from Taiwan in the late 60's. Prior to his career in fine art, Yu spent years in the corporate world as a designer working on a multitude of projects for clients such as Sony, Marvel, Columbia Pictures and Red Storm Entertainment, among others.
After various stints in the corporate world, he needed an outlet for his creative side to help counterbalance the obvious rigor of the controls and the disciplines of business. As a passionate toy collector and enthusiast, Jesse Yu felt it was natural for him to start creating designer toy pieces and collectibles of his own.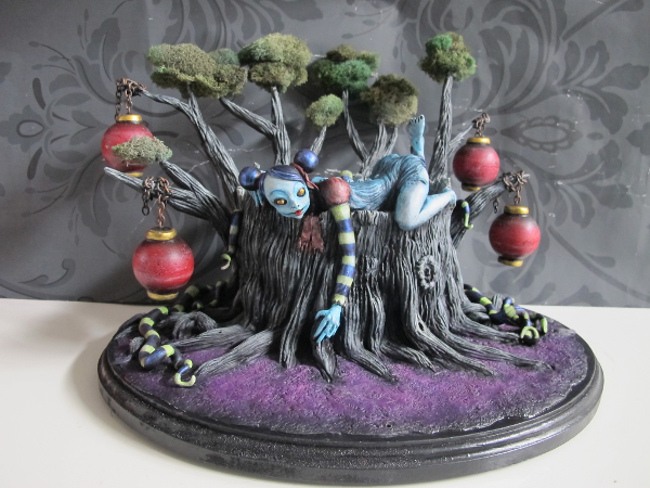 Forest of Sorrows
With a wide array of inspiration, ranging from the works of film directors Tim Burton and Hayao Miyazaki, to baroque architecture and design, J★RYU's art captures the gothic nature in an inimitable way. Each piece he creates, tends to cultivate the atmosphere of eeriness and ghost-like presence in his signature narrative.
Though his sculptures might allude to mythology, legends or folklore, they are not chained to a specific time or place. The example is a female ghost, who appears frequently in Yu's work, especially in the ongoing series called the Forest of Sorrows. The artist sees her as an "avatar" for those who view her, they might be able to step into her shoes and imagine her story.
J★RYU's style is primarily comprised of working in epoxy, polymer clay and resin, alongside of periodic customizations of vinyl art collectibles.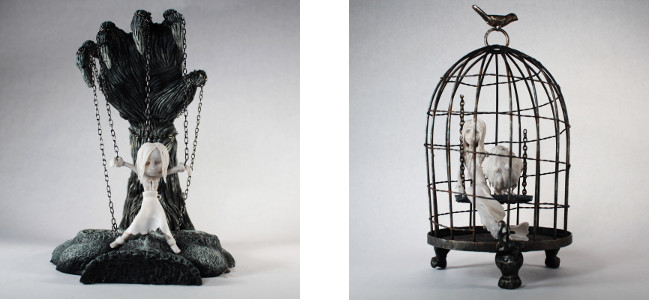 Army of Snipers Art Collective
Jesse R Yu is a member of the world famous Army of Snipers, an international collective of artists, with a wide variety of backgrounds including street artists, videographers, photographers, painters, sculptors, musicians, and graphic designers.
With members like Angry Woebots, J★RYU, Ritzy Periwinkle, Sheryo, and Peap Tarr, amongst others, the collective goal of AOS is to bring their individual talents together, coalesce them into an artistic force, and use it to bring their unique visions of art to people of all cultures, as well as to do good works all over the world.
In 2011, they collaborated on the humanitarian art mission known as The Little Lotus Project. Army of Snipers raised money and were filmed for a documentary called Paint Life, where they traveled to the Thai/Burma border to help disadvantaged children, displaced by the political strife in that region, by conducting programs where art was the universal language.
Toy Customizer of the Year
In his career, J★RYU has worked on projects for clients such as TOPPS and Hasbro and has sculpted collectibles for artists Angry Woebots, Dez Einwell, Jermaine Rogers and others.
His work has been included in many shows all around USA including Los Angeles, Chicago, New York, San Francisco, San Diego, Sacramento, Washington D.C., as well as abroad in Thailand, Singapore, Philippines and more.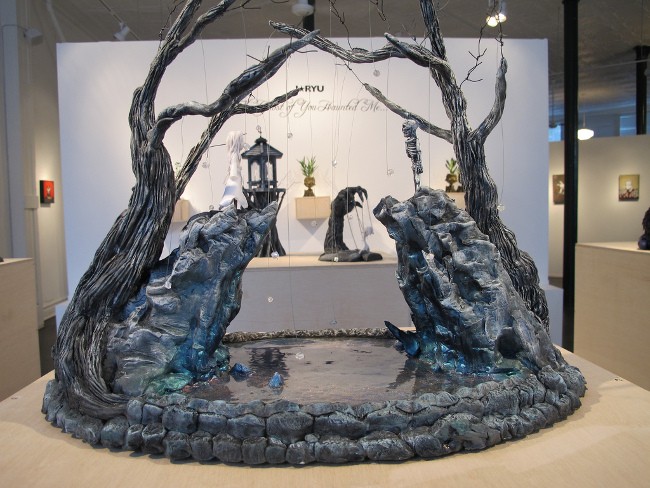 Some of the events he has attended as a guest are Singapore Toy Gaming Comic Convention, Indonesia Toy Gaming Comic Convention, Shanghai Comic Con and New York Comic Con.
After participating in a multitude of shows across the country and world, J★RYU was honored in 2012 as the Toy Customizer of the Year by the Designer Toy Awards, an annual celebration of accomplishments for the designer toy industry.
Unnatural Habitat - J★RYU and Angry Woebots at Art Whino Gallery
The latest works of Jesse R Yu and his friend and colleague Aaron Martin aka Angry Woebots was on view at a DC based gallery Art Whino on Saturday, August 8th, 2015.
Both recognized for their stunning works with designer toys and one-of-a-kind pieces they create through three dimensional mediums and paintings, J★RYU and Angry Woebots' newest works, showed at the exhibition entitled Unnatural Habitat, were inspired by the world of animal kingdom.
Jesse R Yu lives and works in Los Angeles, California.
Featured image: Jesse R Yu portrait by Eric Seely