Jessica Charlotte is an Australian artist who constantly explores the hidden parts of her mind, transmitting its content onto canvas. What she founds there are strange creatures in a dreamlike surroundings.
Elizabeth and Frida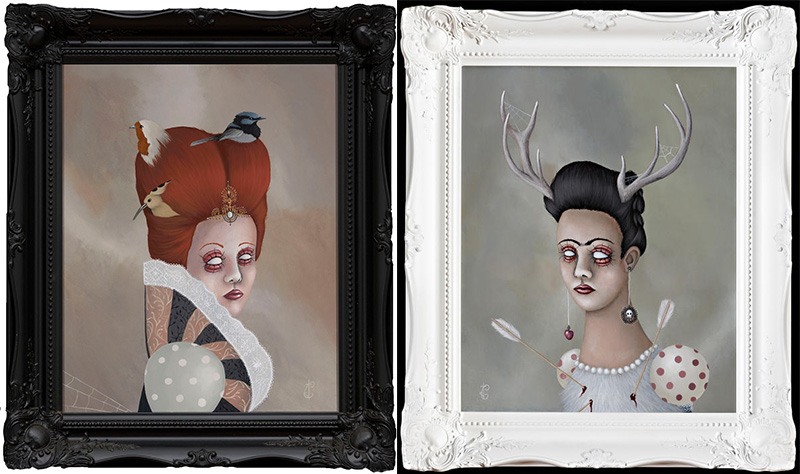 Ever since Jessica was a little girl, she was drawn to create. Being born in a creative family, she was encouraged from the early age to express her thoughts and emotions through art. As a result of that kind of upbringing, Jessica's entire childhood is recorded in pencil and paint.
After her high school, Charlotte studied Furniture Design for a while, in effort to find a commercial application for her talent and artistic skills. But, after some time spent in this industry, Jessica was not able to provide expression to the intensely personal and private world she inhabited. She than decided to attend a course in Illustration, where she finally found her natural habitat.
Eldon Exhales and Llama Love, 2009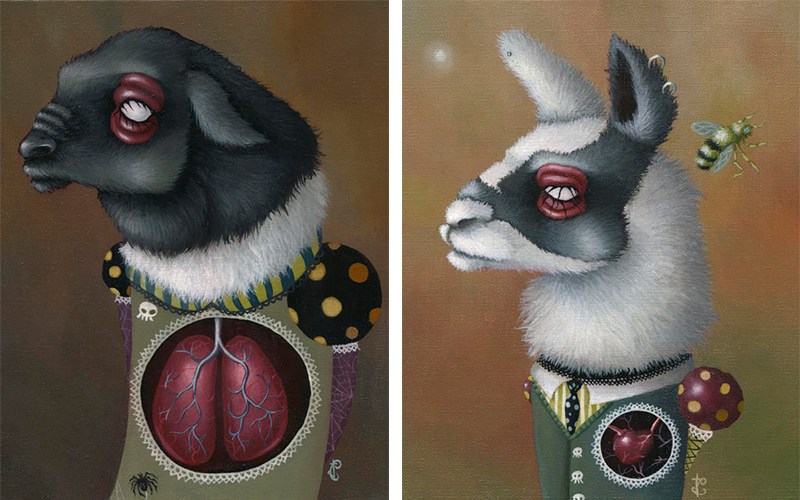 Charlotte's child within, preserved and nurtured, integrated into her imagination a child's ability of visioning, adding so an innocence to her artworks. In Japanese culture, there is a word: SABI, that best describes this treasured feeling her work captures. Roughly translated, it is a beauty tinged with sadness. When Jessica paints, she always wait for an idea to come along so she can do some research, and being very particular about her subjects, that research can take some time. Once the sketch is established, the process of painting begins.
Jessica mostly works in acrylics, bringing to life her exotic images, settled in empty and vast spaces, reminding us of longing and absence we feel about the place where our inner child once resided.
Jessica is widely exhibited, both in her native Australia and overseas.
This artist is represented by 19 Karen Contemporary Artspace.
Jessica Charlotte is based in Melbourne, Australia.
All images copyright © the artist