Jessica Watts is an Australian artist known for her oil and collage paintings, depicting typical Australian themes with various textured narratives. She was born in 1969, in Brisbane, Australia and grew up in Sydney. Her Bachelor of Design, Watts earned with First Class Honors and the University Medal, at the University of Technology Sydney in 1991. Once she graduated, Jessica moved to New York and started her first career: being an advertising art director and highly awarded in that industry, speaking of that. At one point, Jessica even began accepting commissions to create artworks for private clients.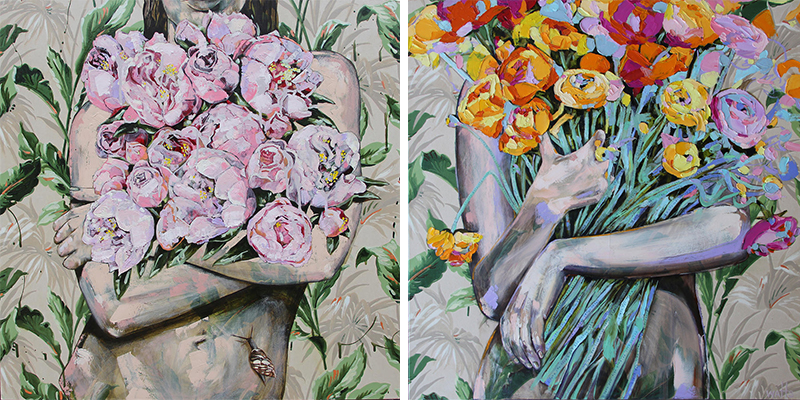 Jessica Watts as a Full-time Artist
While Jessica worked in advertising, she used to collect all sorts of material for her future artworks. When she finally chose a full-time artist career and moved to Sydney to do so, her studio was already packed with old storybooks or bingo cards, the fortunes from every cookie she ever had, antique games and many, many other vintage stuff. Even though this artist paints mostly in oil, she considers her art roots are in a collage. She cherishes the opportunity to create something completely new, out of things that once belonged to someone else: re-using and re-purposing some old object is what really inspires her. For example, her series entitled Wallflower were born as an homage to artist's trove of vintage wallpapers. Done in oil, enamel and acrylic on paper, these works are sending a certain voyeuristic vibe, seeing cropped female figures without faces, hiding something the viewer needs to found out.
Wallflower series are made in oil, enamel and acrylic on paper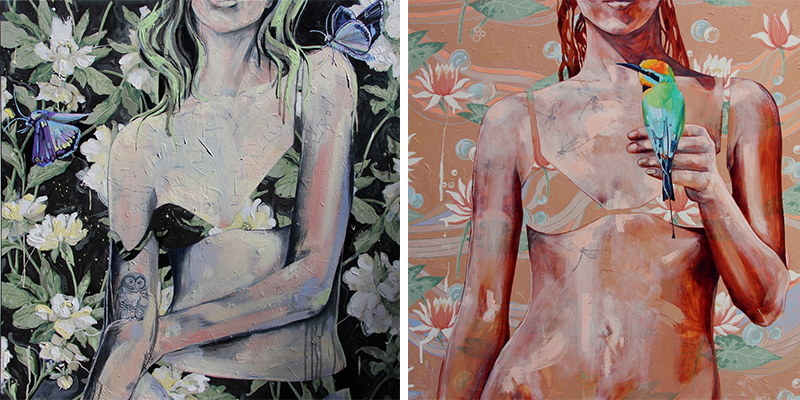 Taronga Zoo Sculpture Project
Expanding her practice with sculpture works, Watts was shortlisted for the Taronga Zoo Sculpture Project and her work was selected for Art in Odd Places, an annual international public art festival. The artist was also commissioned by Pittwater Council to install a series of paintings in the foyer of Mona Vale Library, Sydney. Her work can be found in numerous private collections in Munich, New York, Auckland, London, Montreal, Sao Paolo, Sydney, Melbourne and, many others.
This artist is represented by 19 Karen Contemporary Artspace.
Jessica Watts lives and works in Sydney.
Featured Image: Jessica Watts in the studio
All images copyright the artist