Jim Avignon is a German contemporary and pop artist: cartoon poet, speed painter, performer, designer and musician. He is best known for being the representative of the Cheap Art Movement. Avignon regards himself as a modern storyteller.
Jim Avignon's Techno Art
Jim Avignon was born as Christian Reisz in Munich, Germany. When he was 21 years old, he started to paint and exhibiting his work in techno clubs (Jim decorated a lot of techno parties in their illegally squatted venues) when the posters and cardboard installations were quickly drawn and cheaply installed. Soon, he became a cult person of techno subculture.
From the very beginning, his illustrations expressed the complex relationships of our times by the simples of means. Avignon crafted (and still does, faithful to himself) a visual critique of society, exposing everyday absurdities from business to love with an apt, sympathetic bite.
Avignon's idea of how he perceives art stays very clear all this time:
"I'd rather sell a thousand images for one dollar, than one image for a thousand dollars."
Get Rich with Art
In 1995, in his Frankfurt exhibition titled Get Rich with Art, he proved his commitment to that: the public was allowed to take any of the 800 originals on display home for free. At a 1992 exhibition Documenta X in Kassel, during 13 days he created one painting a day, which he would destroy in the evening (documentary was made about the exhibition, called Destroy Art Galleries). Art critics saw this as sheer provocation but were reluctant to say as much at one of Germany's leading artistic events, so Jim Avignon used absurd performances to level criticism at the art establishment for its dealing and speculation.
At the biographical notes in most of his exhibition catalogues he suggested that he worked as a baker, a school bus driver, as a seaman on a tanker or worked in a kindergarten in a suburb of Moscow.
Jim Avignon's Music: Neoangin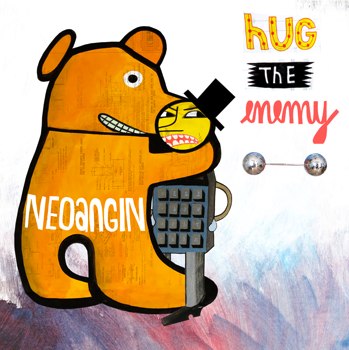 In 1994 Jim Avignon added music to his artistic rooster: he used one-man-entertainer-keyboard he found in the sales bin at the hardware store. In the months that followed Jim dedicated quite some time to his new keyboard with a funky accompanying rhythms and a snazzy sound but unfortunately with no feature to save the songs. So, Avignon developed his very own method to memorize the numerous melodies and choral sketches which he had composed.
This multimedia artist has been performing as the one man-band Neoangin since 1997. To this day he has released 9 Cds that offer a sublime mix of fizzy and gleeful electropop with dancey edges and heaps of nervous melodies. Over the last decade Jim has performed his music in New York, Tel Aviv, Brighton, Paris, Finland, Singapore and Russia.
As he began to concentrate on music, Jim Avignon also continued to design his record covers, flyers, posters and make backdrops for his shows. Through the 90s, he proved himself as a prolific and provocative artist who has published a number of books including: "Popbones" (1996), "Busy" (with DAG, 1998) and "Non Radioactive" (with Lisa Brown, 2000).
Cheap Art Movement
Jim Avignon is also the leading representative of what is called the Cheap Art movement. To keep the price low he has to produce a lot. So, speed is one of his most valuable characteristics: he can finish 200 large format pictures within 3 weeks. In just 2 nights he produced a work covering more than 500 square yards for Frankfurt University and he has created an animated series for German television.
East Side Gallery: Repainting the Wall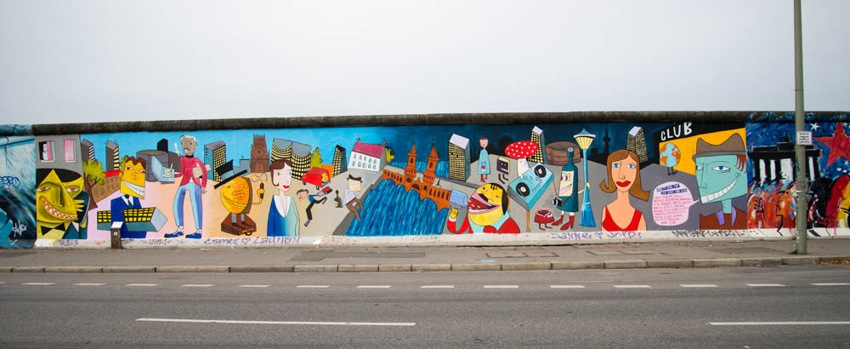 The East Side Gallery is the last remaining part of the Berlin Wall. Right after it came down in 1989, a lot of artists painted the two kilometers of Wall between the Ostbahnhof train station and the bridge, Oberbaumbrücke. Among them was Jim Avignon as well. Today, Gallery is a protected monument (a status which is taken very seriously in Germany) – and it was renovated few years back so that tourists can forever enjoy the pictures that were painted on it more than two decades ago.
In 2013, Jim Avignon had a problem with a "forever" part of this concept, so he was planning to repaint the strip within just a couple of hours so they wouldn't get caught by the police. But, the other artists felt provoked and feared that everybody could now paint on the Wall whenever they wanted. However, repainting his work was not Jim's first illegal action when it comes to presenting his art in public.
Avignon's Buddy Bear "Get" Stolen!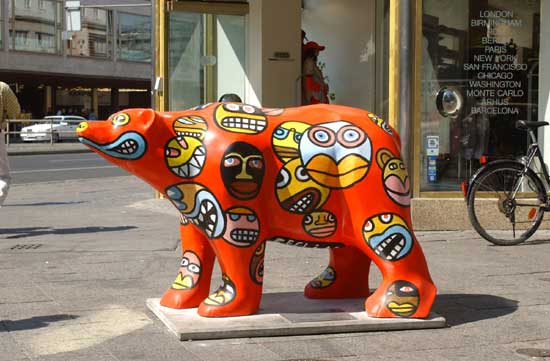 In 2001, a Berlin tabloid asked Jim to paint one of the Buddy Bears - series of hundreds of bear sculptures positioned in public spaces all over town as the bear is part of the city's coat of arms and it's a kind of local mascot. Jim agreed to paint one since it was for charity reasons and the organizers promised to take it off Kurfürstendamm (one of Berlin's most famous boulevards) after six months. Six months and three weeks later the bear was still standing in the street so he decided to make the performance: by night, he came with a van, unscrewed the sculpture, heaved it into the van, and took the bear to a place where he could "hibernate" for the winter.
The next day, "Jim Avignon's Bear Stolen," was the main headlines. The bear was nowhere to be found and it stayed in hiding for a whole decade.
Collaborations: Binary Hulahoop & Power, Corruption and Lies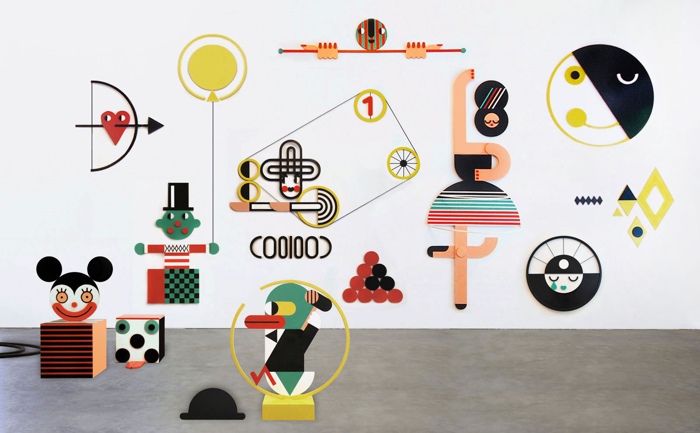 London Academy of Fine Arts ran a seminar on Jim Avignon's work, while many journals devoted space and interest in him and there are a growing number of people discovering his work through the Internet.
In 2014, an exhibition titled Binary Hulahoop was held at Galerie Crystal Ball in Berlin. Berlin-based artists Kathi Kaeppel & Jim Avignon teamed up to show their very different work in kinetic installations. Kaeppel combined graphical forms familiar to the eye in a rhythmic counterpart to Jim Avignon's more painterly works so that every image is the result of a joyful play.
The outcome, binary hula hoop, offered viewers a lucid and lively journey through a world filled with color and creatures en miniature. The Exhibition took part at the Pictoplasma Character Walk. That same year, he teamed up with DAG for the Büro Discount exhibition titled Power, Corruption and Lies.
Jim Avignon currently lives and works both in Williamsburg, Brooklyn and in Berlin.