Jim Vision, also known as Jim Rockwell, or Probs, is a British graffiti artist and muralist based in Shoreditch, East London, best known for his participation in Save the Bees project, and Terry Pratchett tribute mural. Born in 1981, Jim co-founded the street art collective End of the Line in 2008. Together with his business partner, Matilda, he established a creative powerhouse, Rockwell House, and has been running Meeting of Styles, London's greatest graffiti and street art festival, since 2009.
Jim Vision didn't have a great start when he came to East London – for two years he had been unemployed, and could hardly make the ends meet. As time went on, he developed as an artist, and his works were starting to receive the recognition they deserved. It was then that he founded End of the Line with Matilda. Today, the collective, consisting of artists who create large-scale murals, collaborates with clients such as Konami, Disney, Kia Motors, 20th Century Fox, PlayStation, Sony Walkman, and Paramount, to name a few.
When We Go, We're Taking You All With Us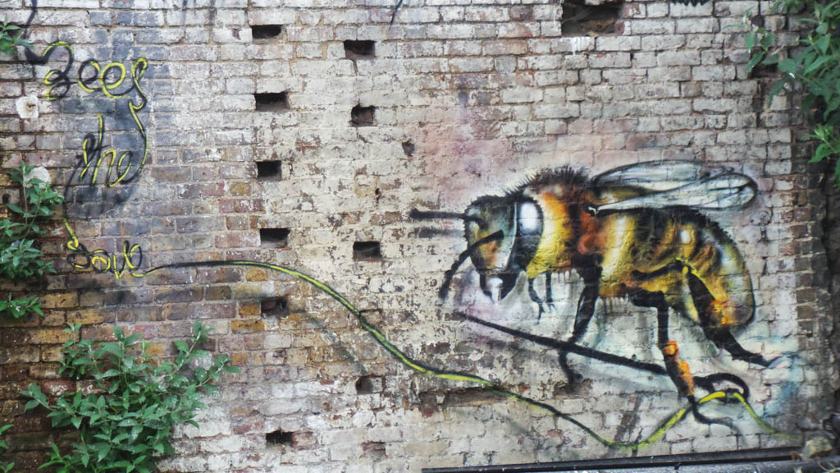 In 2014, Jim Vision collaborated with Louis Masai Michel on Save the Bees project. The artists wanted to raise awareness about the burning issue of ever-decreasing bee population, which they did – the murals have since spread from the walls of Shoreditch to Bristol, New York, New Orleans, Miami and Croatia.
A year later, Jim joined forces with a fellow artist, Dr Zadok, and together they produced a Terry Pratchett tribute mural. The mural, however, is not only a commemoration of the man behind the Discworld series, but it also honors Josh Kirby, the artist who designed the book covers, and who passed away in 2001. Though Zadok and Jim painted it for personal reasons (they are both great fans of the Discworld series), and didn't expect for it to gain so much attention, the piece spread over the Internet, meeting with approval and admiration of thousands of fans.
Terry Pratchett Homage


Some other notable project Jim partook in include Blue Walls of Buenos Aires, where he created seven murals in only two weeks in 2011, and a group exhibition, titled Eve of Destruction, which was hosted by End of the Line in 2013. Jim was both an exhibiting artist and the curator. In 2015, he was featured in Ono'U, a paint festival in Tahiti. He has also been curating and exhibiting in The White Canvas Project since 2013.
Jim's unique style has earned him recognition not only in his native country, but around the world as well, with his murals adorning the walls in France, Singapore, Australia, and also cities such as Buenos Aires, LA and New York. This prolific muralist has created numerous murals in the East End of London.
Jim Vision currently lives and creates in Shoreditch, East London.
All images courtesy of © End of the Line