Jirapat Tatsanasomboon is known for juxtaposing traditional Asian symbols and characters against famous artworks and pop culture figures from the West. His works explore the positive and negative sides of interchange, confrontation, and interaction. The artist's intercultural experiments result in an unusual mix of characters and situations. Mythical figures from Thailand's epic tale Ramayana are featured hand in hand with famous pop culture figures such as Marylin Monroe or John Waine. Apart from adding Western characters to the mix the artist also uses paintings made by famous Western masters such as Andy Warhol, Piet Mondrian, and Leonardo da Vinci as the basis for his work.[1]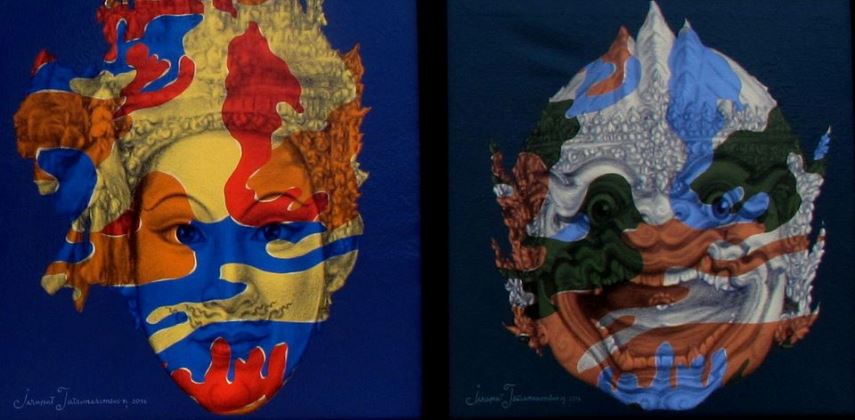 The Timeline of Creation
Jirapat Tatsanasomboon's work can be divided into 4 phases. The first phase that lasts from the mid to late 1990s was caused by the decision brought by the Film board to allow the filming of action film Mortal combat at Thailand's former capital Ayuthaya a UNESCO World Heritage site. The event inspired the artist to explore the influence that American and Japanese cultures have to Thai way of life. The era resulted in an array of images featuring American and Japanese superheroes juxtaposed against Thai Tradition, often symbolized by Siamese palace.
The painter is known for juxtaposing traditional Asian symbols and characters against famous art pieces and pop culture figures from the West
Art inspired by Asian Literature
In the early 2000s, the artist began the second phase that's still marked with intercultural confrontation but instead of portraying apocalyptic images with dozens of subjects in war against each other, second phase is marked with one-to-one confrontations between Thai Characters and the West. In late 2000, the artist has developed an interest in Pop art and begun to use Andy Warhol and Roy Lichtenstein pieces as the basis for his work. In his pop art series, the painter juxtaposes Western Pop icons with different forms of Thai amulets to criticize commercialism and the popular version of Buddhism practiced in Thailand. Finally in his late phase that can be traced back to post-2006-coup in Thailand.[2] The political crises left a deep influence and inspired the artist to explore class stratification and conflict in Thailand.
Jirapat Tatsanasomboon had numerous gallery and museum shows in Bangkok and abroad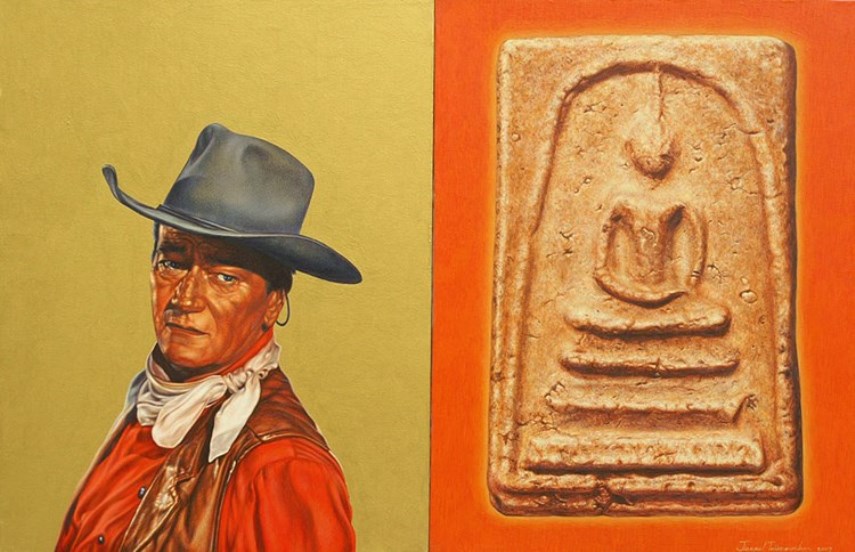 Biography and Selected Exhibitions
In his 2013 series, the artist has reinterpreted the story of Nonthok from the national epic Ramakien. This politically charged story focuses on the desires of a servant who has become and enraged demon. The painter uses the story to explores the issues of integrity class and abuse of power. His artworks have been widely exhibited in his native Thailand and abroad and his works were featured in solo and group exhibitions in South Korea, Hong Kong, Singapore, the US, India, and China.
References:
Anonymous., (2016) Thai Artists : Jirapat Tatsanasomboon, Thavibu Gallery, [March 20, 2017]
Sireekan R., INTERCULTURAL JOURNEY, Thavibu Gallery (2014)
Featured image: Jirapat Tatsanasomboon - Portrait
Images courtesy of the artist