Joachim is a talented, young Belgian street artist who managed to introduce himself into the Belgian street art scene and earn his place in the sun relatively quickly. He is famous for his childlike spontaneity and experimenting with different styles. In addition to creating street art in various European cities, Joachim also works on canvases he builds from quality materials he finds on the street. These improvised canvases, as well as the recurring motifs of eyes and teeth, became the trademark of Joachim's unique art.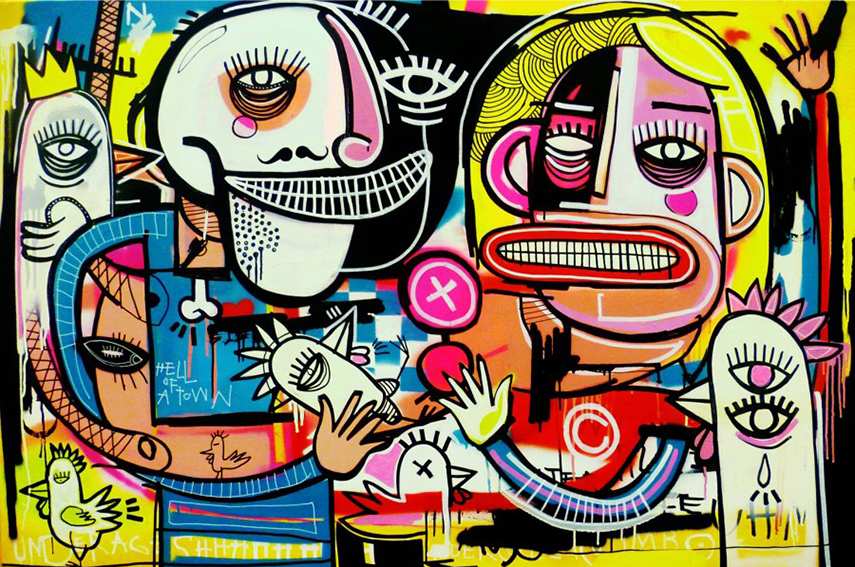 Pursuing the Street Art Dream
Joachim was interested in painting, drawing and graffiti since his earliest childhood. His first memories of graffiti date back from the 90s, when he was just a six-year-old boy impressed by the street art on the streets of Antwerp in Belgium. At the time, most of graffiti were just simple, old school artworks, quite different from the rich and diverse world of street art we can find in any European major city nowadays. However, already in the early 90s, Joachim was quite sure that he wanted to become a street artist. Years later, he succeeded in pursuing his dream – he attended an art school and got involved with the burgeoning, exciting urban art scene of his home town.
Joachim succeeded in pursuing his dream - he got involved with the art scene of Antwerp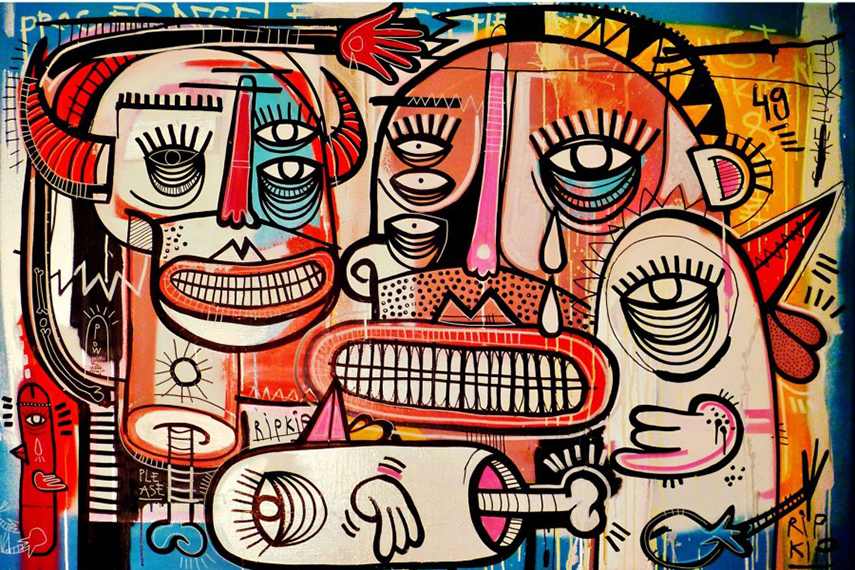 Childlike Spontaneity
Joachim decided to follow a unique path when it comes to developing his own style. After graduating from an art school, the artist has spent some time experimenting with various approaches to graffiti. He decided not to stick to any particular street art tradition – what he creates is inspired mainly by childlike spontaneity. His trademark motifs, eyes and teeth, slightly resemble Picasso and cubism in general, even though Joachim doesn't have any serious pretenses of recreating the cubist paintings. The role of multiple eyes and teeth is simply to give a memorable and consistent appearance to his amusingly bizarre characters which look like comic book heroes. Since 2010, in addition to street art, painting became Joachim's main project and he began to rent his own studio, which he turned into his cosy second home, where he can brainstorm and develop new projects. Because of the high price of crucial art materials, Joachim cleverly decide to make his own canvases by recycling materials he finds on the street. Nowadays, he is a successful art seller and his new pieces can be purchased online.
Joachim doesn't stick to any particular street art tradition – he is inspired by childlike spontaneity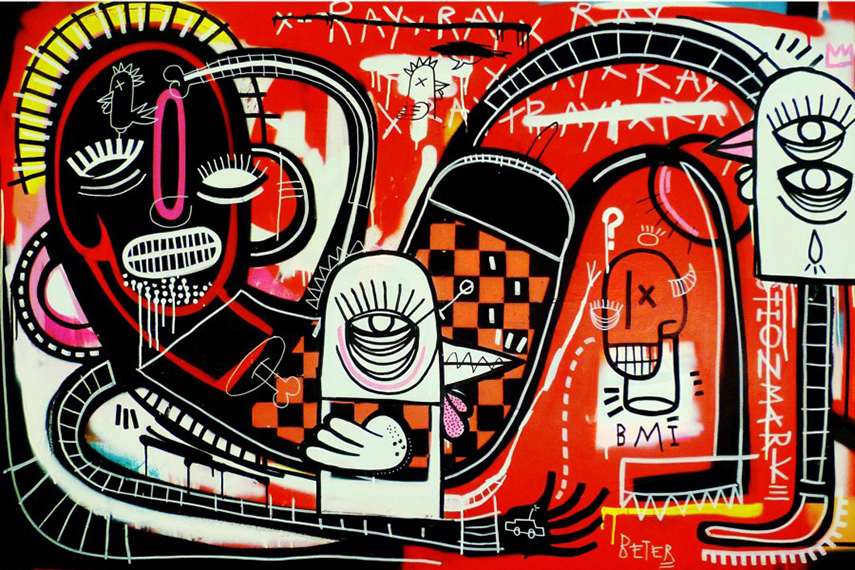 Deep Dedication to Street Art
Joachim's distinctive style is impossible not to notice. Signature multiple eyes of his amusing characters, funny depiction of their teeth as well as twisted, complicated compositions and playful use of colors are all great at capturing a viewer's attention. When it comes to Joachim, he enjoys creating both street art and small-scale works in his studio and he considers himself a full-time, utterly dedicated artist. When I'm filthy, tired, and have nearly died a couple of times, that's when I know it's been a good day, Joachim claims.
The artist is represented by GraffitiStreet.
Joachim lives and works in Antwerp, Belgium.
Featured image: Joachim in his studio - image via Joachim's facebook fan page
All other images courtesy of GraffitiStreet.