The mind is a fascinating thing, and there's no saying how deep it may truly be, or how high it may soar. We may be confined to our daily thoughts that may be as impressive, but in our dreams, we see how far it can really take us. The man titled to be one of the first representatives of putting this realm to the canvas is Joan Miró, a Spanish artist that practiced surrealism in its earliest days. In order to allow himself to explore other ways of artistic creation, he chose not to affiliate himself with surrealists of the time and had explored expressionism, lyrical abstraction, and other styles. Regardless, there's a slight thread of the dream-like in most of his portrayals, whether from his subconsciousness or imagination, one that would allure the masses as much as it did other great artists.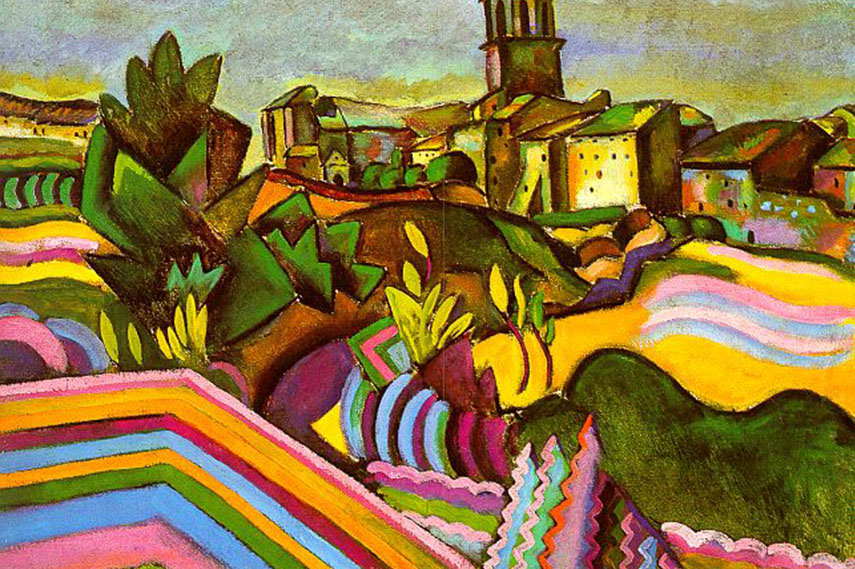 Early Life in Barcelona and a Nervous Breakdown
Joan Miró i Ferrà was born in Barcelona, Catalonia. His father, Miquel Miró i Adzerias, a silversmith and watchmaker and his mother, Dolors Ferrà i Oromí, the daughter of a cabinet maker from Palma de Mallorca, have brought him up at Barri Gòtic, the center of the old city of Barcelona. When he was 7 years old, Miró began attending drawing classes at a private school in a medieval mansion at Carrer del Regomir. At the age of 14, Miró enrolled in business school in Barcelona but also attended La Llotja - Escuela Superior de Artes Industriales y Bellas Artes, to the dismay of his father, where he was taught by Modest Urgell and Josep Pascó.
Miró took a position as a clerk in a drugstore after completing three years of art studies, as his parents wished. But he was overworked there and became seriously ill, verging on a nervous breakdown, followed by a bout of typhoid fever. Miró's poor health caused his parents to allow him to resume his art studies, attending from 1912 to 1915 Francesc Galí's Escola d'Art in Barcelona, a free-spirited school famous for its influence of contemporary foreign painters and also interest in literature and music. There, Miró learned to draw by the sense of touch alone, rather than by sight.
Joan Miró learned to draw by the sense of touch alone, rather than by sight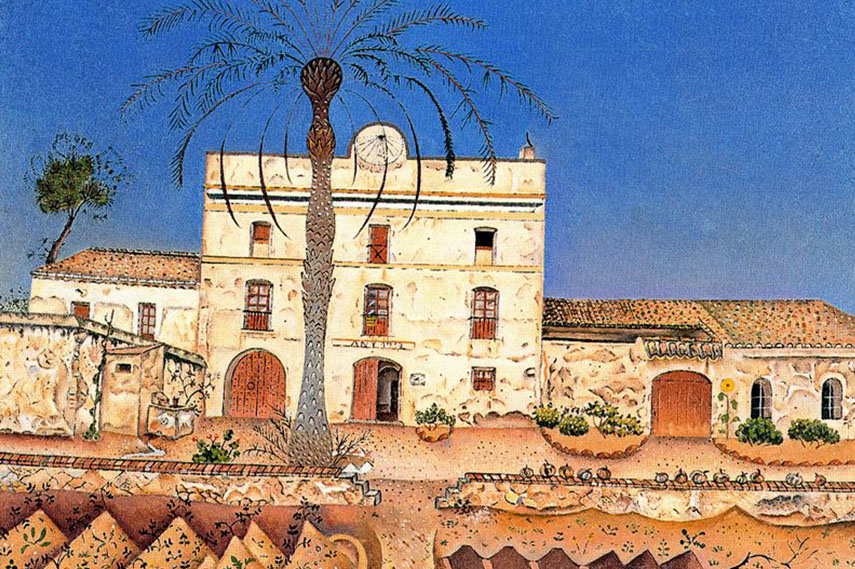 Courbet Group Within Cercle Artistic de Sant Lluc
In 1913, he joined the "Cercle Artistic de Sant Lluc" for drawing classes and for the opportunity of showing his work along with other members. Cercle Artístic de Sant Lluc was an arts society founded in 1893 by Joan Llimona, Josep Llimona, Antoni Utrillo, Alexandre de Riquer, as a reaction to the anticlerical current in modernism. CAdSL was known for its vigorous defense of Catholic morals and family virtue. These ideals manifested in the form of prohibiting artistic nude and all the members pursued humble qualities that were distinctive of the mediaeval guilds. Miró and a few fellow artists from the group soon established a new group within Saint Lluc. They called themselves the Courbet group, after a painter whom they admired for his radicalism.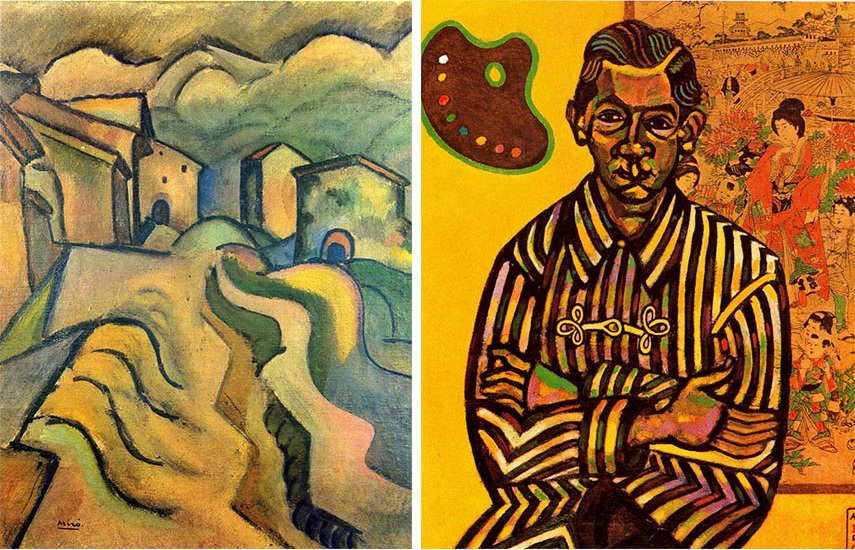 Miro's Avant Garde Days Influenced by Fauves and Cubists
Around 1915, the Dada movement was emerging and Miró began reading the avant-garde Surrealist poets such as Apollinaire and Pierre Reverdy. His days inn Barcelona had also been influenced as he frequently visited the Galeries Dalmau, which was the hub of avant-garde art that exhibited the work of many foreign artists. He received an encouragement from the gallery owner and art dealer José Dalmau, who helped him organize his first solo show at his gallery in Barcelona. His first exhibition did not go so well as his other exhibitions during his fruitful career would - his work was harshly ridiculed and defaced. His early art, at that time, was pretty much influenced by Fauves and Cubists that exhibited in Barcelona in 1917, and he was greatly inspired by Vincent van Gogh and Paul Cézanne. He used a variety of bright colors which were common in Fauvism, and added many shapes, which was common in the Cubism art form.
Miró's early art was pretty much influenced by Fauves and Cubists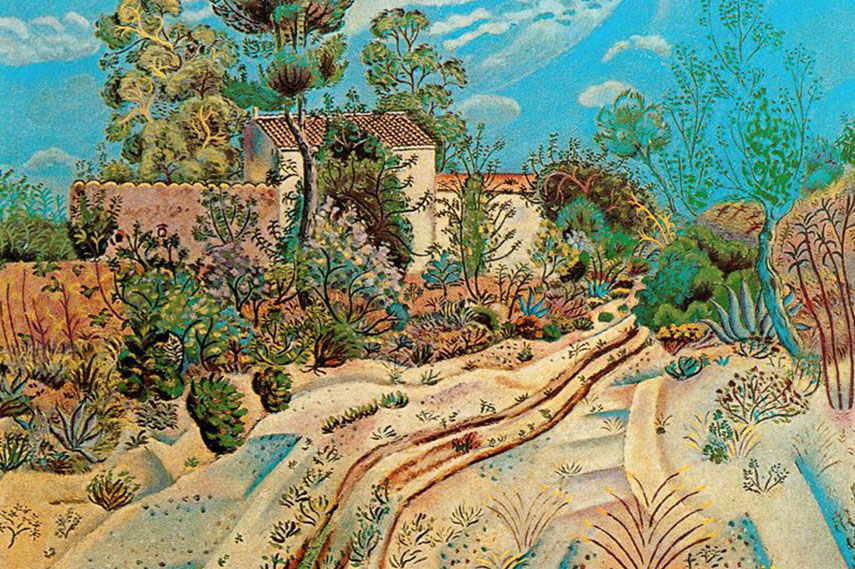 Joan Miro and his Inspirational Catalonia
Another source of inspiration for this artist is the rich folklore of his beloved Catalonia, which will influence his art from the beginning to its end. Miró was also forever fascinated with the interiors of ninth to twelfth century frescoed churches, with their relatively crude execution and their simple, flat and cartoon-like imagery. The use of primary colors heavily outlined in black, with a darkly shaded surrounding field, and the treatment of space as flat surfaces are just some of the elements that lingered on in his artworks. Much like children depict larger elements based on their importance to them, so did Miró play with disproportions of scale, making certain objects far larger than the others.
Miró played with disproportions of scale, making certain objects far larger than the others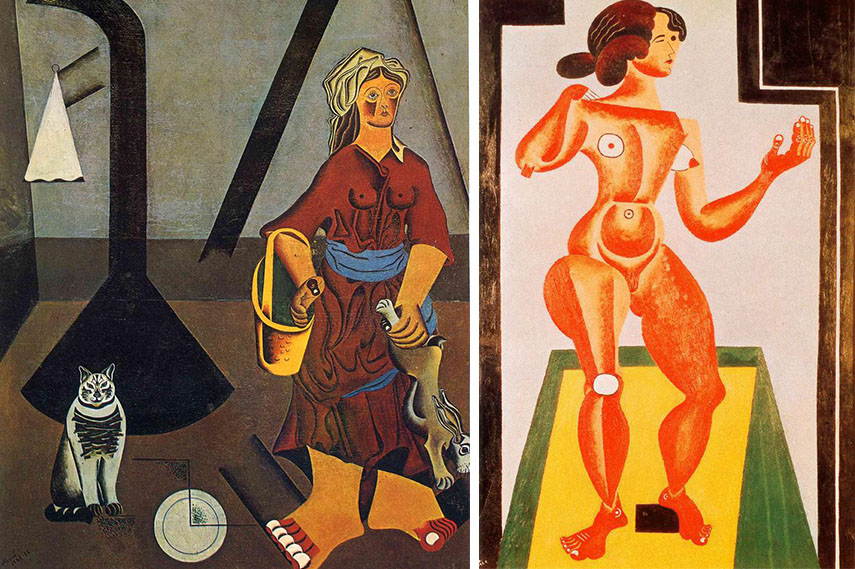 Visiting Picasso in Paris and Dada Days
In 1919, Miró took his first trip to Paris, visiting Picasso in his studio. From that moment, he divided his time between Paris and his parents' summer home and farm in Mont-roig del Camp in Spain. The Farm was painted in that period and it is showing a transition to a more individual style of painting together with certain nationalistic qualities. Ernest Hemingway, who had bought The Farm, compared the artistic accomplishment to James Joyce's Ulysses: "It has in it all that you feel about Spain when you are there and all that you feel when you are away and cannot go there. No one else has been able to paint these two very opposing things." In Paris, Miró became friends with Max Jacob, Pierre Reverdy, and Tristan Tzara. He was now a part of the Dada circle, participating in their activities.  He read works of Dostoevsky, Nietzsche, the German Romantic poets and the Pre-Socratic philosophers, as well as the poets rehabilitated by the Surrealist group such as Jarry, Baudelaire, Mallarmé, Lautréamont, and Rimbaud. In 1921, Dalmau had once again organized Miró's first solo show, this time in Paris, at the Galerie la Licorne.
The Farm portrayed a transition to a more individual style of painting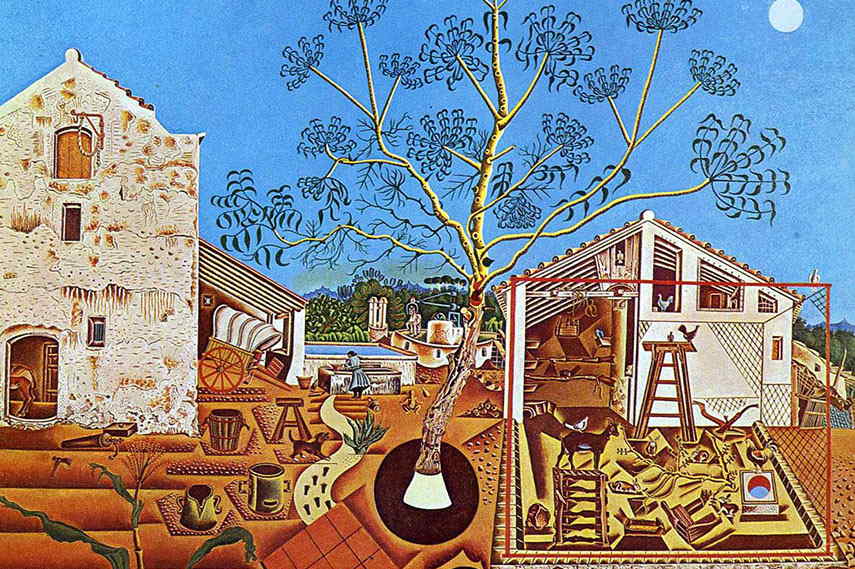 The Famous Pictorial Sign Language is Born
In 1923, there was a big change in Miró's art, moving toward more sign-like forms where flat shapes and lines, mostly black or strongly colored, suggest the subjects, sometimes quite cryptically. Typical representational painting of this phase is Catalan Landscape (The Hunter) from 1923 where a triangle is used for the head, curved lines for the mustache, and angular lines for the body. This pictorial sign language will be a central theme throughout the rest of his career, and the overall composition would later be used by Jackson Pollock, Robert Motherwell, Arshile Gorky and other artists of the modernist period.
Typical representational painting of the sign-like forms is Catalan Landscape (The Hunter)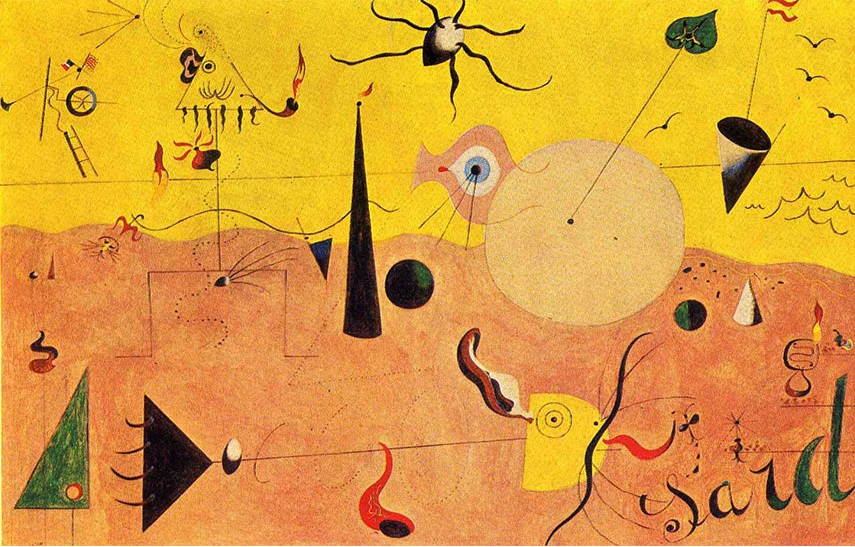 Surrealism Welcomes Miro
In 1925, Miró had definitely abandoned figurative art as he entered the Surrealist world with an exhibition at the Galerie Pierre, a major Surrealist event. The great Breton said that Miró's work had an innocence and freedom about it. After that, he was included in the first Surrealist exhibition at the Galerie Pierre that same year. In 1928, Miró had visited Netherlands and began a series of paintings inspired by Dutch masters. At this point he had stated his intention to "assassinate painting" as a form of disliking bourgeois art and began working with less conventional means of expression such as collage and assemblage. The same year, he had created his first papiers collés (pasted papers). In 1932, Miró returned to Barcelona and continued to paint in a new manner, producing art that was visually more direct and aggressive. He experimented with various materials including wood, metal, hardboard, objects, and paper of all kinds. In the early 1930s, Miró was concentrated on making Surrealist sculptures with painted stones and found objects.
Miró entered the Surrealist world with an exhibition at the Galerie Pierre, a major Surrealist event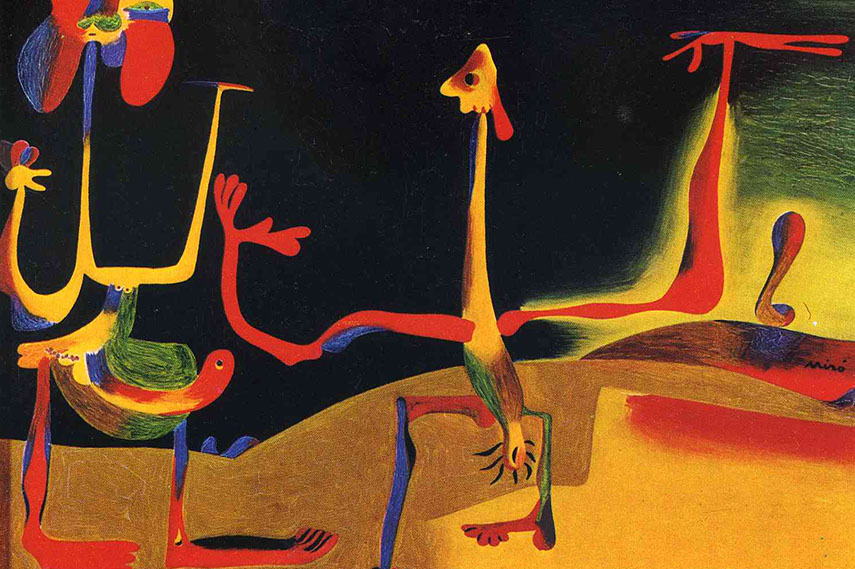 Realism of War
During the Civil War in Spain, Miró lived in France. Under a deep distress and under the influence of the tragedy unfolding in Spain, he had returned to a certain version of realism. In Paris, in 1937, he painted the mural for the Spanish Republic's pavilion at the World's Fair titled The Reaper (Catalan peasant in revolt), which later disappeared. He returned to Spain four years later, only to move again to Varengeville-sur-Mer on the Normandy coast where he stayed until the Nazis started bombing the area. Even though Miró was not a politically active artist, his forms during this hard time are depicting a certain brutality with distortions and garish color.
During World War II, he was inspired and influenced by the night, music, and stars and was working on establishing the language for his series titled Constellations. These paintings consisted of black dots representing stars on a white ground using gouache and thinned oil on paper tending toward cosmic awareness - painted poetry. In 1941, while Europe was still at war, the Museum of Modern Art in New York held the first retrospective exhibition of his work.
During World War II, he was inspired and influenced by the night, music, and stars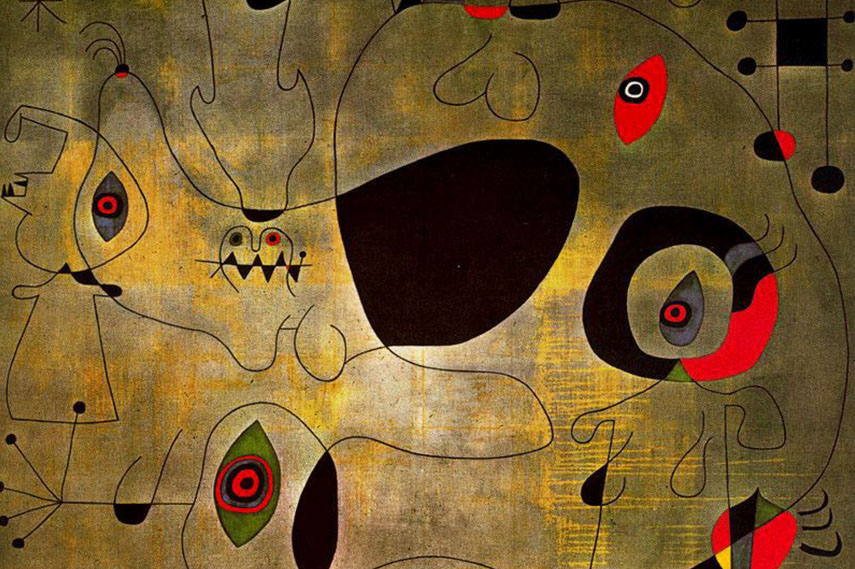 Joan Miro and the Art of Ceramics
From 1944, Miró started to experiment with ceramics, bronze sculpture, and printmaking. He was always influenced by his Catalan heritage, especially the decorated Catalan pottery. With Josep Llorens y Artigas, his lifelong friend and artistic partner, he collaborated in pottery projects in the years to come. His Wall of the Moon and Wall of the Sun for the UNESCO building in Paris were given a Guggenheim International Award. Miró's increasingly large ceramic forms have been created in individual parts to be reconnected after firing. His idea behind these gigantic works is a deference of the ceramic medium itself - what he wanted to make clear is that ceramics is not just another medium to transform painting, it is an art dimension for itself.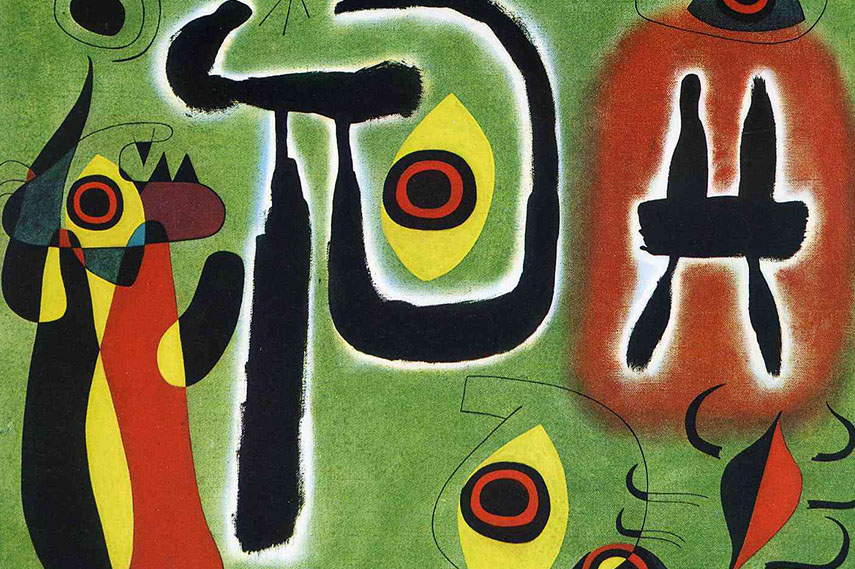 Print-Making and Automatic Drawing
Around the same time, Miró started to concentrate on prints and from 1954 to 1958 he worked almost exclusively in these two mediums.  Miró worked in several printmaking processes, including engraving, lithography and etching, as well as the use of stencils (called pochoir). In 1954, he received the Grand Prize for Graphic Work at the Venice Biennale, and in 1955, his work was included in the first documenta exhibition in Kassel. Joan Miró was among the first artists to develop automatic drawing, invented (or re-invented) by the surrealists, as a means of expressing the subconscious.  He used it as a way to undo the previously established techniques in painting. Most of his paintings often started out as automatic drawings.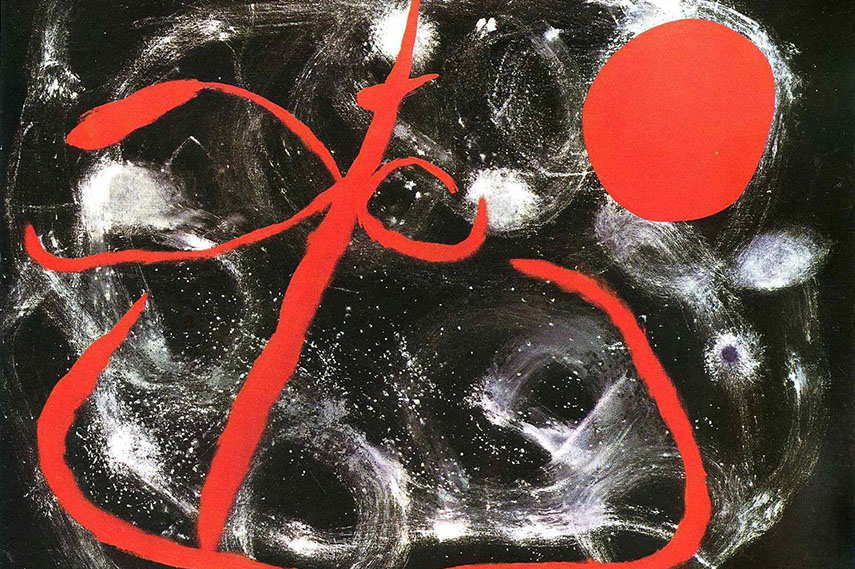 Palma de Mallorca Studio
In the 1950s, Miró's work on monumental and public commissions increased. He was influenced by young American painters, so he started to create large-format paintings in his studio that Josep Lluís Sert had designed for him in Palma, Majorca and where he has lived from 1956. After his visit to Japan, a fascination by the techniques used by Japanese calligraphers can clearly be seen in his work which gradually strived towards a simplification and paring down of forms and colors. At the end of Franco regime in Spain, Miró awakens the political activist within as he uses all available means of expression to demonstrate his criticism of the general situation (both cultural and political) in his beloved homeland, and Catalonia especially.
Miró was fascinated by the techniques used by Japanese calligraphers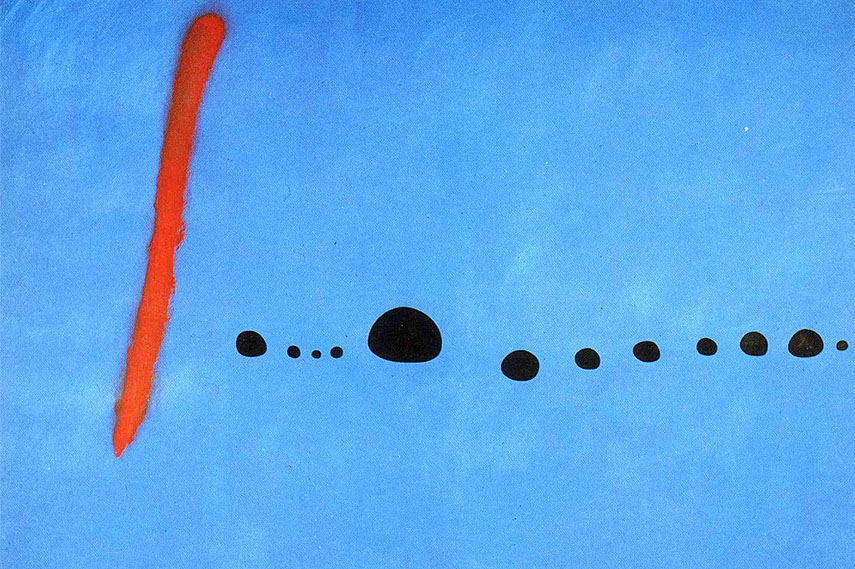 The Fundacio Joan Miro
Miró had created over 250 illustrated books known as Livres d' Artiste, works of art that utilize the form of the book published in small editions. The Fundació Joan Miró, a museum dedicated to his work was established in his native city of Barcelona in 1975, and another, the Fundació Pilar i Joan Miró, was established in his adoptive city of Palma de Mallorca in 1981. It was thanks to Pilar Juncosa, Miró's wife who shared his enthusiasm, that the Joan Miró Foundation was set up and she donated or loaned to it a large part of her personal collection of her husband's work.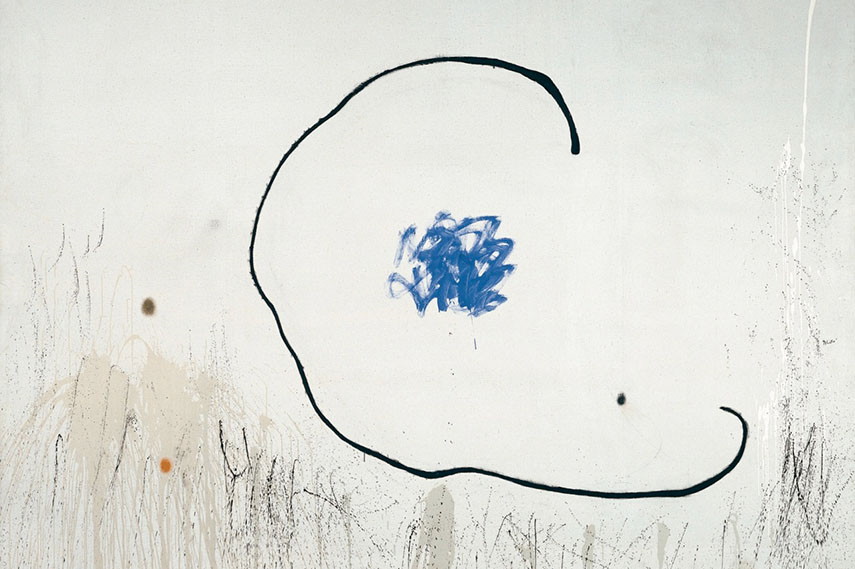 A Rich Life
After a century-long life that has seen two world wars, Joan Miró died in 1983 with numerous monumental accomplishments to his name. An extensive, timeless oeuvre being one of them, he strongly believed that art had taken a wrong turn somewhere along the line and that it should be more like making love - a total sensation, reckless and defenseless. With his sophisticated work engaging both the physical senses and the psyche, he's definitely managed to provoke an impression and embrace the viewer, be it an amateur or a professional colleague. Drawing from his own unconsciousness, we may all find a shade of our own thoughts in his brilliant works.
Featured image: Joan Miro, photo credits baterbys.com. All other photos credit wikiart.org.
All images used for illustrative purposes only.