Joanna Kirk is a British contemporary artist known for her uniquely detailed and highly charged pastel paintings inspired by nature and the personal experience of motherhood.
Joanna Kirk's Pastel Paintings
Joanna Kirk began to make her stunningly beautiful pastel paintings in 1982. The ability to manipulate color and texture directly with her fingers attracted her to this medium that straddles the line between painting and drawing. Although the finished pieces can look just as luminescent as paintings, the process to create them resembles drawing more than painting.
One of the few contemporary artists working in pastel, Kirk gradually builds up the surface of each piece directly on the paper, adding layer upon layer to produce paintings with rich textures and deep colors. Appearance comprises a psychologically tense and dreamlike view, almost abstract in its surface detail.
Psychological Pastel Landscapes
Joanna Kirk's paintings are usually on a very large scale - over two metres wide - and her subject is the landscape. Rather than portraying the natural world, the artist creates psychological landscapes that explore ideas of isolation, motherhood, the human condition and our complex relationship with nature. The relationship between humans and nature in Kirk's works is depicted through artist's inimitable metaphysical and unearthly manifestations of substantial natural objects.
With a careful layering of pastel pigment on top of one another, Joanna Kirk creates compositionally rich and complex landscapes packed with a knotted mass of tree roots tangle above the ground surface and twisted branches or rough rock formations and scattered rays of sunshine.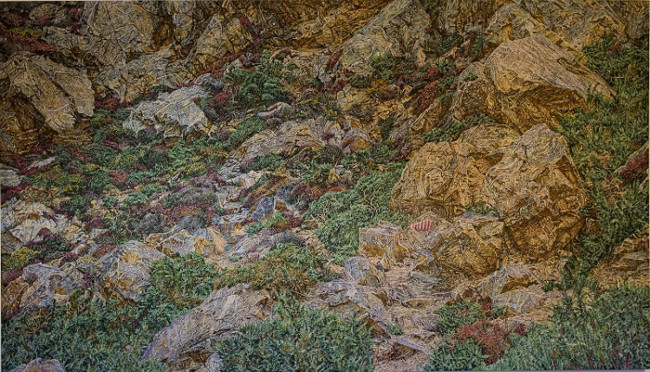 Maternal Approach by Joanna Kirk
Much of Joanna Kirk's inspiration is drawn from the personal experience of motherhood in which beauty is marked out against everyday reality to provide a new perspective on her work and life. Upon closer viewing at Kirk's paintings one or both of her own children can be found in natural landscapes playing, hiding or perhaps even searching amongst the many shards of rock like in On a Headland of Lava beside You (2014). The presence of these figures in the scene adds a new perspective to the work contributing to the atmospheric tension of the piece.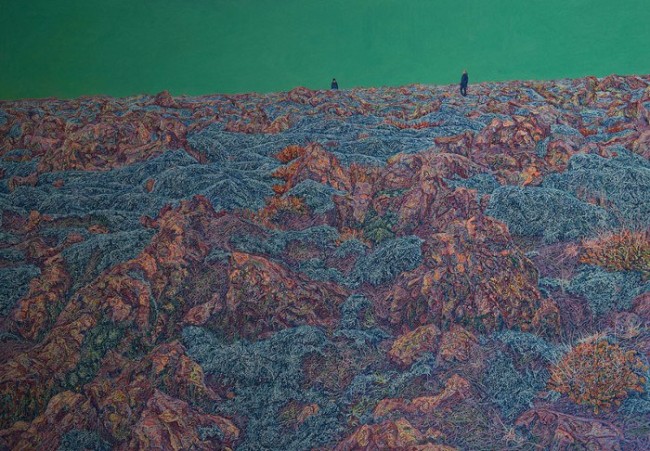 Kirk's new work takes this theme to a more extreme level. The children are now immersed in the landscape more than ever before, "lost" or "devoured" by the chaos and scrupulousness of nature. Many of latest vivid landscapes revolves around personal transformation and United Kingdom scenery, especially constantly evolving Northern Ireland terrain and the secluded woodland of Wales.
Academic Background and Exhibitions
Joanna Kirk earned her BFA from Goldsmiths College, London, in 1984. Four years later, she won the Whitechapel Gallery Artists Award.
Her work has been exhibited in many individual and collective shows, including at All Visual Arts, One Marylebone Place, London (2012); Harris Lindsay, London (2011); Mostyn, Llandudno, UK (2010; 2002); Vegas Gallery, London (2010); Ciocca Arte Contemporanea, Milan, Italy (2000); Modern Art Inc, London (1999); Künsterlerhaus, Palais Thurn und Taxis, Bregenz, Austria (1996); Todd Gallery, London (1994; 1993); Nicola Jacobs Gallery, London (1989; 1988) Whitechapel Art Gallery, London (1988); Third Eye Centre, Glasgow, UK (1987); and Riverside Studios, London (1984), among others.
In 1990 Kirk's work was exhibited in the touring exhibition, British Art Show.
Joanna Kirk's Landscapes will be on view at Blain Southern gallery in London from September 9th, 2015 until October 3d, 2015.
She has received commissions from Credit Suisse and her paintings are in in various private and public collections including Saatchi Collection, UK, the Arts Council of Great Britain, and Contemporary Art Society, London.
Other Criteria and Rachel Cusk published a catalogue of her works in 2010.
Joanna Kirk lives and works in London, UK.