Joe Iurato is not just a street artist famous for his small wooden cutouts - he's also a skater, climber and philosopher, someone who's familiar with many aspects of urban life. All of his artworks have a certain autobiographical quality and even though his work from the technical point of view resembles Banksy, Iurato is not a political activist. Through his miniature site-specific action figures, Iurato is telling stories about the path from childhood to adulthood and all those small events, feelings and uncertainties we face along the way.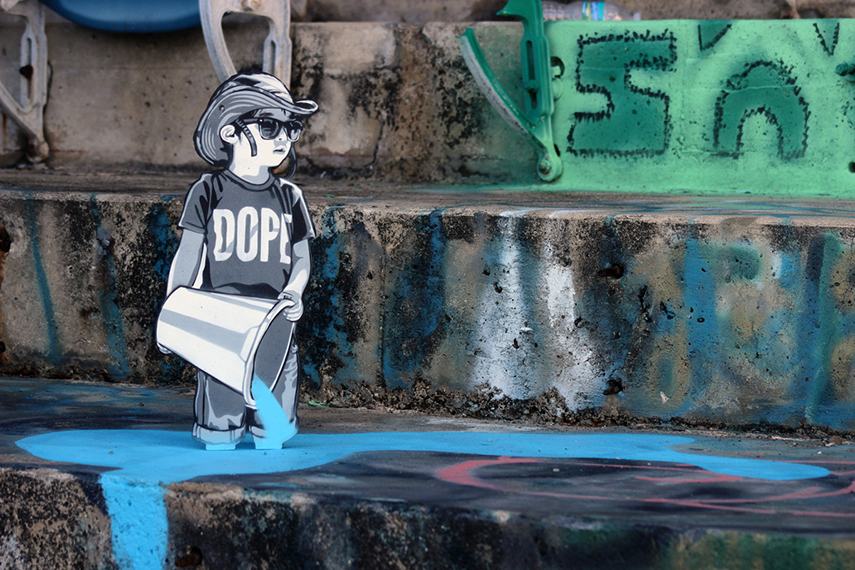 Through the Eyes of a Child
Joe Iurato lives in New Jersey with his two sons and finds the inspiration for his work right before his eyes - he's watching his children grow up in a major urban area. The way they explore the world, ask questions and look around in wonder while digesting the reality of a big city, are the most common motifs in Iurato's work. The artist is also a photographer and knows well many hidden corners of his native New Jersey and New York areas, which helped him conjure up ideas on site-specific placements of his small  wooden pieces. Actually, Iurato's artworks used to look different before and only recently he changed his technique. Instead of painting large-scale figures, in the last couple of years, he decided to make them significantly smaller and because of that easier to place in various public areas. At the same time, he's still using the same procedures to create his pieces and that is uniting the old-fashioned printing process with the modern street art technique such as stencilling.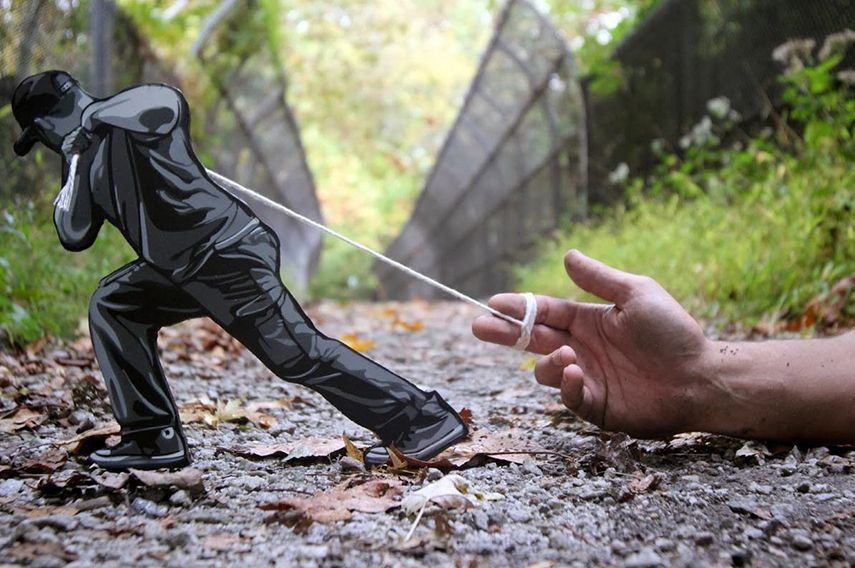 Stories on Basic Human Values
Iurato's figurines look like a brand new kind of action heroes. They are conquering both concrete jungle and nature such as parks and lakes in the New York neighbourhood. The artist is making his adventurous characters climb trees, jump fire hydrants, sail the boat, play the guitar or ride the skateboard. Also, these are not only action figures - some of them represent the ideas of friendship, love, loneliness, need for help and understanding, even some spiritual values. In a nutshell, Iurato's work is exploring basic human values and making us recall what is really essential in human life. The way Iurato places his figures is something worth admiring - he is trying to make them fit their surroundings as much as possible. In his quest to do so, he made so many perfect images, such as a puddle of water where a tiny wooden boat sails or figurines with suitcases that walk along a railroad.
Basic human values are represented through Iurato's adorable wooden miniatures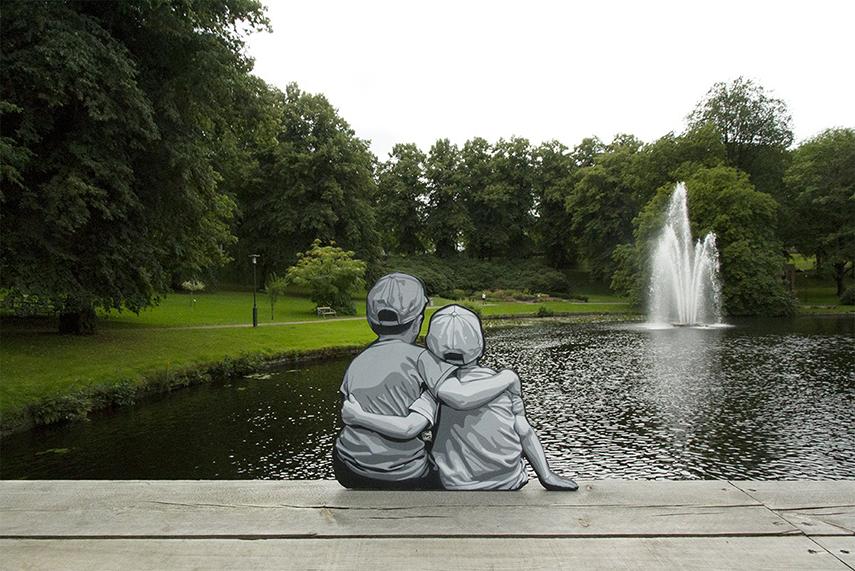 Universal Appeal
The secret of Iurato's work is the universal appeal of his figurines. No matter our age, nationality or current lifestyle, we are bound to love them, since they tell heart-warming stories about the human experience. Also, the fact that they can be found in the most urban city of the world, New York, helps them get a lot of public exposure. Iurato has participated in many solo and group exhibitions since 2010 and his latest shows were held in Canada and Sweden, which confirms the idea that his work is universally enticing and hence becoming popular among different nations. The stories of love, friendship and growing up never get old, especially when told by adorable cartoon-like characters.
The artist is represented by Vroom & Varossieau in Amsterdam.
Joe Iurato lives and works in New Jersey.
Featured image: Joe Iurato portrait - via workhorsevisuals.com
All images copyright © the artist