Joe Webb is a British visual artist known for his enticing handmade mixed media collages. He uses images from vintage magazines and posters to conjure surreal narratives that express both a comical and cynical take on the modern world.
Webb's Handmade Collages
Born in 1976, Webb worked as a commercial artist and graphic designer for several years. Tired of modern technology and its overwhelming potentials, Joe turned to collage, a technique he described as "more immediate and graphic than painting". Webb's elegant handmade collages are made of vintage magazines and printed ephemera that he has collected during the years. Without Photoshop manipulation, combining only two or three elements in each piece, Webb re-invents the imagery taken from his collection of prints to create simple and elegant, yet surreal, images that explore themes such as global warming, consumerism, war, drought, famine, and others.
Webb reinterprets the imagery using simple and concise edits, transforming the original scene into his version of what is going on in the world, all without the aid of computers. The central figure or object in Joe's pieces is often displaced into an unusual setting, holding a mirror up to conflicting cultures and experiences.
TV Times
Combining and removing imagery from vintage color schemes with decades-old advertising conventions Joe Webb creates a nostalgic visual effect, taking the viewer backward, first, yet after a few seconds the current importance of the collages' subject matter comes into full view. In Web's piece titled TV Times, 2014, the artist depicts the stereotypical 1940s/'50s nuclear family unit sitting outside and watching the eruption of a volcano on their personal television, while the it is happening just behind them. Thus, Webb is showing the ironies of present-day society's obsession with screens and experiencing the world through them, even when actual events are precariously nearby.
Using as a medium magazines from the 1950s and 1960s, Joe also reminds the viewer of the post-production filters and tones used in social networks such as Instagram.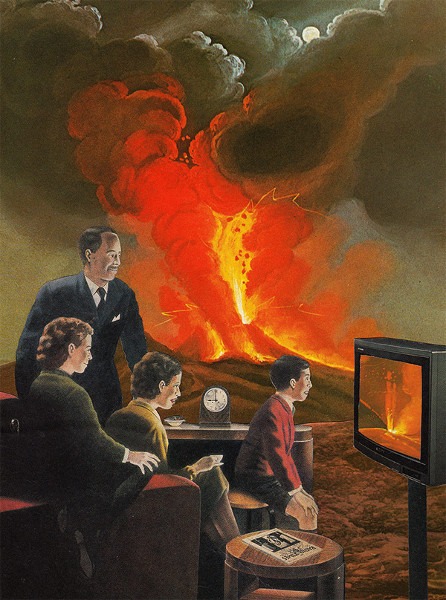 Stirring up a Storm
Many of Joe's artworks wittily examine human relationships and our perplexing position in the universe. In Stirring up a Storm, 2014, a continent-sized electric mixer from the 1950s, Sunbeam Mixmaster Junior, stirs Earth's atmosphere with its twin silver beaters to create massive, hurricane-like weather patterns. At first sight, issues of global warming and energy crises come to mind, however, the well-crafted humor, imaginative aesthetic, and a subtly wry irreverence ensure that his message is successfully notified.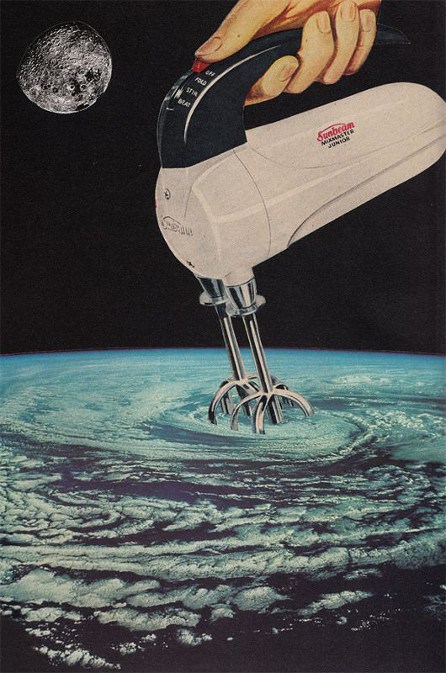 The Influence of René Magritte
Joe Webb's piece Kissing Magritte is the homage to a Belgian surrealist artist René Magritte who influenced the artist's work. Webb presents Magritte's signature clouds in this screen printed collage by removing the bowler hat wearing gentleman's face.
Although Webb is primarily drawn to images from the 1950s and avoids digital photo processing in his practice, his work has become incredibly popular thanks to modern technology.
Joe has participated in numerous solo and group shows in galleries and art fairs, including the Saatchi Gallery, London, and Christie's Contemporary Art Gallery.
Joe Webb lives and works in Brighton, UK.