Located in the southern part of the Pacific Ocean, Australia has an ever-growing number of artists who present new ways of looking at the world around us. One of the country's leading names in contemporary art is Joel Rea, known for his oil paintings of hyperrealistic portraits and landscapes. Often using a brush as thin as just a few hairs, his imaginative realities are meticulously developed for hours, so that in the end they become very detailed and smooth scenes, which explore the mutual influences between nature and humans. Drawing inspiration from photoshoots, designs and everyday situations, he creates powerful images that focus on magnificent animals or people in surreal apocalyptic situations.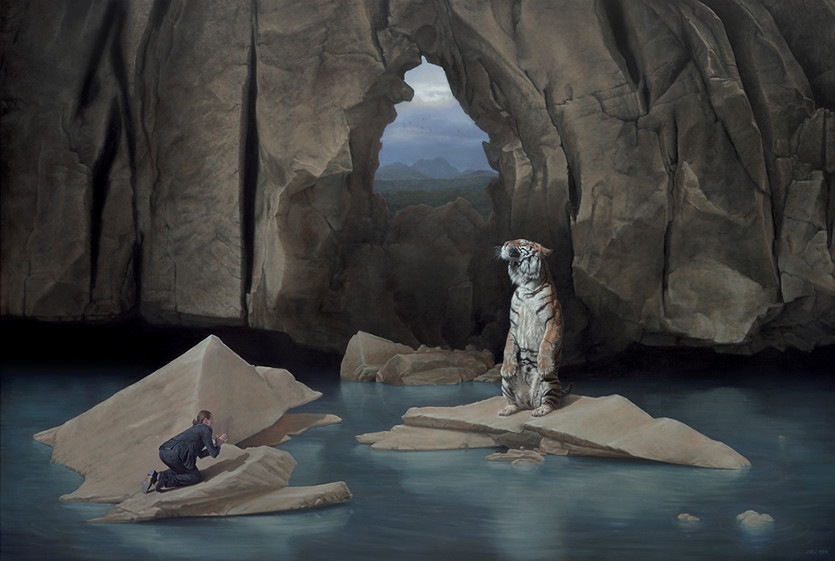 A Duality of Opposites
The artist's paintings present a duality of opposites which can be found in nature. Nature is both a majestic source of purity, a timeless physical element, and dark, threatening force, which can be destructive. The power of destruction is both alluring and devastating. It is a metaphor for human experience and emotion. Rea's works depict scenes such as giant dogs chasing miniature people, tigers, tsunami and violent storms that trigger our imagination. His amazing technique and an exquisite use of light produce lucid paintings that hold our attention to the very last of many, many details.
Human figures and tigers are predominant imagery in his recent works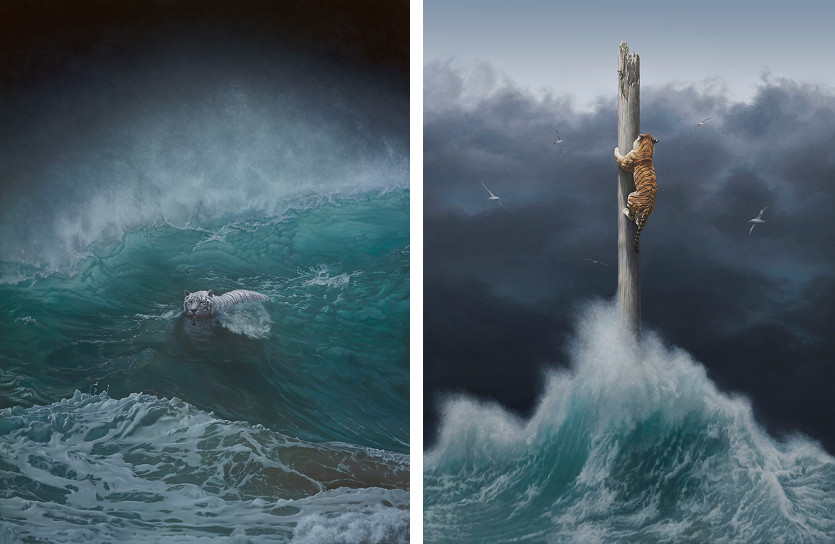 Symbolism of Rea's Paintings
Rea mixes several elements and manipulates the scene in order to create works that reflect richness and complexity of our lives. His paintings don't shy away from displaying darker side of emotions, obstacles and struggles. The visual language of his pieces seems relatable and familiar, but at the same time intriguing and confusing, since Rea juxtaposes visual elements to create an attention-grasping story. His paintings, both beautiful and savage, make the viewer wonder about the story presented on canvas. They freeze in the moment before the inevitable happens, leaving the viewer captivated in front of a dramatic and tragic scene. His works center around issues of survival, climate change and extinction. Rea's symbolism is accessible and understandable, but at the same time deep and comforting, even when the promised land is unreachable. The artist includes himself in the stories of his paintings, and his everyday doubts.
His paintings center around issues of survival, climate change and extinction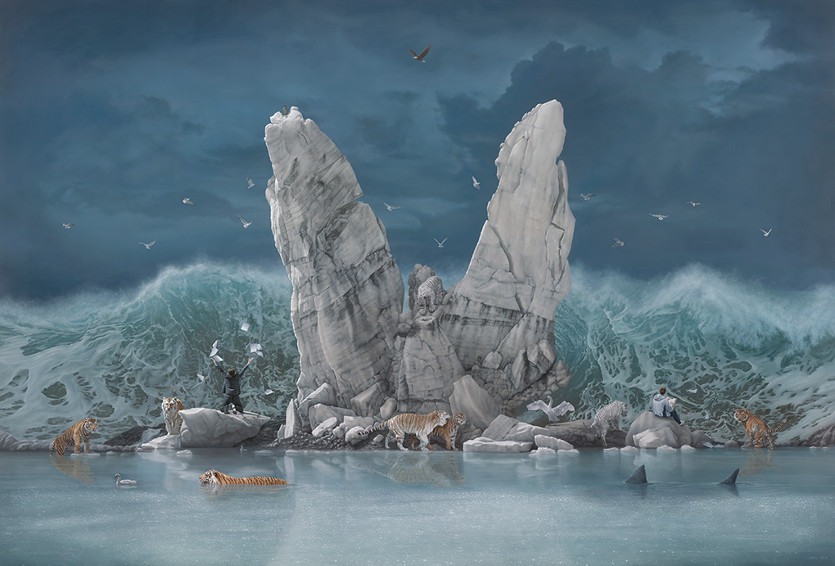 Awards and Prizes
Joel Rea has received numerous awards in Australia. It all started in 2003 when he was chosen by Queensland College of Art as the recipient of the Griffith Award for excellence in Fine Art. The same year, Joel was awarded Golden Key International Honour Society's membership, which is awarded to those who achieve scholastic excellence. He was selected as a finalist in the Redland Gallery Art Award in Cleveland, Metro Art Award by Metro Gallery in Melbourne, the Black Swan Prize for Portraiture in Perth two years in a row, Salon des Refusés in Sydney, and prestigious Sulman Prize in Sydney, among others. Rea was proclaimed Gold Coast Rotary Young Achiever in Vocational Excellence in 2011, and he won the ANL Maritime Award in Melbourne in 2013. The same year, American magazine Art Business News selected Joel Rea as one of 30 artists under the age of 30 who are revolutionizing the world of fine arts.
A video created to promote Rea:
Celebration of Life
Joel Rea was born in 1983 in England. When he was a child, his family moved to Australia, where he obtained his BFA from Queensland College of Art in 2003. He has exhibited his oeuvre in numerous solo and group exhibitions throughout Australia, in the United States and United Kingdom. In one of his recent one-man show Beast of Arcadia, human figures and tigers were featured as predominant imagery. The dreamlike and catastrophic paintings celebrated life and deconstructed its perfection at the same time. Through all of his paintings, Joel Rea does not only demonstrate his undeniable skills with a brush, but also introduces us to his own re-invented universe and takes us on an unexpected adventure filled with action and intrigue.
Joel Rea lives and works in Queensland, Australia.
Featured image: Joel Rea – portrait, photo by Chris Hyde
All images copyright of the artist