Jörg Wilhelm Schirmer is a German sculptor and painter, known for his unusual sculptures of human body characterized by the mannerist overlength proportions of the portrayed figures.
Jörg W. Schirmer was born in 1965 in Frankfurt am Main. He is a great-grandson of Johann W. Schirmer, landscape painter and founding director of the Art Academy Karlsruhe. From 1986 till 1989, Jörg studied woodcarving technique in Rheda-Wiedenbrück. In 1991, he enrolled at the Dusseldorf Art Academy. With professor Markus Lüpertz as his mentor, Jörg got his master degree in 1996. The artist leads an art studio located in Essen, where he lives with his muse and life partner Andrea.
Jörg W. Schirmer's Sculptures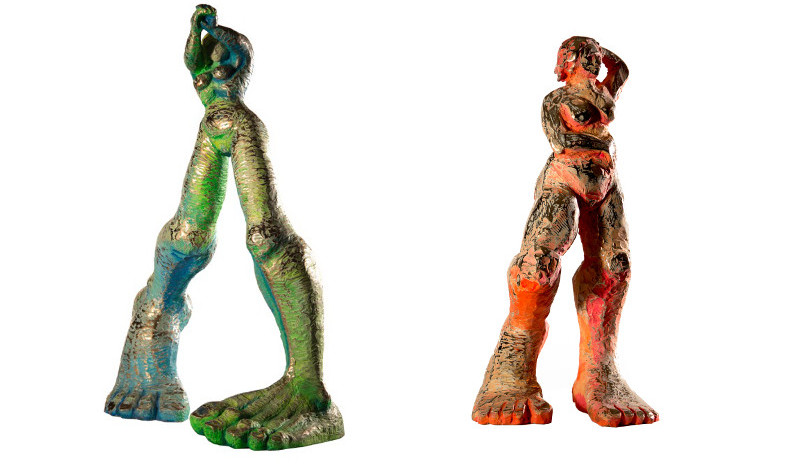 The human body is mostly in the center of Jörg W. Schirmer creation. During his career, Schirmer developed the pyramidal act, which is a recurring feature in all of his sculptures and paintings. Fascinated by body language, Jörg W. Schirmer creates faceless figures characterized by large emphasized feet. Without the face to express emotions, Schirmer has found ways to communicate personal moods, allegorical subjects and the character of his subjects using only body language and posture.
Physicality of Schirmer's figures indicates the artist's interest in movement and expression. As a solid starting point for movement, figures' base are feet which hint an explosive dynamics of the human body.
Blue Baby, 2013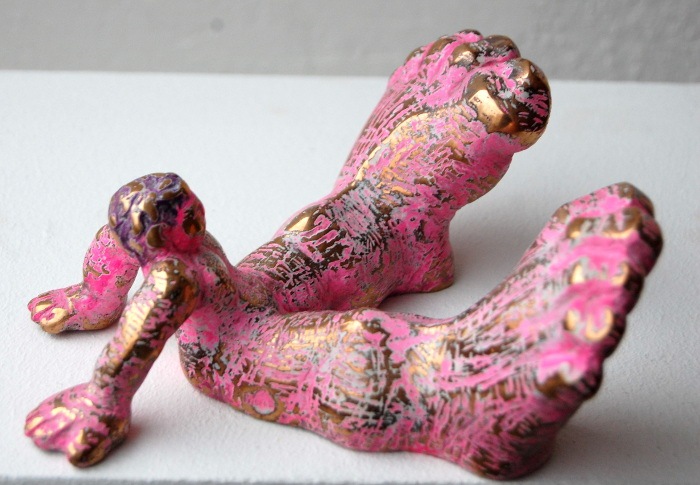 Materials and surface of the finished figures are also a key ingredient and focus point of his artistic approach. Schirmer works with several different materials, such as bronze, concrete, aluminum, and specifically with wood. For some of his paintings, Jörg cites the landscape paintings of his great-grandfather as an influence, combining harmonious landscape images with his pyramidal act.
Ménage á trois, 2014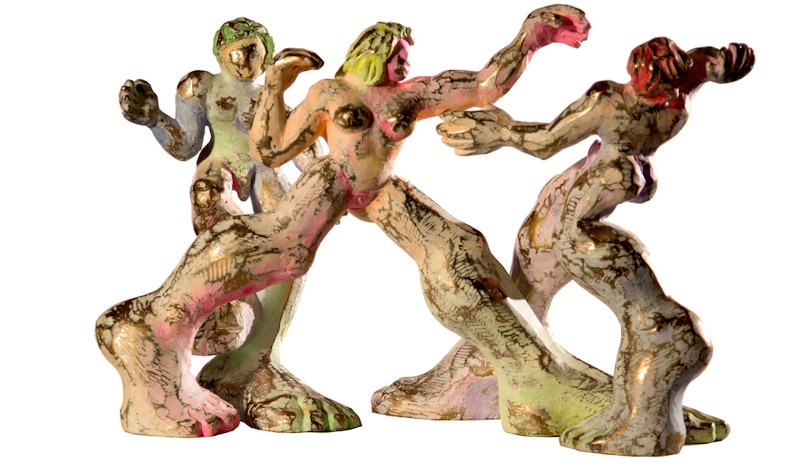 Since 1997, Jörg W. Schirmer participated in numerous group and solo exhibitions, mostly in Germany and Austria. His sculpture from 2006 titled Acrobat was awarded with the first Audience Award at the exhibition Art Squares held at Zeche Zollverein in Essen. The artist is represented by Galerie Hegemann based in Munich, Germany.
Jörg Wilhelm Schirmer lives and works in his studio in Essen, Germany.
All images courtesy of Galerie Hegemann