Johann Büsen is a German artist and designer known for his colourful digital paintings that play with the imagination and the memory of the viewer.
Johann Büsen's Digital Collages
Instead of color and paintbrush, Berlin-based artist uses his computer, a graphic tablet and a scanner to create impressive digital artworks. The elements of Comic, Pop-Art, Surrealism and Street Art are combined with numberless images resulting in a mixture of countless different motives.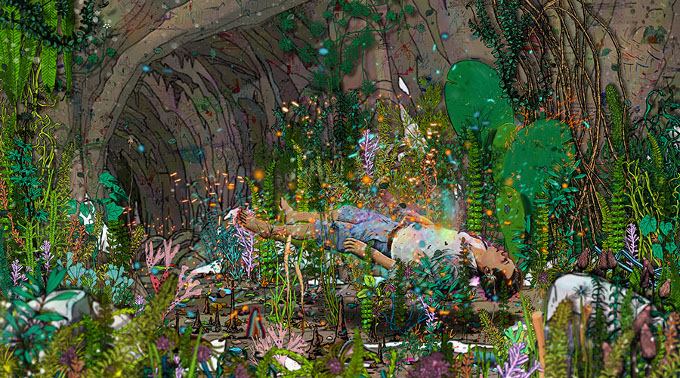 Büsen created those images as animated short movies. The "painting" and "drawing" of such an artwork requires a knowledge of various programs and the Provision of hardware that goes beyond the usual limits: Büsen prints his pictures directly onto the canvas using a large-capacity printer.
Multi-Layered Art
Büsen works with topics and quotations from politics, movies, science, nature, art, literature, and everyday live. Marking his own particular artistic style as controlled and consistent chaos, the artist brings captivating picturesque experiences.
In his amazingly creative multi-layered cosmos it's always possible to find something fresh. Colored, ornamental, his artworks are the bridges from analog to digital world, from the complexity of everyday life to art.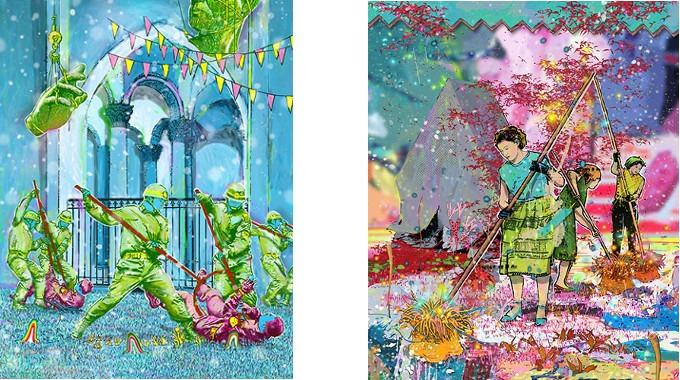 Academic Backgroung and Exhibitions
Büsen was born in 1984 in Paderborn, a city in eastern North Rhine-Westphalia, Germany. He studied from 2005 to 2010 at the University of the Arts in Bremen.
Since he has shown his early works at his first group exhibition in 2003 at Galerie Des Westens in Bremen, Büsen has participated at more than 100 individual and collective exhibitions in Germany and internationally, including at Galerie Brennecke, Berlin (2015); Stadtische Galerie, Bremen (2014; 2012); Galerie Der Kunstler, Munchen (2014); 30Works Galerie, Cologne (2013); Evelyn Drewes Galerie, Hamburg (2013); and Art Raw Gallery, New York (2009), to name a few.
He is represented by 30Works Galerie in Cologne.
Johann Büsen lives and works in Berlin, Germany.