Certainly one of the most notorious names that can be found in contemporary art is John Baldessari He was an American artist and teacher who fused photography, montage, painting and text to create complex compositions that explore the multifaceted interpretations of cultural iconography, all the while keeping his signature sense of humor. This artist began his career the mid-1950s and not for a second along the way did he lose his creative touch that made him famous in the first place - although he might have denied it down to the fact he burnt all his early works, turning them into dust that he then kept as a souvenir. For decades, Baldessari was considered to be a leading Californian Conceptual artist.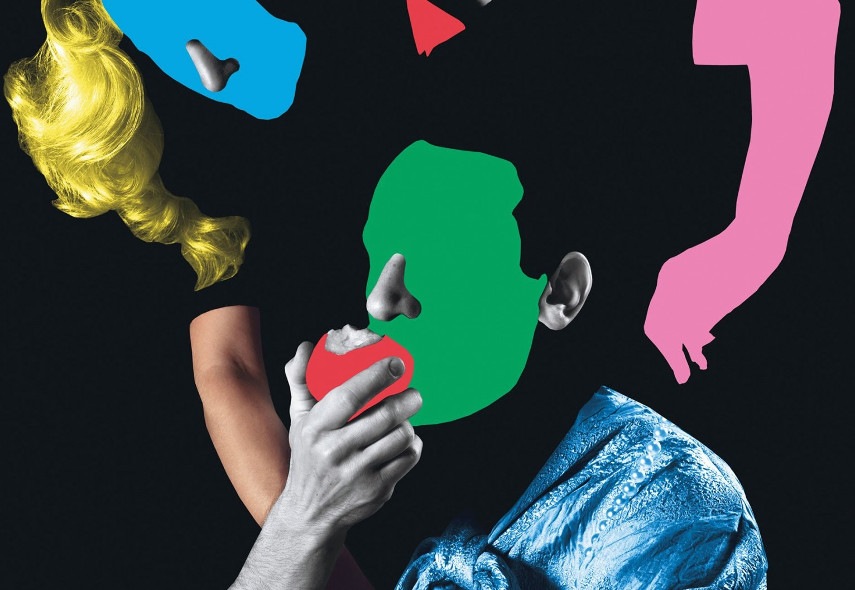 John's Early Drives
John Baldessari was born during the year of 1931, in National City, California. He attended The San Diego State University and did post-graduate work at Otis Art Institute, Chouinard Art Institute and the University of California at Berkeley. Such prestigious institutions provided Baldessari with a great command over creating and understanding all aspects of art. Since John always enjoyed speaking and educating others about art, it was only natural that he would get involved in teaching - he taught at the California Institute of the Arts in Valencia, CA from 1970 - 1988 and the University of California at Los Angeles from 1996 - 2007. Although an excellent professor, the highlight of Baldessari work is without a doubt his creative artistic side. Since the beginning of his career, Baldessari has been guided by one simple idea - if John saw the art around him that he liked, then he wouldn't do art. He built the foundations of his profession by his pioneering use of appropriated imagery. Via blending photography, painting and text, Baldessari's work examined the plastic nature of artistic media while offering commentary on our contemporary culture. John explained his drives by stating: I've often thought of myself as a frustrated writer. I consider a word and an image of equal weight, and a lot of my work comes out of that kind of thinking. Its always hard to precisely pin down and explain Baldessari's art, as he has been tirelessly trying to keep his portfolio as versatile as possible, including photomontage, artist's books, prints, paintings, film, performance and installation. The medium of painting was important to his early work - when he emerged, in the early 1960s, he was working in a gestural style. But by the end of the decade he had begun to introduce text and pre-existing images, often doing so to create riddles that highlighted some of the unspoken assumptions of contemporary art. Of course, we repeat that John actually burned all of his early works, so it's not a challenge to figure out which half of his career Baldessari actually prefers.
John spent most of his early career strictly painting, but had a sudden change of heart that led his artwork down a different path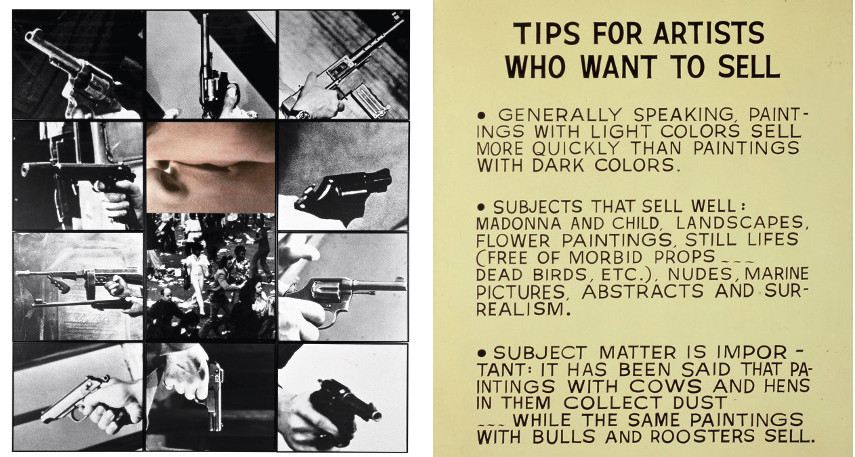 The Characteristic Sense of Humor
Baldessari was undoubtedly one of the leading figures Conceptual art has seen in the last half of a century - John focused on the perception and interpretation of visual elements and text, while often employing irony to make playful assertions about how meanings are formed. And we use the playful term quite appropriately, we assure you - Baldessari was one of the most fun artists of his generation, as well as many younger ones. He was known to state such sentences as I will not make any more boring art and I think it's brilliant: making art look like it's not about skill - these and many more serve as a bulletproof evidence and testimony of John's already legendary sense of humour. Over the course of his career, John Baldessari derived imagery from a wide range of sources, mostly advertising and film. He established a way of subverting common visual associations by drawing attention to minute details, absurd juxtapositions and obscured or fragmented portions of images. Over the years, Baldessari applied various painterly elements to make sure viewers do not oversee that the hand of the artist is not only present in the placement of the images but is also there in the hybridization of the creative process. Baldessari's work has been exhibited worldwide with more than 200 solo and in over 1000 group shows, with the most notable locations being the Stedelijk Museum in Amsterdam, the Contemporary Arts Museum in Houston, the Museo Nacional Centro de Arte Reina Sofía in Madrid, The Museum of Modern Art and Whitney Museum in New York and the Documentas 4, 5, and 6 in Kassel. During the year of 2009, a monumental retrospective of his work titled John Baldessari: Pure Beauty opened at the Tate Modern in London before traveling to the Los Angeles County Museum of Art, The Metropolitan Museum of Art in New York and the Museu d'Art Contemporani de Barcelona in Spain. This show was a great success and it did not fail to attract mass attention wherever the work was displayed.
A video narrated by Tom Waits illustrates how John Baldessari, his ideas and tools evolved over years
Baldessari's Projects and Awards
Baldessari's projects include artist books, videos, films, billboards and public works. His two-dimensional works often incorporate found images, composed in layers or presented as distinct pieces with an element of surprise, like a brightly colored geometric shape in the place of a face or a starkly printed sardonic caption. One of the most iconic signatures John used in his career is his characteristic use of colorful dots atop photographic images. This created some of the most instantly recognizable series ever created. John was often associated with Minimalist or Conceptual art, though he called this characterization a little bit boring. He always preferred to be associated with the name of Marcel Duchamp, although many critics have connected him with the works of Andy Warhol. Baldessari's awards and honors include the 2014 National Medal of Arts Award, an upcoming award from the International Print Center New York in 2016, memberships in the American Academy of Arts and Letters and in the American Academy of Arts and Sciences, the Americans for the Arts Lifetime Achievement Award, the Rolex Mentor and Protégé Arts Initiative, the BACA International 2008, the Golden Lion for Lifetime Achievement, awarded by La Biennale di Venezia and the City of Goslar Kaiserring in 2012. He has received honorary degrees from the National University of Ireland, San Diego State University, Otis Art Institute of Parsons School of Design, and California College of the Arts. Such recognitions only cemented Baldessari's name as one of the most leading artists to emerge from the second half of the 20th century.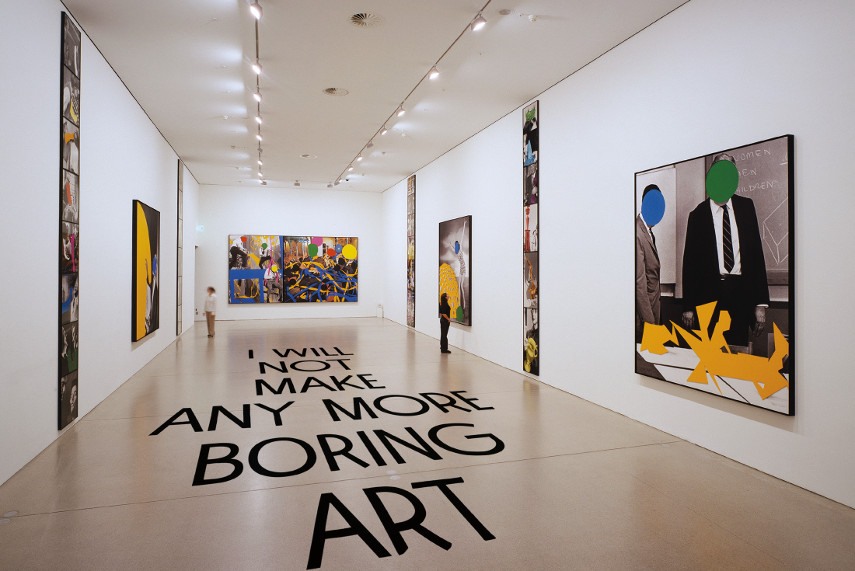 John Baldessari Casts a Large Shadow
As you could have already concluded on your own so far, John Baldessari is considered by many to be one of the most important proponents of West Coast Art. As if his artwork was not enough to permanently glue him onto the pages of art history, Baldessari also championed emerging artists that came out of California Art Schools, further extending his legacy by influencing many younger people through his extensive teaching career. Through a diverse practice that includes paintings, sculpture and installations, John fastened his position as one of the greatest conceptual artists out there, not to speak about probably the most entertaining one in the history of art.
The artist is represented by Gregg Shienbaum Fine Art in Miami, Weng Contemporary in London, kunzt.gallery and Mai 36 Gallery in Zurich.
He died in 2020 at the age of 88.
Featured Image: John Baldessari - Photo of the artist - Image via artistproject.metmuseum.org
All images courtesy of John Baldessari