Due to their unique aesthetics, John Currin's paintings can be found at the crossroads where old masters of painting techniques and 20th-century kitsch collide into a single blend. His figurative compositions mix humor with traditional painterly skills, earning Currin many comparisons with artists ranging from Breugel to Rockwell. The satirical way John is able to tackle his topics makes him rather characteristic and recognizable, especially when you include the provocative and sexual nature of his pieces. Regularly combining such notions with the technically skillful manner he displayed over the years, it becomes easy to see why many consider Currin to be one of the most uncommon and remarkable painters of the contemporary age.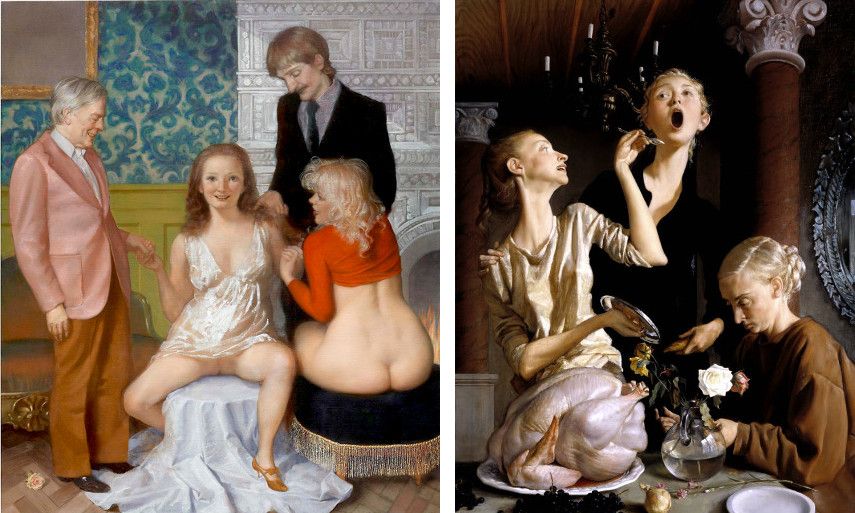 Rise to Fame
John Currin was born in the town of Boulder in Colorado, during the year of 1962, but he spent his childhood in Connecticut. He was a son of a physics professor from this southern New England state, whilst his other parent had a career of a piano teacher with roots in California. Early in his life, John would spend his days studying painting and different techniques with the traditionally trained Russian artist Lev Meshberg, a renowned painter from Odessa, Ukraine. Eventually, Currin managed to get himself enrolled with the Carnegie Mellon University in Pittsburgh where he obtained a BFA in 1984. Representing the crown of his educational endeavors, John received an MFA from Yale University in 1986. Three years later, Currin exhibited a series of portraits derived from the photographs of young girls he found in a high school yearbook. This show was held at the White Columns in New York City and it was the first evidence of how John had intentions to emancipate his art from traditionally clichéd subjects without compromising his classical visuals. What makes his chosen topics even more surprising is the fact the early 1990s and a few years before that decade were marked with political-themed art and there simply were not many fresh alternatives on the scene. In a time when everyone was either searching for or producing pieces underlined by a strong political note, Currin chose to depict brazen depictions of busty young women, mustachioed men and asexual divorcés. This bold decision to be involved with something very different than what is currently popular became only more impressive when the audiences noticed how techniques talented this artist is. Interestingly enough, Currin explained that his distorted or exaggerated subjects were oftentimes representations of his own reflection and inner life rather than depictions of other, real individuals.
Currin explained that most of his subjects are reflections of his own inner life rather than depictions of real life individuals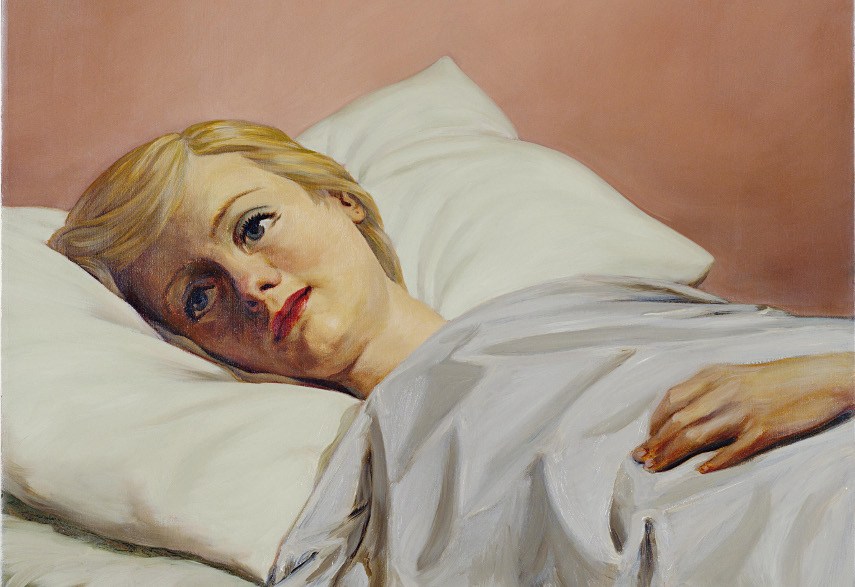 Inspirations Behind His Art
John Currin's work is obviously inspired by a wide range of classical influences, with sources as diverse as the Renaissance, Post -Impresionism and Pop art. Additionally, the kitsch note that makes his pieces so unique are found in popular culture magazines and contemporary fashion scene - John relies heavily on magazines such as Cosmopolitan and older issues of Playboy for inspiration which he channels through his paintings[1]. By the late 1990s, Currin's ability to paint subjects of kitsch with an impressive technical facility was met with critical and financial success - since 2003, his paintings have often found themselves withing the category of high six figures pricing. Logically, this reflected heavily on Currin's popularity and interest in his work. He has been a part of numerous solo and group shows, with his pieces included in permanent collections within the walls of the Hirshhorn Museum and the Tate Gallery. Additionally, retrospective exhibitions of John's career were held at the Whitney Museum of American Art and the Museum of Contemporary Art in Chicago. In the year of 1994, Currin met a fellow artist Rachel Feinstein at a gallery in which she was conducting her performance piece by living in a self-made gingerbread house. The two got engaged mere weeks later at Currin's show in Paris and married three years later on Valentine's Day. In his more recent career, Currin has undertaken a new kind of series where his figure paintings deal with unabashedly pornographic themes. The motto behind these fresher projects remained similar to past creative goals that fueled John's art from the past. In order to explain the idea behind these provocative series, Currin stated the following: One motive of mine is to see if I could make this clearly debased and unbeautiful thing become beautiful in a painting.
A strong provocative note is a common feature in most of Currin's paintings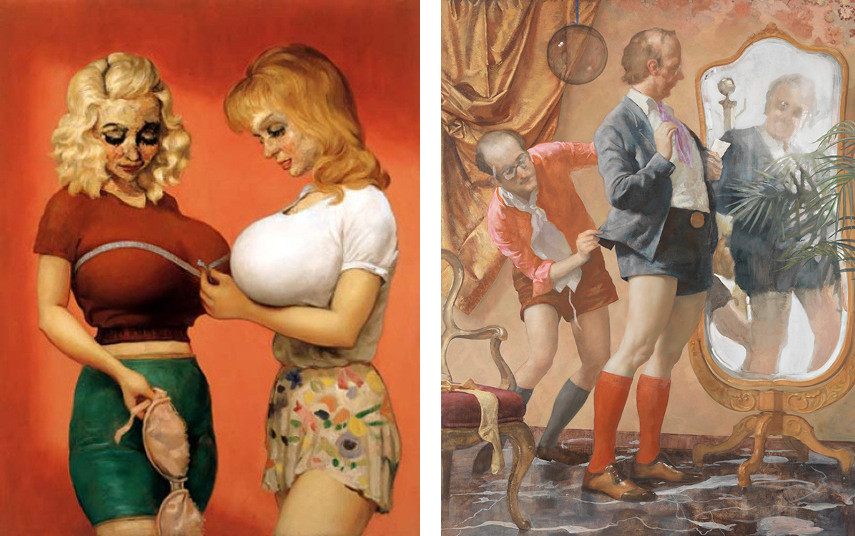 Brave and Unique Art of Currin
When one investigates both the art and career of John Currin, two things are capable of striking the most. First is the timing and the boldness behind it - John started to paint original and unique artworks in a time when no one was doing nothing even closely similar. Furthermore, the special mixture of elements behind Currin's art is one of the most interesting blends modern history has to offer - combining technical skills of old masters with the culture of the late 20th century makes sure John's final pieces are unrivaled on more than one front. Perhaps the best way of ending this short biography is to quote Calvin Tomkins[2] who explained Currin's art in one of his books with the following statement: His technical skills, which include elements of Old Master paint application and high-Mannerist composition, have been put to use on some of the most seductive and rivetingly weird figure paintings of our era.
This artist is represented by Gagosian Park & 75 New York, Gagosian West 24th Street New York, Gagosian Beverly Hills, Gagosian Britannia Street London, Gagosian West 21st Street New York and Sadie Coles HQ in London.
John Currin lives and works in New York, United States.
References:
Calvin, T., Lifting the Veil: Old Masters, pornography, and the work of John Currin, The New Yorker, January 28, 2008
Calvin, T., The Lives of the Artists, Henry Holt and Company, New York, 2008
Featured image: John Currin - Photo of the artist - Image via pinterest.com
All images used for illustrative purposes only.